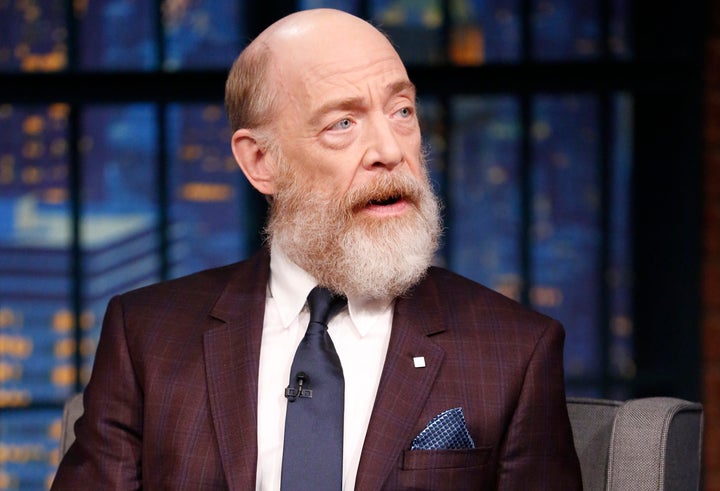 The article headline construction of stating a celebrity doesn't look like you think they do anymore is a classic entertainment news staple. You're going through a normal day, believing you know what Brad Pitt looks like and then -- BAM! -- he has a mustache or something.
Arguably the biggest version of this type of story so far this year has been Oscar-winning actor J.K. Simmons' transformation into a man with large muscles and a beard. To force a pun in the traditional style, the story was basically -- J.K. Simmons, more like JK hesnottheSAMEMANs.
Back in early June, when the photo of Simmons working out went viral, many outlets (including this one) reported that Simmons was getting muscular for his new role as Commissioner Gordon in the upcoming "Justice League" movie.
Not so, the 61-year-old actor told The Huffington Post while promoting his movie "Kung Fu Panda 3."
"Yeah, well that's a gigantic misconception," said Simmons. "I just like to work out now. And getting to the gym really has nothing ... I'm not going to the gym because of 'Justice League.'"
Then why is he getting so ripped now?
"I'm just going to the gym because after the last time I got super fat and out of shape, I decided that I was done doing that," explained Simmons. "I was going to -- for as long as I'm going to be on the planet -- I'm going to try and take care of myself. So that's pretty much coincidental [to filming 'Justice League']."
The actor did say that being a part of the upcoming superhero movie has made it easier for him to workout, though. "Being around that cast and [director] Zack Snyder, who is a fitness maniac himself, it's nice to have that in common with people," Simmons said with a laugh.
Apparently, both Snyder's office area at Warner Bros. in Los Angeles and the movie's soundstage in London have "gigantic" spaces that have been converted into workout areas. "[They look] like you're going to Gold's Gym when you walk in the door," said Simmons. "They make it easy to spend time getting fit."
"Justice League," more like JUSTpasstheICE myarmsfeellikeLEAdasimjustaGUywholikestoexercisE.