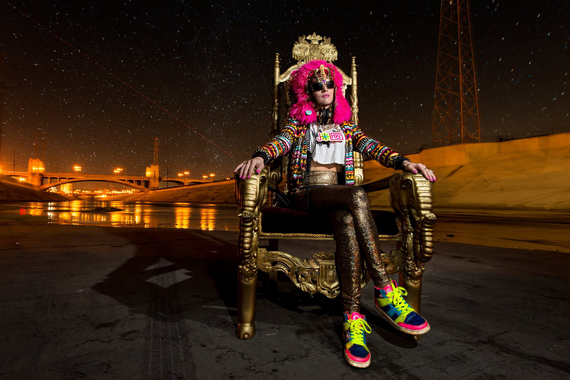 There is a funky revolution happening in the world of electronic dance music. An ambassador of bass and emissary of good vibes, J*Labs (Jackie Peters) released her debut EP titled #TRUNK! on Tuesday, January 13, 2015. The first music video for the single "Pop That #TRUNK!" features vocals by Johanna Phraze and dance moves by "#TRUNK!-ettes" Erin Rowbotham, Janelle Wilson, Ashley Moon and Madison Orange. Starting this year off with a slap, she has created three genre-bending tracks that will keep pulses elevated and feet levitated. J*Labs is known for her bass-driven beats that are as full of life as Jackie herself. Marrying elements from twerk, trap, funk and krunk, J*Labs has unleashed the genre of "trunk" on the dancefloors of Los Angeles. Inspired by the sounds of hip hop, funk and reggae, J*Labs' tracks are full of depth and never monotonous. With gut thumping 808s feeding your core, her beats are felt deep in your innards. Glitter, grime and slathered in bass. She utilizes the extensive Rolodex of music in her mental lexicon and creates songs that feel both new and familiar. In addition to her skills as a producer, her DJ sets will take you on a funk odyssey where she gracefully steers the Mothership with her turntables. Seamlessly mixing classic rock and hip hop tracks with her original sounds, she evokes the dance demon within us all.
Currently residing in Los Angeles, Jackie is a part of the EDM Renaissance that is emerging from the West Coast. She draws from an infinite well of inspiration by surrounding herself with otherworldly muses. The festival community is populated with writers, dancers, singers, hula hoopers, acrobats, musicians, photographers, movers, shakers, doers, lovers, laughers and every shade of aura in between. Immersed deep within this festival culture, she has released several singles and remixes as well as performing at events such as Lightning in a Bottle, Shambhala, Coachella and Electric Daisy Carnival (EDC). Playing a diverse range of festivals has contributed to the evolution of her sound. With each festival she leaves a piece of herself but in return is given a piece of another. This endless reciprocation is the true spirit of live music.
#TRUNK! will surely spread beyond the dancefloors of Los Angeles. The EP will be released on the meta-label Street Ritual, an Oakland, Los Angeles, and Austin based collective of creative artists. Street Ritual is home to several other ground-breaking musical artists such as Pumpkin, Thriftworks, ill-esha, Govinda, Ganga Giri and many more. It will be sold as a pay-what-you-want release on Bandcamp, giving supporters the opportunity to name their own price. J*Labs' rationale behind this method of payment:
"I've intentionally decided against doing traditional Kickstarter-type campaigns to fund my music projects. I honestly feel like so many other people in the world need help with basic things like getting enough food to eat that it just hasn't ever felt right for me to ask. Instead I've been scrappy, I've stayed committed, kept my nose to the ground and have been super fortunate to work with some amazing people within the community to exchange resources. Now that I've completed my first EP, I've decided to make it a pay-what-you-want release on Bandcamp. If you can't afford to pay for the music then I still want you to have it! I created it for everyone. If you do have the means, and you love what you hear, and you'd like to hear more, I'd truly appreciate it if you would show your support by donating when you download!"

With festival season just around the corner, she could not have released this EP at a better time. J*Labs' sounds will spread far and wide, through our ears, veins, guts and feet. Music festivals are a petri dish for inspiration, spreading from person to person, oftentimes unbeknownst by the one who inspires. Inspiration is the greatest gift that you may never know you gave.
Popular in the Community