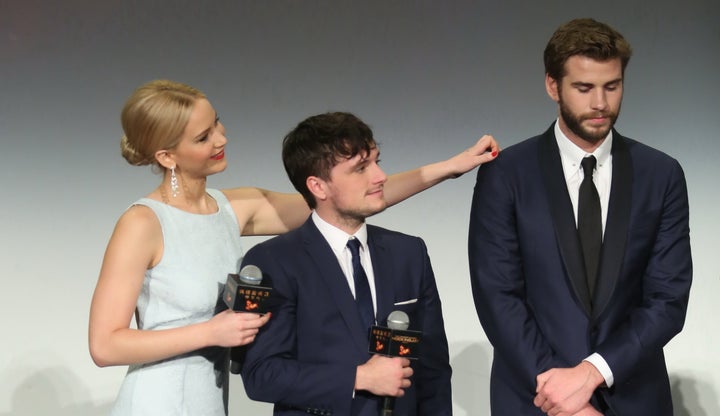 There are few things more delightful than true Hollywood friendships. Realizing that glamorous, serious actors are just as giggly and weird with their pals as we are with our BFFs is a delight. All the shackles of fame are stripped away and we see stars as silly people who just like to give out hugs.
The friendship borne out of the "Hunger Games" franchise between Jennifer Lawrence, Josh Hutcherson and Liam Hemsworth is one of the most delightful trios yet. Filming four movies together will likely do that to you. Whether they're sitting through hours of interviews, pulling awesome pranks or stuffing marshmallows in their mouths, this crew gives us all the #squadgoals feels. Let's take a look at some of their adorable friend moments from the last four years of "Hunger Games" press hoopla, via the magic of GIFs. Here are just a few reasons we love this crew:
Let's start with what's important. The cuddles. ALL THE CUDDLES.
And they can make each other laugh with just a look.
They know that giving each other compliments is important.
They enjoy helping their friends learn about different countries.
They're totally great at gazing into each others eyes loving -- oh, wait. This is from the movie. OR IS IT?
They're not afraid to be their true selves in front of each other.
And they even manage to adorably flip each other off. TRUE FRIENDSHIP.
They are literally the personification of the :D :D :D emoticons.
They are down for a mean game of Hungry Hungry Hippos with Nick Grimshaw, as only true friends can be.
They give each other little nudges when thrown into fits of laughter.
And they're always down from a cuddle sesh.
Love you guys. Stay friends forever. The districts depend on it!
"The Hunger Games: Mockingjay - Part 2" is in theaters now.
PHOTO GALLERY
"Hunger Games: Mockingjay - Part 1"
REAL LIFE. REAL NEWS. REAL VOICES.
Help us tell more of the stories that matter from voices that too often remain unheard.