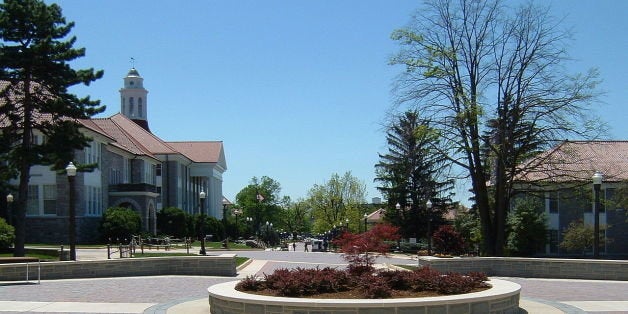 Students and alumni from James Madison University are petitioning the Virginia school to reform its policies punishing sexual assault.
JMU punished three male students in April with "expulsion after graduation" for sexual assault and sexual harassment. The men filmed an assault on a female student, Sarah Butters, and text messages sent by multiple people to Butters said the video was distributed around campus.
News of the lax punishment this week sparked a growing backlash online following reports from The Huffington Post and local TV stations. The U.S. Department of Education's Office for Civil Rights is already planning an investigation into the case.
Butters has given HuffPost permission to use her name. The three men have not been charged with a crime or arrested, and the university is declining to discuss the case, so their names are not included here. Other outlets have chosen to identify the men.
As of early Friday afternoon, an online petition at Change.org calling for reform at JMU had collected more than 3,100 signatures. Many of the signatures came from people located in Virginia.
The petition's authors wrote:
It has become our duty to step in and continue to fight for her rights. She has the right to an education in an atmosphere in which she feels safe from predation. She has the right to the support of her peers, as well as the faculty and staff. She has the right to walk into a classroom without fear. She has the right to know that campus security will protect her and remove those who threaten her wellbeing.

We, the students of JMU want justice. We do not want to live in fear that the men we see on our campus and in our classrooms are violent and cruel.
Students have compared the punishment to a parody article in The Onion, titled "Date Rapist Tossing His Mortarboard Into Air 3 Rows In Front Of You."
The men will not be allowed to walk at graduation, and are asked not to return to campus after they receive their degrees. Two of them have already graduated, and the third is scheduled to complete his senior year in 2014-15.
"Rape is a violent felony, and the punishment needs to fit the crime," said Scott Berkowitz, president of the Rape, Abuse and Incest National Network. "It's outcomes like this that motivate our work with Congress, the Administration and others to change the way that schools respond to these crimes -- and bring justice for survivors."
Alumni told HuffPost that on Facebook, a common comment was that graduates of JMU would refrain from donating to the university.
If filed with the University, complaints of sexual assault / harassment are handled under the University's student judicial affairs process, which includes multiple levels of appeals. Students, faculty and staff are involved in these processes. These processes must of course protect the rights of complainants and the due process rights of accused students.

The sanctions available under these processes are intended to reflect the facts and circumstances of a particular case as best they can be determined, and are premised on the University's role as an educational institution. The facts matter and are carefully weighed in the process. Individuals who want to press criminal charges in cases of sexual assault may do so through the court system.
JMU is refraining from speaking about the specific case, citing federal privacy laws. However, such laws do not restrict a university from clarifying that a statement made publicly is false.
"We understand and appreciate the concerns that have been expressed," the university's statement reads. "Rest assured that as this process unfolds and is resolved, you will see that JMU handles such serious matters with integrity and compassion."
Like Us On Facebook |
Follow Us On Twitter |
Contact The Author
Related
Popular in the Community