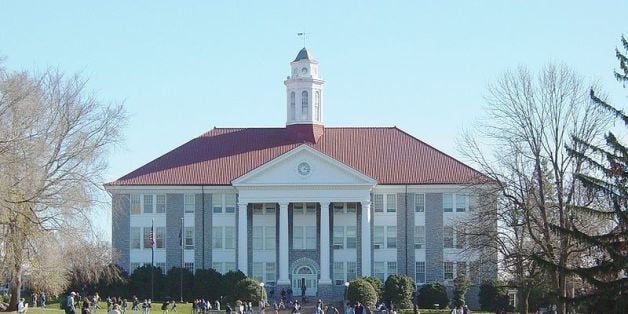 As previously reported by The Huffington Post, JMU found three men responsible for the sexual assault and harassment of Sarah Butters during spring break in 2013, and declared that the students would be punished by not being allowed back on campus after they had graduated.
Jay Kyle Dertzbaugh, Michael Joseph Lunney Jr. and Nicholas John Scallion, who at the time were members of the Sigma Chi fraternity, filmed themselves taking turns groping and fondling Butters and circulated the video to other students on JMU's campus, according to the suit and legal documents and correspondence Butters provided to HuffPost.
Butters filed a federal complaint against the university in 2014, prompting the Education Department to open an investigation into how the school handles sexual violence. The university said that until now, federal privacy law prevented it from giving its side of the story.
"Now that the plaintiff has filed a civil lawsuit, the university will be at liberty to share the facts and circumstances in the case through the normal channels of litigation in due course," JMU said Friday in a statement. "As the university already stated, rest assured that as this process unfolds and is resolved, you will see that JMU handles such serious matters with integrity and compassion."
The university has not made any apology for the punishment that prompted outrage among many in the community. The school has also not elaborated on how it came up with the sanction, except to say it follows guidance from the Association for Student Conduct Administrators, a higher education professionals group that many schools turn to in order to form conduct policies. Higher education policy experts have said they are not aware of any other schools that have used "expulsion after graduation" as a sanction.
Butters' lawsuit says that the three men assaulted her while she was visibly intoxicated during a spring break trip to Panama City, Florida. After returning to campus, she learned that video of the incident was circulating among members of Greek life. The men initially denied that such a video existed, but Butters obtained a copy, which is now under seal as evidence in her lawsuit.
"We feel really bad and apologize for the drunken stupidity," Scallion wrote in a text message to Butters shortly after the spring break trip, prior to her filing conduct charges against them with JMU. "We're not bad guys and we really didn't mean to disrespect you like this."
As Butters pursued adjudication against the three men, the chapter president for Sigma Chi expelled the men from the fraternity.
The lawsuit contends the school did not issue a final decision in her case until 396 days after the assault happened. Meanwhile, Butters said in her suit that she "failed all of her classes, lost her financial aid, [and] severed ties with many of her peers" as a result of the incident and how the university handled the adjudication, which she said exacerbated her stress. In May 2014, she dropped out and moved back to her Virginia hometown to work at a hotel.
Butters declined to comment for this article.
Calling all HuffPost superfans!
Sign up for membership to become a founding member and help shape HuffPost's next chapter