In his book Organizing Genius, Warren Bennis notes that the world's greatest problems can be solved only by creative collaboration and that "the most urgent collaborations require the coordinated contributions of many talented people." In my experience, public-private partnerships that bring together the best talents, expertise, and resources from the government, non-profit and business sectors have proven essential for tackling the most complex challenges in global health and international development. Indeed, it would be hard to name a major global health success that did not rely on such partnerships. In each case, vision, leadership and commitment were the driving forces behind these efforts.

Among the most entrenched--and most neglected--problems in global health are infections with intestinal worms, which affect more than 1 billion people worldwide. Although intestinal worms sometimes result in death, the suffering they inflict is usually more insidious, sapping the energy of infected children and making it difficult for them to learn, putting their future health and earning potential in jeopardy. Infection often causes blood loss or anemia, which is especially problematic for pregnant women. In communities and entire regions, the toll on health and development is enormous, especially since intestinal worms primarily affect those who are most disadvantaged.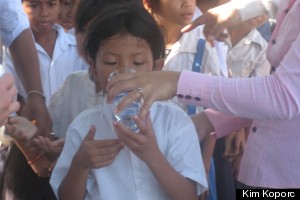 Given the magnitude of this neglected problem, meeting the challenge will take the collaboration of partners with a range of expertise and a shared vision of long-term success. Together these partners can effect a transformation that results in a brighter future for all the affected children. The momentum is steadily building. Private sector partners Johnson & Johnson and GlaxoSmithKline have pledged up to 600 million doses of deworming medicines per year through 2020--some 5 billion doses. The World Health Organization (WHO) has included intestinal worms in its 2020 "roadmap" for neglected tropical disease (NTD) control and elimination, with a target to provide drug treatment to at least 75% of the 800 million at-risk children in the world.
Global health experts agree that long-term success will require more than product donations and drug treatment. Improved water, sanitation, and hygiene (WASH) are essential. A comprehensive approach that brings together partners at the global, regional, and country levels is required for coordinating drug treatment with WASH, nutrition, and behavior change to end the cycle of infection. Integrated approaches like school-based health and hygiene education, vitamin A and nutritional supplementation, maternal and child health and community-based programs for other NTDs paves the way for a healthier generation of young people.
An increasingly broad range of partners is working together to ensure that progress is made quickly, committing resources to the WHO-led effort to eliminate intestinal worms as a public health problem. These include, among others, national governments of the 114 countries where intestinal worm infections are endemic, bilateral donors, academic and research institutions, private foundations--notably the Bill & Melinda Gates Foundation--and a diverse and growing group of non-governmental organizations (NGOs).
Their vision, leadership and continued commitment have led to major successes in Cambodia, Nicaragua, and elsewhere through integrated approaches that combine school-based treatment with Vermox™, donated by Johnson & Johnson, with hygiene education and the coordinated efforts of governments and NGOs. Children Without Worms (CWW), a partnership of Johnson & Johnson and the Task Force for Global Health established in 2006, has been privileged to facilitate these drug donations and to collaborate closely with national ministries of health and education, as well as with WHO and NGO partners.
The global intestinal worm control effort is now at the critical point described by Jim Collins in his book Good to Great: "When people begin to feel the magic of momentum--when they begin to see tangible results and can feel the flywheel start to build speed--that's when they line up, throw their shoulders to the wheel, and push." As momentum grows, the challenges of nurturing, coordinating, and sustaining this multifaceted partnership will also increase. Success will depend on visionary leadership, receptivity to collaborative and innovative relationships, and the resolute commitment of all partners.
In light of the enormity of the task ahead, the year 2020 might as well be right around the corner. In the words of Warren Bennis, reaching the ambitious targets set by WHO for intestinal worm control requires "urgent collaboration" and the "coordinated contributions of many talented people." CWW looks forward to accelerating, deepening, and extending its collaboration with many talented partners in this challenging endeavor. Success is possible.
This blog is part of a month-long series in partnership with Johnson & Johnson to highlight the successes and remaining opportunities in the Every Woman Every Child movement. With the aim of improving the lives of women and child around the world, EWEC was launched by UN Secretary General Ban Ki-moon in 2010 to accelerate progress against the Millennium Development Goals (MDGs). To learn more, click here.