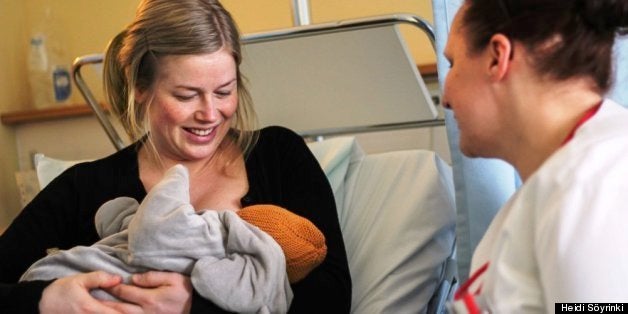 According to Save the Children's latest State of the World's Mothers report, Finland is the best country in the world for mothers. Finland has been in the top 10 countries each of the 14 times the international report has been released. This is a tremendous achievement, but not an accident. There is a wide consensus in Finland that maternal and infant health is a high priority, and our national budget reflects that.
Many reforms related to the status of women and children -- such as children's daycare, the rights of unmarried women, prenatal care and education matters -- were on the agenda from the very beginning. The maternity and child health clinic system dates all the way back to the 1920s; the first clinic was founded in 1922. Coincidentally, that was the same year that Save the Children Finland was founded. In 1944, maternity and child health clinics became the responsibility of municipalities, and the free, voluntary system rapidly spread to most of the country.
With the development of the system, the rate of maternal and child mortality dropped quickly. In 1936, a total of 95 of every 1,000 Finnish children died before age 5, but that number has dropped to just 2.9 by 2011. For mothers, the mortality rate has dropped from 400 mothers per 100,000 births in the 1930s to less than five. In 2011, not a single maternal death was recorded.
The Finnish maternity and child care system has played a crucial role in improving the health of mothers-to-be, babies and children. When I was expecting, I regularly visited the maternity clinic for check-ups. Over 99 percent of expecting mothers go to prenatal check-ups, making around 10 to 15 appointments during a normal pregnancy. Practically all families with children under school-age use the extensive services of child health clinics.
When I was pregnant with my first daughter, there was a time when I couldn't feel the baby move very much. I went to the maternity clinic and was told to go to the hospital for a check-up. I did and was given all necessary tests -- ultrasound, baby's heart film, etc. -- and was fortunate to learn that everything was fine. All this was done free of charge in a public maternity hospital and without waiting. This happened during mid-90s when Finland was facing massive economic challenges, and I was told that cuts had been made on everything but maternity health. I felt so proud to be a Finn.
My family, along with practically all other families in the country, has benefitted much from the continued support given to babies, children and their families by the child health clinics. Children go to these clinics for at least 15 regular check-ups before they reach school age. This makes it possible to assess children's growth, development and healthm as well as the well-being of the whole family and any possible need for support.
In Finland today, teenage pregnancies -- which pose elevated social and health risks to both mother and baby -- are quite rare compared to other industrialized countries. The most significant reasons for this are the broad sexual education given in schools since the 1970s and the fact that contraceptives have been easier to obtain since the 1980s. Moral questions about premarital relations are left for each person to settle on his or her own. This policy has been chosen with the aim of preventing unwanted pregnancies and their far-reaching impact on young people's lives.
But it's not enough for Finland to get to the top; we also need to stay there. The economic challenges of recent years have affected Finland just as they have affected countries around the world. Our municipalities have been forced to cut down on service infrastructure and there is a risk that the availability of general healthcare services will become more limited. However, it makes sense to continue investing in high-quality services for everyone. This is the only way that Finland can remain a good country for all who live here.
In terms of population, Finland is a small country. There are only 5.4 million of us. Our small nation has always considered it important to look after its mothers and children. For nearly 100 years, we have worked to ensure that this is possible. The work we have done has borne fruit in many sectors. We are at the top of international comparisons for more than just the status of mothers. We also top the list of highest education level, least corruption and least failed states.
It's not always a question of resources, but how a country chooses to use them.
In May, Save the Children released their State of the World's Mothers report. As a result of the findings from the report Save the Children and Johnson & Johnson wanted to highlight Finland, as it was ranked the best country in the world for mothers. Learn more about the State of the World's Mothers report and how you can help all mothers and babies get good care at www.savethechildren.org/mothers. Learn more about the State of the World's Mothers report and help all mothers and babies get good care at www.savethechildren.org/mothers.
Related