 If I really stop and think about it, water has been an important part of my life ever since my conception. Inside my mom's womb, it was part of what nourished me. As I entered the world, it helped ensure a hygienic delivery. It was part of my baptism. It was a source of limitless childhood fun. As a young woman in Chicago, I spent a lot of time watching the lapping river. It was a centering force for me.
Today it defines my days. For the past six years, I have worked with Water.org, an international nonprofit working to end the global water crisis in our lifetime.
Amazingly, one in eight people do not have access to safe water. On average, women and girls in developing countries walk 3.7 miles each day to collect water (which is often unsafe), carrying vessels that weigh up to 44 pounds. As a result, girls are unable to attend school, women are unable to hold a job, diseases abound, and the cycle of poverty continues.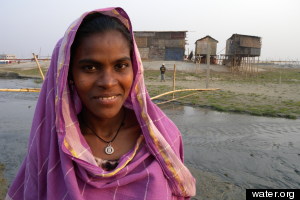 The good news: Women around the world are stepping up and taking charge, helping to secure safe water for their families and communities. I could talk for days about the women I have met, from India, to Bangladesh, to Ethiopia, who are overcoming tremendous challenges to achieve reliable access to safe water, as well as the hope and new opportunities that come with it. (Here is a short video that highlights a success story from India.)
One woman, Moina, who is fighting for safe water in her community, stands out in my mind. Moina is one of the approximately four million people living in the slums of Dhaka, Bangladesh. Because her slum of Board Guard does not have safe water, she pays to collect her family's drinking water from a public source about a mile away -- once in the morning and again in the evening. Each trip takes her one to two hours. Often, the water runs out before everyone in line can fill their pots.
Moina uses the nearby pond for all other daily water needs -- bathing, washing clothing, cleaning utensils, et cetera. This pond is contaminated by human and animal waste, as well as pollution. (There are no sanitary toilets in Board Guard; rather, hanging latrines empty into the pond below.) As a result, Moina and her family have suffered from diarrhea, jaundice, and various skin diseases.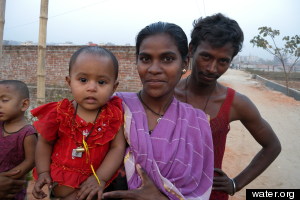 But Moina is a young woman with tremendous energy, spirit, and determination. She is working with other Board Guard residents and has helped to form a community-based organization to apply for a small loan for a tube well and latrine through Dushtha Shasthya Kendra (DSK), Water.org's local partner. One day soon, she hopes to have a reliable, ample source of clean water in her own community. A tap and a toilet: these two seemingly simple things will fundamentally change her life -- and her young daughter's.
Moina's hope is well-founded. In many slum communities near Board Guard, safe water and sanitation have already become a reality thanks to support from partners, like Johnson & Johnson. In fact, Johnson and Johnson, Water.org and DSK have empowered tens of thousands of people with improved water and basic sanitation access in the slums of Dhaka, Bangladesh.
Today is World Water Day, a day established 20 years ago by the United National General Assembly to focus attention on the importance of fresh water.
This World Water Day, I invite you to celebrate the efforts of women like Moina, and the successes that are taking place all around the world. I invite you to appreciate the role of fresh water in your own life -- from your first moments to this very moment. And in that reflection, to give thanks for your health and the opportunities you have in life because of it. In our thoughts and in our actions, let's rally together in the name of safe water. (You can donate your voice or visit this site for events happening around the world.)
"Individually, we are one drop. Together, we are an ocean." -Satoro

REAL LIFE. REAL NEWS. REAL VOICES.
Help us tell more of the stories that matter from voices that too often remain unheard.