Two years ago, on a sweltering June day in New York, I found myself at the United Nations with a couple hundred other people who share my vision of a world where no baby is born with HIV and no mother dies of AIDS. We had come together to launch a new Global Plan, towards the elimination of new HIV infections among children by 2015, and toward keeping their mothers alive. The Global Plan set the ambitious targets of reducing the number of new HIV infections in children by 90 percent and cutting the number of AIDS-related maternal deaths by half.
I saw many friends that day, including a mother from South Africa named Babalwa (or Babs), whom I had met in 2005 during her first visit to the United States. Babs was working for mothers2mothers, an organization that trains HIV-positive mothers to provide education and support to pregnant women newly diagnosed with HIV. She was coming to Johnson & Johnson to share her own experiences preventing transmission of HIV to her children, and her work in providing hope and help to other women in the same position. Originally a mothers2mothers mentor herself, Babs went on to be a site coordinator and is now a mothers2mothers trainer.
On the launch day of the Global Plan, Babs, a mother of three, was on stage hobnobbing and laughing with President Bill Clinton, President Jonathan Goodluck from Nigeria, Michel Sidibe of UNAIDS, Annie Lennox and Ambassador Eric Goosby from the Office of the Global AIDS Coordinator. It made my heart smile.
Looking back over the past two years, I am amazed by how much progress has been made in achieving the goals of the Global Plan. From 2009 to 2011, we saw a 24 percent reduction in new HIV infections in children; data from 2012 will be available in a few months and I believe this trend will continue. Over the same period of time, many of the 22 "high-priority" countries -- where the vast majority of mother-to-child HIV transmissions occur -- have adopted an innovative treatment regimen known as Option B/B+. Option B+ recommends antiretroviral medications to expectant mothers with HIV not just during pregnancy, but also over the course of their entire lives. This policy shift could simplify service delivery and improve adherence.
The Global Fund to fight AIDS, Tuberculosis, and Malaria provides many of these high priority countries with the financial resources they will need to eliminate new HIV infections in children and place mothers on treatment. To mark the anniversary of the Global Plan, Johnson & Johnson is partnering with (RED) to raise awareness and galvanize people to unlock funds of up to $100,000 for Global Fund grants to Tanzania, one of two new countries (RED) is supporting (click the image below to see how you can get involved).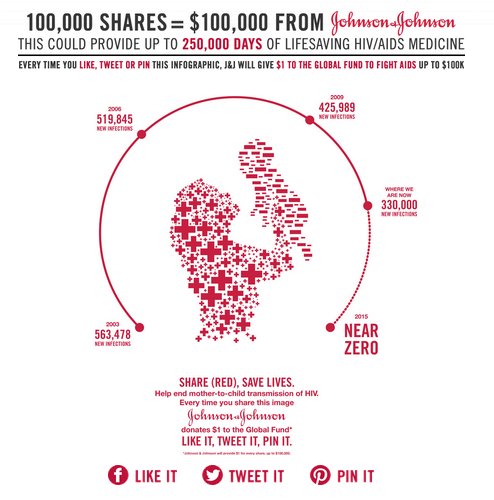 By sharing this infographic documenting progress, we can all take action to accelerate the end of mother to child transmission of HIV. Through a like, tweet, or pin, each of us can play a role in keeping mothers like Babs alive and helping to ensure that their children are born healthy and HIV-free.
Related