Seven years ago, I brought my daughter home from the orphanage, and my life was dramatically changed. But it wasn't until a recent trip to Yetebon, Ethiopia that I realized just how dramatically I had changed hers.
My daughter is originally from Azerbaijan, part of Eurasia, and even though it is many miles away, I imagine the challenges she might have faced would have been similar. In Yetebon, most households earn less than $300 per year, 78 percent of families are without access to clean drinking water and therefore obtain it from unprotected rivers, and fewer than a quarter of households have latrines.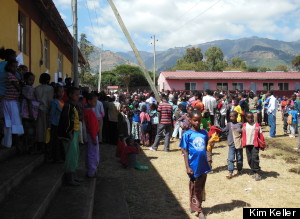 When I was in Yetebon, I visited a community supported by Project Mercy, an organization that provides education, economic development, agriculture and healthcare to the 70,000 people living in the area. I toured the local school, visited the hospital, and talked with the 20 American volunteers working there as teachers, two of whom were there on Princeton in Africa fellowships sponsored by Johnson & Johnson. I took photos and spoke with some of the children and patients at the hospital. I learned that the battle to educate these children is not just about studying and learning, as most already have the desire to learn and a passion for their studies.
The challenges that Project Mercy face are many. There is a language barrier, and the children are often malnourished. The school is tasked with providing two meals per day to its students, which are sometimes the only meals they receive. Hygiene is also problematic, so Project Mercy teaches children how to stay healthy by using the latrine and washing their hands, and also provides clean water from the school's well for children to take home to their families. Meanwhile, the school also provides housing for foster children and orphans, most of whom are victims of the HIV/AIDS crisis. Through other programs provided in Yetebon, these children also learn trades like woodworking, crafts, animal husbandry, or farming, which give them a chance at a life -- though not the same life type of life my daughter experiences in America.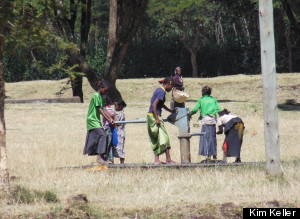 And so, I took this experience back to my daughter's classroom in the U.S. I showed her and her classmates what a house looks like in Ethiopia, how children have to get water from the well, and how attending school is considered a privilege. I tried to stress, but not overwhelm them, with the poverty I saw -- I wanted to help them understand how lucky they are.
I am not sure about the other kids, but my daughter got the message. She thought of how she started life -- being left at two or three days old in a doorway to be found by the police -- and how her life is so different from that of the orphans in Yetebon. And yet their lives are so vastly different, still, than those of their peers who have not found an organization like Project Mercy.
On World Humanitarian Day, let's remember the importance of the people that make all these stories possible. The world needs more people to help teach skills that work to change the lifecycle of poverty and it needs more people willing to show children that life can be different no matter where they live. I am grateful that I work for a company that has opened my eyes to the issues in the world, and has let me be a part of the solution. I am thankful to work with such wonderful partners as Project Mercy and Princeton in Africa -- and wish them well in all they do to help better the lives of these children.
Today, on World Humanitarian Day, please reflect with me in the comments section on how you can make a difference.
REAL LIFE. REAL NEWS. REAL VOICES.
Help us tell more of the stories that matter from voices that too often remain unheard.