With "Jo Cool," Mel Shimkovitz has crafted a comically epic short film that dives headfirst into the murky waters of how queerness is marketed and represented in media. It premiered recently on Nowness.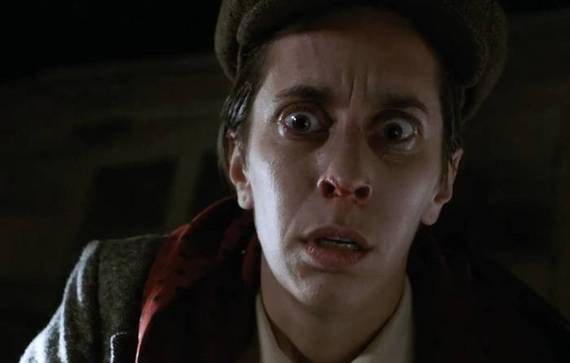 The clone characters (played by Shimkovitz) are the perfect metaphor for the present struggle of how to represent queer culture without destroying it. The characters cherish and fully own their lesbian identity while they also simultaneously exploit and kill it. One JoCool is the physical embodiment of a Pinterest wall, an avatar, and the other, the supposed "real" JoCool, is an outcast on the brink of self-annihilation. Although both try to be the cool kid, desperate to fit in, one Jo Cool is about to kill the other, the avatar. My personal favorite line is when JoCool asks her doppleganger, "How many instagram followers do you have?" as though needing reassurance that she is actually cool.
I think it's no coincidence that Shimkovitz has contributed to the current Renaissance of queer representation in television, (Transparent) and I applaud her for making a beautiful little film which asks difficult and awkward questions. Many who have fought for acceptance are now uneasy about seeing what was once a subculture play out on TV.
It was poignant for me personally to watchn this film in the same neighborhood (the film screened in a bar in Silverlake) and on the same week that my parents' store, Circus of Books, closed. Established over 30 years ago when Silverlake had an active queer subculture, the store provided a safe place for people to meet others and find homoerotic material where it was otherwise unavailable. While shooting the store's closing for a forthcoming documentary, I witnessed many of the store's longtime customers break down in tears, describing it as one of the few refuges for them at a time when there were so few. It's impossible to not feel joyful that we don't need a refuge from oppression, but now that the full spectrum of queer culture is available on demand at the tip of one's fingers, the community that existed in places like these is also steadily disappearing.
Some words from Mel herself:
What sparked the idea for your film? Was there any one event ? I'm curious how the film's story came to you.
Honestly, I was just trying to write the joke to a punchline Devendra [Banhart] came up with ("Harry Pottery Barn").
I'd love for you to talk about the decision to end it in the way you did -- because it's both really funny and also really sad, and horrifying.
I wanted the logline to be "A comedy about killing yourself. But not, like, suicide."
It reads to me in two ways: HI MINDED version is about killing your ego; LO MINDED is about coolness & acceptance coming through the most superficial of means. It's an internet film, really. Jo's higher quality doppelganger is really just her Pinterest board self coming to life. We are now all mostly known to the world as our Instagram handle, the photos of ourselves we carefully curate-- we brand ourselves, if you will, not even via direct consumerism but merely through our "likes" of particular brands, looks, sounds, art. Other people's art. Coolness, as Jo understands it, can be procured using Paypal. And coolness matters, if you look at this as a queer film, because that's how "otherness" earns its entry into the mainstream.
But it's also just a film about a loser in life who is knocked down repeatedly and keeps getting up-- a person who doesn't know they are a loser until they meet the winner version of themselves. And Jo wants to be a winner. She sees a path to success. So she leaves Cool Jo for death. And steals her cool clothes.
I'm curious about how you came to acting and writing in general?
I've been performing since I was very small-- starting at age 4, I would dress up and perform monologues as my identical twin cousin, "Marvin." That's my first memory of acting. The writing always went hand-in-hand with the acting as,until about 2 years ago, no one was writing parts for my "type." I was a child playwright; I wrote all of my own dream roles,which were mostly handsome, depressed, effeminate young boys. In high school and college I wrote all my own audition monologues under a pseudonym. There just weren't many women's monologues that weren't about being in love or relationships with men. And no one was gonna ever buy me as a straight women. So I wrote monologues about other things women are interested in... turns out women are engaged in lots of other things besides men!
I loved that cameo by Devendra Banhart. How did that come about? Have you worked with him before as an actor?
Devendra Banhart is my platonic life partner. He has acted in several films of mine,and I have a guitar solo on his next album. I don't play guitar and he doesn't really like to act-- I think we are just special Easter eggs in each other's work. Or maybe it's just a practice in masochistic humiliation.
Who are some of your influences?
Gilda Radner, Lily Tomlin, Sam Peckinpah, Archie Andrews, Jerry Garcia, Arthur Russell.
Catch Mel here on New Year's Eve
New Year's Eve Party- Pie Town's Supertemporal Southwestern Sockhop
http://www.acehotel.com/m/calendar/palmsprings/nye-2017
REAL LIFE. REAL NEWS. REAL VOICES.
Help us tell more of the stories that matter from voices that too often remain unheard.