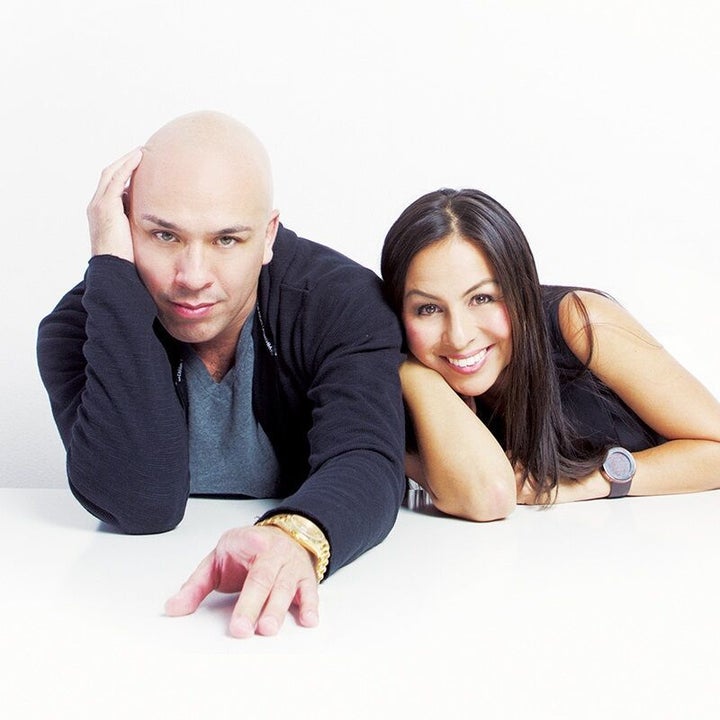 "I'm the girl who interviewed you guys for the Huffington Post," I said to comedians Jo Koy and Anjelah Johnson. I was grinning. "Ohh!" They both said in unison. "I love you!" said Koy. Talk about my night being made.
This took place backstage Saturday night at the meet and greet for the BFF tour. The venue was Hard Rock Live at Seminole Hard Rock Hollywood, FL and took place the exact same night as the infamous Mayweather vs McGregor fight. "I put money on Mayweather," Koy confidently said. Johnson jokingly replied, "I read somewhere that doctors said McGregor shouldn't fight. I don't know why though - I only really read the headline." When Koy asked where the article was from, Johnson replied, "Fox" and both busted out laughing.
After taking pictures with them, my friend and I giddily went to our seats. The show was about to start, and we didn't want to miss one single second.
Newbie Rahn Horton was the first to appear onstage and dubbed himself as an onion ring. "Bet you didn't expect me to come on before Anjelah," he said. "You know at Burger King how you sometimes get an onion ring at the bottom of your fries and it's a surprise? Well, I'm the onion ring." Horton brought some laughs out of the audience with jokes about his cat, his wife, and even his daughter's hearing aids. It's evident that this onion ring will soon become a big fry in no time!
Following was Johnson, who danced onstage to a hip hop song. Dressed in casual attire of jeans, slip on sneakers, a sweater, hoop earrings and tank that read "Pretty Young Thing", Johnson immediately launched into jokes about her appearance. "Not every Latina that wears hoop earrings is Jennifer Lopez," she said when referencing getting confused with the singer. Other jokes included ghosts, a sleeping masseuse, and her trend loving husband. "He loves shopping and is very fashion forward," she said. "And I just look like a lesbian." The comic also proved to be very fast on her feet when poking fun at a loud, incoherent audience member. After pretending to bless her with holy water and doing the sign of the cross, the guest came up in a later joke. "I thought it was that lady in my backyard," joked Johnson when speaking about loud noises in her place of residence. The act concluded with a few snippets of Bon Qui Qui's songs and some merchant promotion, but it was the classic "nail salon" skit as the closing joke that really brought on the laughs.
Koy shortly followed, practically running onstage to Drake's "Trophies". Koy started by making fun of the rainy downpour: "I see people in parkas and shorts. This weather is confusing!" With his infectious energy and smile, Koy inspired tons of laughs with riffs on his mother, his son, and even discovering a Filipino women in the front row. "See, look - all Filipino have short hair, glasses, are nurses, and will put their designer purse on their lap. Do you have cough drops in there?" he asked. The woman riffled around her Louis Vuitton and instead pulled out Vicks. Koy was speechless. "I don't even know how to follow up with that!" Koy joked. He pretended to be done with the show. "I'm Jo Koy everyone, have a good night," he said, dropping his mic.
Later on in his set, Johnson joined him where they had a battle of which old school R&B was better: songs sang by women or men. Songs included "All My Life" by K-Ci & JoJo, "No Scrubs" by TLC and more, all of which the audience sang to. Koy even prompted everyone to flash their phone lights to Brian McKnight's "Back at One". Winning the "battle", Koy concluded his jokes but not before doing a synchronized dance with Johnson onstage. It was apparent that both comedians were more than just accompanying acts, and were friends that truly loved touring together. Watching them was comparable to seeing two friends joking at an intimate party. I'm just happy I got to witness it.
Support HuffPost
The Stakes Have Never Been Higher
Related
Popular in the Community