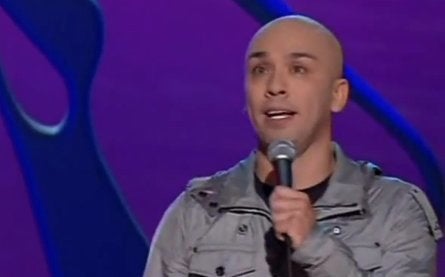 UPDATE: Jo Koy updated his Twitter account Thursday night with the following statement:

"I sincerely apologize for the incredibly foul word I chose to use on stage last night in Chicago. It was a moment that I regret. I realize that words can be hurtful , which is never my intent. I'm truly saddened if I offended anyone with my poor choice of words, particularly the gay community. Homophobia is not funny."
As actor and comedian Tracy Morgan tries repairing his reputation following a homophobic rant, another popular comedian is being accused of making anti-gay comments during a performance in Chicago.
Jo Koy was in Chicago Wednesday to perform at the Vic Theatre as part of the third annual TBS Just for Laughs comedy festival. A reporter for Chicago's LGBT newspaper the Windy City Times attended the show and apparently witnessed some homophobic remarks from the comedian, who is a regular in Chelsea Lately's roundtable.
At one point in his stand-act he danced in a feminine fashion and said, "I made this dance extra gay since I am not gay." Later his zipper was open to the screams of several female fans in the front row pointing at his jeans. One male voice yelled, "I saw it." Koy replied, "What are you looking at, fucking faggot?"

The remarks came after Videogum reported on a previous Koy "joke"-- that sounded a lot like Tracy Morgan's. In Morgan's notorious set, he said he would "pull out a knife and stab" his son if he were gay. Koy allegedly told an audience of college students "something like if he ever caught his son in bed with another boy, he would stab them both to death."
He was allegedly booed off stage following the remarks at the college.

Popular in the Community