This has a festive ending, so please bear with the lead. Four years ago New Orleans became a canary in the coal mine for common decency as stranded citizens waited five days in the Convention Center with no drinking water, let alone medical help, when our levees failed. My brilliant friend Barry Cowsill was last seen there, waiting for the help that came too late. Fast forward to this year and Charity Hospital still has not re-opened. Its existence could have prevented the way we lost the vibrant Cayne Miceli. Nationally, reform is long overdue as American life expectancy and infant mortality rates become an international disgrace. Katrina vanden Heuvel notes here on Huffington Post that 72 percent of Americans are in favor of universal health care, no matter how many billions of dollars are poured into the lobby against it. I joined the ranks of the uninsured post-Hurricane Katrina, and have dodged doctor's visits so far (knock on cypress). It's easy to feel powerless in times like these.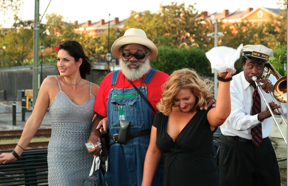 So when my friend Joannie Hughes called and asked for help with her medical expenses, it was a relief to do something for someone who has been a rock of support. If Wikipedia had an entry for Good Person, it would show a picture of Jo. Three years ago she and her Voodoo Vixen troupe, along with the New Wave Brass Band and Playing for Change's Grandpa Elliott Smalls (pictured at right), welcomed Liverpool's Joe Topping who walked across the country raising awareness for the New Orleans Musicians Relief Fund. Two years ago on the Hurricane Katrina Anniversary, Jo's son Jake wore a ReDefine 8/29 shirt and gave the most moving speech I've heard a 12-year-old come up with, right in front of Jackson Square. They both collect toys for Children's Hospital at Christmas, giving back because Jake was sick as a child. He's now a teen rocker sporting a "You Looked Better on MySpace" tee shirt, but shows the strength found in his generation of children who lost everything and keep going. Jake's mom is a special needs teacher, recently diagnosed with Multiple Sclerosis, and they are handling it with grace.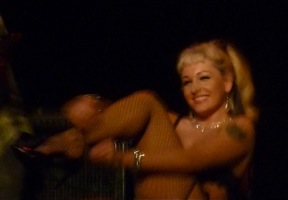 Jo called to let me know she was rationing out desperately needed medication because her health insurance only covered half of the treatments she needs and she's in too much pain to work full time. I told her: "We're going to need dancing girls." Revisiting the go go dances of the '50s, burlesque is a major draw in New Orleans. Having seen Rev. Spookie LeStrange, Kittie Twist and Foxy Flambeau on Saturday I can see what all the fuss is about. It's further evidence that as benefit producer, my husband leads a charmed life. Foxy (at left) was the co-chair, and thanks to a cancellation we had a week to pull off an event at the Howlin Wolf. DJ Bob French invited us to promote it on WWOZ, NOLA.com let me link to the benefit, and DC Harbold of Clockwork Elvis brought in his bands including Kitty Lyn for a beautiful duet. We kicked in some Eye Been Framed vintage eyeglasses, Snake & Jakes Christmas Club Lounge donated a baby tee and Eye Candy auctioned off a tattoo, but the original artwork by L. Steve Williams, Jr. stole the show.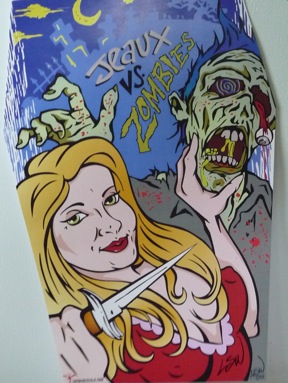 When Steve got word from Jo Tuesday that a Retro a Go Go Benefit for Jo was on for the weekend, he stayed up all night creating Jo Versus the Zombies. At the benefit, Jo described the poster in full teacher mode explaining that, 'Multiple Sclerosis attacks your brain." Brain eating zombies in a coffin shaped piece of artwork -- bent but appropriate. There was another comedic element to the night -- DC runs More Fun Comics and comedian in residence, Spackle McCrackle hosted with Andrew Healan as dancers in badass tattoos sold raffle tickets. All of this accomplished one very important thing. A special needs teacher in America will not have to ration her medication this month.
The outward signs are good -- she's out of the wheelchair and walking with a cane. But for next month? The girls are ready and Jo Versus the Zombies will soon be posted online at 504WhatStyle.com. I realize that in most of America you can't call in burlesque, bands, comedians and artists with a week's turnaround -- New Orleans is blessed that way.
But in one of the last civilized nations to deny universal health care to its citizens, just because we can put on a show, does not mean we should have to.