Joan Baez gets taken for granted sometimes, and her new birthday concert on PBS reminds us why that should not happen.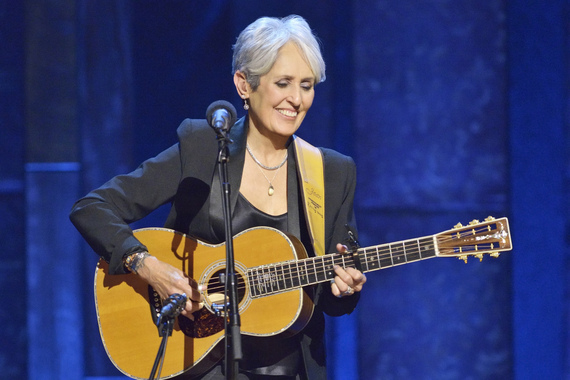 Joan Baez 75th Birthday Celebration, which premieres Friday at 9 p.m. ET on Ch. 13 in New York and airs on most other PBS stations in June, serves as a kind of highlight tour through a career that has stretched into seven decades.
No one stays around in music that long without taste and talent, both of which are evident throughout the 17-song evening.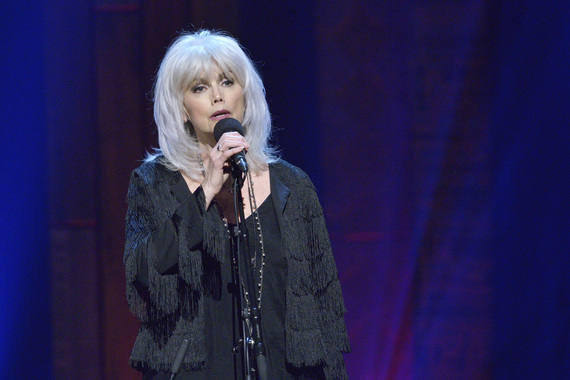 While Baez is probably best described as a folksinger, she has always drawn her music from many wells, and on this night that includes Stephen Foster, whose "Hard Times Come Again No More" she performs as a duet with Emmylou Harris (above).
She goes to the gospel well for "Oh Freedom" with Mavis Staples and a solo "Swing Low Sweet Chariot," which she prefaces with a story about singing it for Dr. Martin Luther King Jr.
In keeping with her standard practice, Baez doesn't banter much between songs. As public as her career has been, she's always had a guarded air, and her pleasure at this celebration doesn't make her into something she's not.
She's always acknowledged her fellow artists, though, both their performances and their songs, so it's appropriate that this show is a kind of roll call for those she has admired.
That includes a young artist like Damien Rice, with whom she performs the traditional Irish folk tune "She Moved Through the Fair," and Nano Stern, with whom she performs "Gracias a la Vida."
From there it stretches to Jackson Browne, who does most of the singing on "Before the Deluge," and David Crosby, with whom she sings a nice duet of Paul McCartney's "Blackbird."
David Bromberg plays guitar behind her on Elizabeth Cotton's "Freight Train," and Mary Chapin Carpenter joins her for Donovan's "Catch the Wind," which recalls the pop peak of 1960s folk music.
Baez herself never cracked the top 40, which simply proves again that radio play isn't necessarily related to musical quality. A whole lot of hit songs have come and gone since Phil Ochs wrote "There But For Fortune," for instance, while Baez proves that one is here to stay.
Speaking of quality songs, she brings out Richard Thompson for his whimsical gem "She Could Never Resist a Winding Road."
Absent from the stage, but not from the show, is one other songwriter from Baez's life, Bob Dylan.
If you ever run into Baez and you want to drive her away, ask about her relationship with Dylan. But if she got tired of talking about it long ago, for good reasons, she still tucks it into her music.
That includes a duet with Judy Collins on "Diamonds and Rust," a song addressed to a nameless fellow who shares some particulars with Dylan.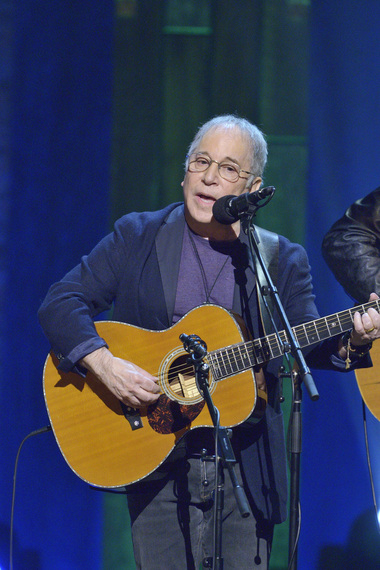 She duets with Paul Simon (above) on "The Boxer," a song that Dylan once recorded and that is occasionally rumored to have had some Dylan elements.
Then again, she could be doing it just because it's a great song, one of Simon's best. Enhancing it further here is a wonderful guitar solo from Thompson.
Baez also plays Dylan's "Don't Think Twice," with accompaniment by the Indigo Girls, and closes the show with a solo on Dylan's "Forever Young."
The former is a great song, sharp-edged on the matters of romantic breakups. The latter might be just a good way to wrap things up, suggesting that 75 isn't the end. There are hands still to be busy, feet still to be swift.
As Baez leaves the stage, she wryly tells the applauding crowd, "See you in 10 years."
Calling all HuffPost superfans!
Sign up for membership to become a founding member and help shape HuffPost's next chapter