BADASS JOAN BROWN: Smoking and Swimming in San Francisco
by Natasha Boas
There is something at once tough and vulnerable in Brown's paintings and drawings that are currently on view in "Presence Known" at the Anglim Gilbert Gallery's new Minnesota Street Project location in San Francisco. It is as if the cartoonish quality, bright palette and unfinished lines are somehow unable to disguise the seriousness of her painting.
San Francisco born artist Joan Brown, who died in 1990 at the age of 52 in India in a freak museum accident, left a lasting mark on painting and the art world at large. As a student of Bay-Area figurative painter Elmer Bischoff at the California School of Fine Arts (now the San Francisco Art Institute,) she received early notoriety in her career as the youngest artist ever to have been included, at the age of 22, in a 1960 Whitney Biennale (then called the Whitney Annual.) She was equally well known and admired as a local SF feminist hero who crashed the men's-only " old boy" Dolphin Club and made it legally mandatory in 1976 for the swim club to admit women members.
Joan Brown, irreverent and with a disregard for fashion, was able to cross over and through the Beat Generation and Funk Movements of San Francisco in the 50s and 60s that were defined by a free thinking bohemian anti-establishment nervy attitude. She showed at Gallery 6 and was part of Bruce Conner's infamous Rat Bastard Protective Association with artists such as Wally Hedrick, Wallace Berman, Jay DeFeo and Manuel Neri who prided themselves on being underground "outsiders" experimenting with a range of art forms, materials and processes. Brown was a hugely influential painting professor at UC Berkeley. Her students still talk of her rigorous formalist academic knowledge as well as her story-telling on a wide range of subjects including world travels and spirituality.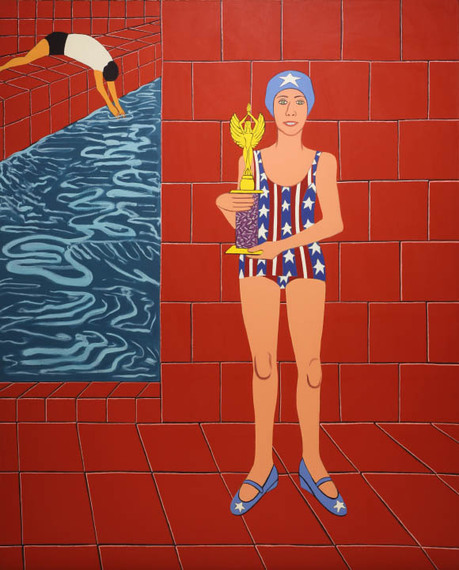 Joan Brown, The Bicentennial Champion, 1976 , oil and enamel on canvas, 96 x 78"
Courtesy of Anglim Gilbert Gallery
The selection of paintings in "Presence Known" stand up well to Brown's East Coast 70's contemporaries such as Nancy Spero and the women artists of A.I.R Gallery, who, as part of the feminist art movement, placed emphasis on autobiography, narrative and the female body, employing figurative imagery and self-portraiture as politically radical devices. Brown's body is repeatedly depicted swimming, jumping, diving or contemplating; sometimes her body is full frontal and bathing suit clad or in a highly patterned dress, and other times her body is fragmented, barely there with a trace of a leg or a shoe, a constant reminder of Joan Brown the painter, swimmer, smoker, acrobat, woman. Always the subject and never the object.
Brown swam daily in the Bay and was such an serious swimmer that her purple and red bathing suits have been kept on file in small plastic Ziploc baggies by archivist extraordinaire Jeff Gunderson, at the library of San Francisco Art Institute. In 1975 she participated in her first all women's Alcatraz Swim when a large freighter ship passed and left her dangerously disoriented and ultimately hypothermic. Traumatized by the experience, Brown went on to create a related series of paintings and drawings that constitute the core of her 70s work. "Portrait After Alcatraz Swim #1 " hangs defiantly in the SFMOMA inaugural show as one of the only Bay-Area women artist works represented. The #3 version of the series is featured in "Presence Known."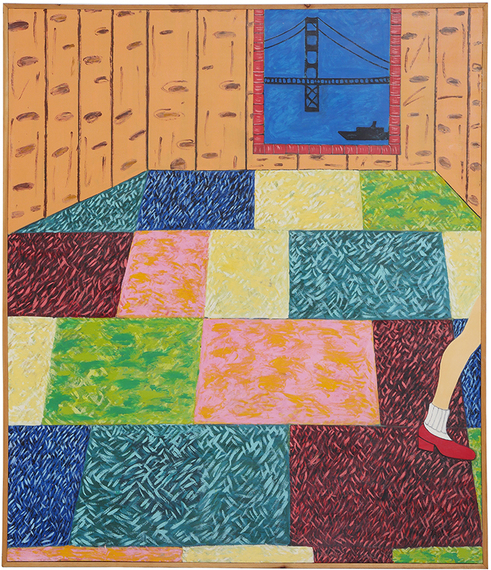 Joan Brown, The Weight Room at the Dolphin Club, 1975, enamel on canvas, 84" x 78"
Courtesy of Anglim Gilbert Gallery

Looking at Brown's paintings in the context of today, I am struck by how the work is California cool by all contemporary standards. The informal large-scale, deliberately funky paintings negotiate between abstraction and figuration with the expertise of the initiated painter. They are so fresh and current that we can easily imagine them being painted now. Clearly, Joan Brown's vibe was still around when Margaret Kilgallen (1967-2001), a later San Francisco artist important in her own right, was making figurative paintings like "Pearl" and "Surfer Girl," hanging out with artist friends Chris Johanson, Barry McGee, Ruby Neri and Alicia McCarthy in the 90s. This group of artists have some of Joan Brown's lasting NorCal mojo. Be sure to experience this for yourself at Minnesota Street Project. Now I need a cigarette.

Joan Brown: Presence Known
1275 Minnesota Street
Anglim Gilbert Gallery
May 18-July 2, 2016
http://minnesotastreetproject.com/exhibitions
Calling all HuffPost superfans!
Sign up for membership to become a founding member and help shape HuffPost's next chapter