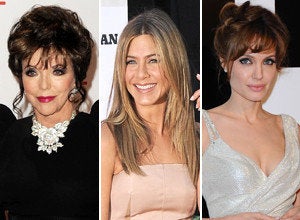 Joan Collins thinks there is only one true Hollywood beauty left, and at 77 she doesn't mince words.
The 'Dynasty' actress tells UK's Hello! magazine:
"I have to say, there aren't that many good looking actresses around today. I mean, there's Angelina Jolie and there's... Angelina Jolie.

Jennifer Aniston is cute, but I wouldn't call her beautiful. I think that is why Cheryl Cole is so popular, because she is just so pretty and the public are starved of gorgeous people.

"When I was young, everybody on screen was gorgeous."
In the Hello! interview, Collins also rails against fat people.
"If you eat junk, you look like junk," she said. "People say, 'It's not my fault, it's my glands'. It's not, it's greed!"
This is strangely similar to the diet advice Aniston gave to Harper's Bazaar UK earlier this year.
"My advice: just stop eating shit every day," Aniston said.
Support HuffPost
The Stakes Have Never Been Higher
Popular in the Community