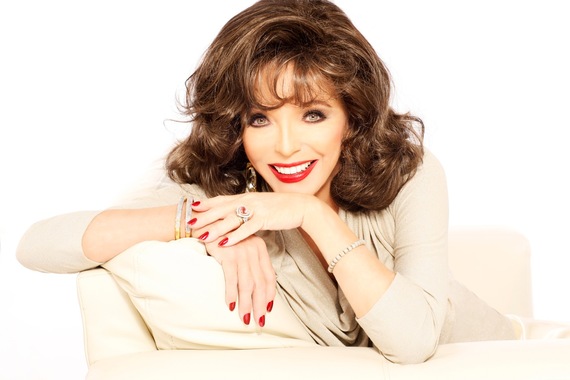 On-screen bitchslaps aside, Joan Collins' six-decade career stands out as one of the more colorful, eventful romps to emerge from the annals of Hollywood. From 1950s ingenue to scene-stealing Alexis Carrington Colby on TV's Dynasty in the '80s -- and numerous stage appearances, not to mention two best-selling memoirs (a third is on the way) -- audiences continue to be fascinated.
The star's one-woman tell-all, "One Night With Joan" has certainly turned heads. It debuted several years ago and Collins has been touring internationally with it ever since. It runs this week at Feinstein's at the Nikko in San Francisco.
The outing certainly holds a special place in Collins' heart. It marks her return to The City, where she met husband Percy Gibson, who was a theatrical manager when she was performing "Love Letters" with George Hamilton in 2000. But the genesis of the show actually began about 15 years ago and after Collins and Gibson married in 2002, the duo began thinking more seriously about developing the project. Filled with irreverent, self-deprecating tales -- on-set encounters with the likes of Bette Davis, Marilyn Monroe, Bing Crosby, Richard Burton and others -- the show also features rare film footage as well as outtakes from Dynasty (you know, that iconic prime-time soap, which also starred John Forsythe, Linda Evans and Pamela Sue Martin and sent Collins' career soaring in the '80s.)
Collins' influence stretches beyond the festive hand tossing of Tinseltown glitter, however. Her charitable outreach -- from The National Center for Learning Disabilities to the prevention of child cruelty in the UK -- stand out. And few people may be aware of her involvement in the much-heralded Linor Abargil documentary Brave Miss World. Abargil was raped several weeks before winning Miss World in 1998. The doc chronicles her efforts to get rape survivors to discuss their experiences. Abargil met with Collins, who revealed details of her own alleged rape -- the first time on camera doing so, in fact. Collins noted that she was a 17-year-old virgin when she was drugged and raped by a "famous star."
True, that bit of news may not have made it into Collins' robust one-woman show, but it does illuminate another, perhaps more intimate, side of the icon. We caught up with each other in between stage shows where she confesses all -- more or less. Read on.
Greg Archer: The one-woman is a hit. Tell me more about it.
Joan Collins: Well, I started thinking about 15 years when I was sitting next to Gregory Peck at dinner. He had been doing a one-man show. He said, 'You really should do it. You've really had an interesting life.' I said, 'Oh, that sounds so terrifying.'" He said, 'No -- the audience is very perceptive, they will love you!' Percy and I started thinking about this years ago when we were in Acapulco with some friends. Do you know Nolan Miller, the designer, who did much of Dynasty? Nolan came up with several ideas and things just evolved.
Greg Archer: What do you sense people are enjoying most about you, the show?
Joan Collins: I tell very self-deprecating stories about various people -- Joan Crawford, Bette Davis. A lot of people. I have many different clips from films and news footage and outtakes from Dynasty, too. I think it just depends on the audience. They are like an amoeba. Some of them like just me. Some people like the clips, others like the stories I tell. Some people like the Q&A I do at the end of the show.
Greg Archer: So anything -- and everything -- left unknown about you by the end of the show is open for inquisition. Nice. Are you surprised by the show's success?
Joan Collins: [Laughs] Now... if I say yes, I sound too humble. If I say no, then I sound too full of myself. Let's just say I am enjoying it.
Greg Archer: But what is about you that people find so intriguing? What do you think?
Joan Collins: I have to tell you, I am the least analytical person that you can possibly ever meet. I have never sat down and analyzed myself. I am quite objective about myself, about where I stand on the totem pole of showbiz, and I never really think about that. I just say, 'Well, they must have very good taste -- ha ha ha!'
Greg Archer: It does sound like you're just enjoying yourself.
Joan Collins: I enjoy it all. The audience... not when somebody's telephone goes on, but I typically make a joke about it. The thing about live theater without other actresses to back you up, is that it's just me there on stage -- alone. And I have my background... but it can be a little intimidating sometimes depending on the venue. But I am sure San Francisco is going to be good. I can feel it. I did play there in... 1993? I did "Private Lives." I love the city. I enjoy the great restaurants and I have some friends there so. Time will go very fast.
Greg Archer: What has been the best thing about collaborating with your husband?
Joan Collins: Percy and I are each others' best friends. We just really get along really well. It all happens to go swimmingly. Or we wouldn't be doing it. In fact, now that I think about it, I actually met him in San Francisco at the theater. When George Hamilton and I were doing 'Love Letters.' He was the company manager.
Joan Collins: Yes. In fact... one day before opening night, he said, 'Is there anything I can get you?' And I said, 'Yes, I have run out of eyeliner. Could you possibly get it?' He said sure, and off he went. When he came back with mascara, I looked at it and said, 'What's this? I guess you're not gay are you?' We got married two years later in February of 2002.
Greg Archer: Nice. So, the entertainment business has changed dramatically since Dynasty aired. What do you think is the secret to longevity and 'relevance?'
Joan Collins: You don't give up. You have to care about the business. You have to care about work. You have to accept constant, constant rejection -- in some way or another. You have to enjoy the fact that you are in a great business and having had career that's lasted -- oh my gosh -- five or six decades. There aren't that many people that have had that.
Greg Archer: Very few. You are in a rare bunch.
Joan Collins: You know, sometimes I look at a black-and-white movie on TV and I'm saying, 'Oh yeah, there's Laurence Harvey, Stanley Baker, Margaret Leighton -- they're all dead. Oh my God, everybody's dead. Now, who's that young girl? That teenager?' And then I realize, 'Oh, it's me!' I was always the youngest when I came in [in the '50s] and known as 'the girl,' and the cameraman would say, 'Put the light on 'the girl!'
Greg Archer: Any thoughts on how the business has evolved in 25, 30, 35 years?
Joan Collins: It's very tough for actresses. I was just talking to agents and they were looking at scripts for pilot season and out of 100 scripts, there are only two roles for women in their fifties and sixties. Only two. And I think that you have to have a second strength, which is why I started writing books and involved myself with charities and theater -- and not sitting around and waiting for the phone to ring and your agent to say, 'Hey guess what, they are going to re-do Dynasty.'
Greg Archer: You keep going.
Joan Collins: I have a great life. I have this wonderful husband and terrific children and adorable grandchildren. I really enjoy my life.
Greg Archer: So, when you look back at Dynasty ...
Joan Collins: A great show of its time. Absolutely fabulous. I don't think it would necessarily work today. And I don't think that Breaking Bad would work 30 years ago. The business has changed. Audiences now like to watch a lot of blood and gore and murder.
Greg Archer: One last thing. What's some of the best advice you have ever been given about life?
Joan Collins: [Laughs]. That you have to eat life... or life will eat you!
Visit Feinstein's at the Nikko for 411 on Collins' show, April 10 and 11. Visit joancollins.net for additional tour dates. In the meantime, here's a downright devilish Collins' clip to savor:
Calling all HuffPost superfans!
Sign up for membership to become a founding member and help shape HuffPost's next chapter