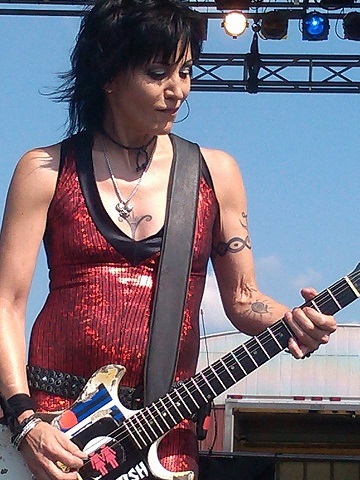 Joan Jett & The Blackhearts performed at the Quick Chek Festival of Ballooning. Photo by Morgan Leigh.
I love rock and roll! When I found out Joan Jett & The Blackhearts were playing at the Quick Chek Festival of Ballooning this year, you can only imagine my excitement.
On July 27, the singer brought masses of people together for an afternoon show in New Jersey. Afternoon show? Yes, you read that correctly! Perfect for exposing the younger generation to Joan Jett!
Since I listen to Joan Jett with my kids all the time, when I told them we were going to see her in concert, they flipped out. My 8-year-old has already seen Joan Jett play two times before, but my 6-year-old twins have never been to a "real" concert.
Joan Jett looked great, as usual, and her musicians were very much into the music. She played tunes from her upcoming album, which I have to admit, all sounded the same to me. But when she played her older stuff, the crowd went wild, joining in, yet, interestingly enough, most people still stayed in their seats or in the back on the lawn.
Toward the middle of the show, someone with authority got a brilliant idea; the security guards starting telling people to come up to the front of the stage. That's when things got more fun! With the audience now crowded around the stage, this seemed to give Joan a burst of energy. My kids didn't understand what was happening, so it was a great learning experience for them. My 8-year-old daughter was in heaven when Joan sang her favorite song, "Crimson and Clover."
Let's talk about organization of a huge festival and how the kids and I finally reached our destination: the concert.
I've attended the Quick Chek Festival of Ballooning ever since I can remember. Over the years, it's become more organized, more detailed and much more fun!
The concert stage was set all the way at the very end of the airport. So to get there, we had to walk through the entire festival. I absolutely love doing that. Plus, it was a gorgeous day. We stopped at every vendor table that was giving out something -- drinks, chips, etc. I was aimlessly walking toward the rear of the airport, but the kids kept pulling me in different directions.
We actually saw a table that had those Swedish Fish candies. Now THAT brought back great memories!
There were also rides, but the concert was starting, so we weren't able to go on any of them. However, we did see lots of people at the ride area.
Overall, we had a fantastic time. Quick Chek is always able to snag musicians that I love. Oh! And let's not forget about the fact that over 100 hot air balloons take off into the air! The kids and I are looking forward to next year's festival! Will you be there?