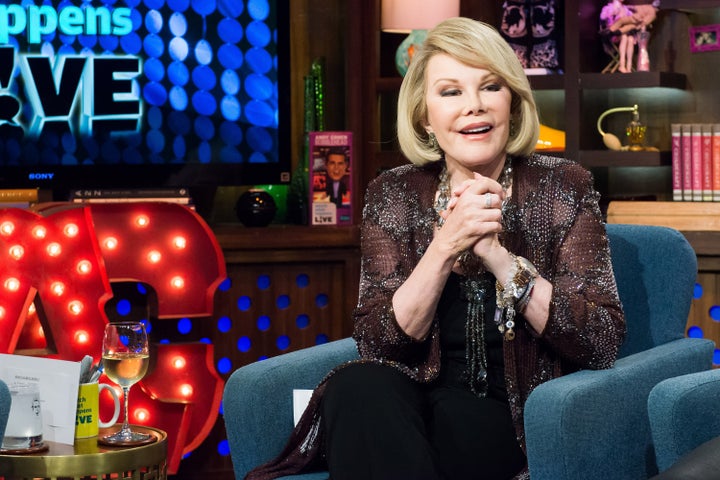 Joan Rivers left this world one year ago today, but it still feels like we'll see her next resurgence any day now. Surely she's about to make another return to "The Tonight Show," where she'll unleash barbs about Donald Trump's campaign and North West's soon-to-be baby brother. Obviously Stephen Colbert will invite her onto "The Late Show" in lieu of her frequent quips with David Letterman. It's about time for new episodes of "In Bed with Joan" and another tour, right? And, of course, any day now I'll glimpse her fur coat prancing through the halls of HuffPost Live, where she was a regular guest.  
For anyone else who pretended Rivers would spring back to life after last August's botched throat surgery, her absence is just now setting in. As much as I'd like to think she's on an extended vacation, anyone familiar with Rivers' career knows that she takes no breaks. (After all, she was still winning Grammys after her death.) But things are happening in the world that demand commentary from the first female comic to headline Carnegie Hall. This is the first presidential election she won't commentate in who knows how long. Instead of lambasting the Emmy red carpet's fashion choices in a few weeks, she'll presumably be part of the show's In Memoriam segment. And who will tell us what to think when Oscar season boots up and there are umpteen award-show faux pas to parse through? 
When beloved actors or musicians die unexpectedly, we find a shred of consolation in whatever fresh material will be released posthumously. Many argued that Paul Walker's death, for example, is part of what made "Furious 7" the most lucrative installment in that behemoth franchise. Twenty-one years after Kurt Cobain's suicide, fans still eat up any of his lost music that surfaces. But the ever-transparent Rivers, whose insightful 2010 documentary showcases the elaborate filing system she used to catalog every joke she wrote, isn't someone who'd keep a secret comedy album buried within her Marie Antoinette-inspired Manhattan penthouse. There is nothing to keep Rivers alive but the remains of her cultural impact. That leaves the rest of us to endure 17 Republican nominees sparring about anchor babies without the respite of Rivers' quick-witted scorn. 
What's suffered the most without Rivers is undoubtably "Fashion Police," the E! snark-fest that Rivers was the face of since its launch in 2010. The show underwent a brief hiatus until Kathy Griffin -- long considered Rivers' comedic heir thanks to her likeminded infatuation with celebrity culture -- took over hosting duties. The show saw one implosion after the next: Griffin, who reportedly angled for the job while Rivers was on her death bed, lasted a mere seven episodes before calling it quits. Kelly Osbourne, one of the program's original moderators, dropped out shortly thereafter. Rumors of feuds swirled. "This never would have happened if my mother was alive," Melissa Rivers, the show's executive producer and new co-host, said in June.
This is all a distended way of saying that life is no fun without Joan Rivers' biting, business-savvy persona around to hand us things to argue about. For better or worse, I wonder whether she'd land in hot water over Caitlyn Jenner zingers, having called Michelle Obama a "tranny" last year. Would she ease up on her pal Trump, having won "The Celebrity Apprentice" in 2009, or would she go all in on, say, his recent interview with Sarah Palin, whom she called "stupid" in 2011? And oh, the things she could have said about Miley Cyrus' wardrobe at Sunday's MTV Video Music Awards. ("Every time this girl twerks in public, an angel gets knocked up," Rivers scoffed after the singer's VMA performance with Robin Thicke.)
I read a great deal about Rivers in the wake of her death, but one sentence that Phillip Maciak wrote for Slate struck me in particular: "The central irony of Rivers' face, as it's evolved over the years, is that the more artificial and mask-like her appearance became, the fewer and fewer shits she seemed to give about what anybody thought of her." She lived to the ripe age of 81, but she deserved another decade to bathe in the heyday she hadn't experienced since before Johnny Carson blacklisted her in 1986. She deserved to let her already sparse boundaries lend her even more brashness and more relevance. In a way, Amy Schumer is carrying some of Rivers' torch. Either way, it won't burn out. She is our dearly departed guardian angel of truth.
"That's what's so wonderful about life -- you must always have something else you want to do," Rivers said on HuffPost Live in 2013. Her list included a return to Broadway, her own late-night show (again) and getting laid. Whether those things were feasible doesn't matter. Rivers was always one of our most aspirational celebrities, constantly seeking a new trail to blaze. If only we could see what the next one had looked like. 
PHOTO GALLERY
Joan Rivers Through the Years
For a constant stream of entertainment news and discussion, follow HuffPost Entertainment on Viber.
REAL LIFE. REAL NEWS. REAL VOICES.
Help us tell more of the stories that matter from voices that too often remain unheard.