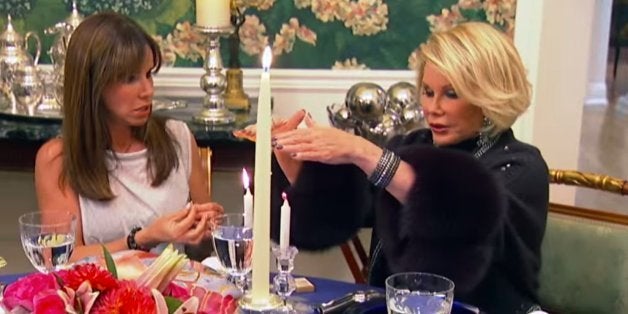 Born Joan Alexandra Molinsky in Brooklyn, New York, Rivers was the youngest daughter of Russian Jewish immigrants. As she pursued a career in acting and eventually found her way into comedy, her Jewish faith made its way into her humor:
"Everyone reaches God in any way they want to reach God," Rivers said on her reality show, 'Joan & Melissa: Joan Knows Best?' "And let's not forget, Jesus was Jewish... which made sense because he really loved his mother."
Rivers' brand of comedy was not always welcomed by the Jewish community but indicated that the comedienne identified, at least in part, with that aspect of her heritage.
Rivers' former talent-manager, Billy Sammeth, who recently offered a scathing "tell all" to The Daily Beast, told one story that captured the essence of her Jewish-centered humor -- which often focused on her own lack of knowledge about the faith. Sammeth relayed:
I once took Joan and Melissa to the Palm Court at the Plaza when Melissa was around 7 or 8 years old. Going to the Palm Court became like a ritual to Joan back then. Two old Jews came up to Joan that day when Melissa tagged along with us to the Palm Court. They said something to Joan in Yiddish. Melissa was roaming around the room like a little Jewish Eloise and Joan calls her over. Melissa traipses over and Joan told the old Jew to repeat what he had just said in Yiddish and Joan and Melissa fell all over each other hysterically laughing. My eyes were falling out of my head thinking how smart this little girl is to already know Yiddish. So after the old Jews walked away and Melissa goes off to pretend she's Eloise, I turn to Joan and say, "My word, Joan. I'm so impressed. Melissa knows Yiddish?" Joan goes, "No. She doesn't know Yiddish and I don't know Yiddish. But anybody who's speaking to you in Yiddish is telling you a joke so you laugh at the end of it. I've taught her that much so nobody will think she's stupid."
Rivers Judaism was flexible enough to allow her to celebrate Christmas, as she joked about in one sketch.
"I'm at the age where I figure, 'Screw it, I'm gonna have a Christmas tree...' I got a two-story-high Christmas tree... On the bottom I got the manger, I got the whole goddam thing going there. The wise men, the sheep. The only thing is, I had the baby, but I'm Jewish -- I got him a nanny."
Humor aside, Rivers was formerly awarded Woman of the Year by Hassadah, a women's Zionist organization, and reportedly supported several Jewish philanthropic causes.
Los Angeles-based Rabbi David Wolpe commended Rivers for her daring approach to humor. In an email to HuffPost, Wolpe said:
"In her pushing of boundaries, her transgressive brio and her unmatched eye for the absurdities of life, she exemplified the very best in Jewish humor. Sometimes she spilled over into a sharpness that could wound, but she offered the outsiders perspective, and brought us all laughter with a gasp -- the sudden shock of truth."
More than anything, humor was her bread and butter. In the words of her daughter, Melissa Rivers, in a statement about Rivers' death:
"My mother's greatest joy in life was to make people laugh. Although that is difficult to do right now, I know her final wish would be that we return to laughing soon."
Calling all HuffPost superfans!
Sign up for membership to become a founding member and help shape HuffPost's next chapter
BEFORE YOU GO