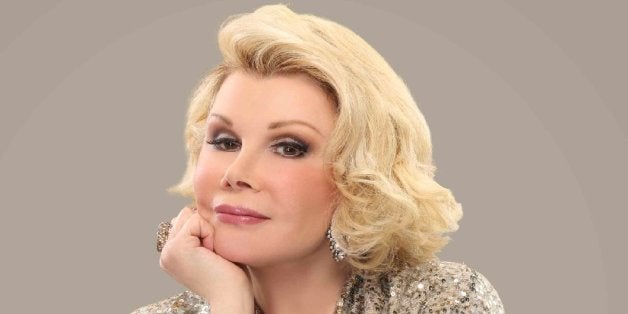 Can we talk? Earlier this week E! officially confirmed that Kathy Griffin will replace the late and great Joan Rivers on "Fashion Police." Though E! and the "Fashion Police" cast have publicly welcomed Kathy into the "Fashion Police" family, I'm having an issue with the re-cast. Personally, I am not a big fan of Kathy's. She doesn't hold a candle to Joan comedically, nor does she have a modicum of fashion expertise (see here and here). She is the self-proclaimed queen of the worst dressed list. How that title qualifies her to be the "Fashion Police" host, I will never understand.
My firm belief that Kathy is not the appropriate replacement for Joan is rooted in more than my personal opinion of Kathy's humor and dress. It is rooted in Joan's career and legacy and the fact that replacing Joan with Kathy goes against everything we saw Joan work for in the final years of her life.
To understand this assertion we must look no further than the documentary, "Joan Rivers: A Piece of Work." Any true "Joan Ranger," as she lovingly called her fans, has seen this documentary backwards and forwards, as it is truly incredible. The documentary chronicles Joan's life and career and follows the comedic icon as she turns 75 years old. "A Piece of Work," released in 2010, follows Joan at a pivotal moment in her career. This was before "Fashion Police," and before she won "Celebrity Apprentice." To put it kindly, Rivers' career was in a bit of a lull at that point. To put it in Joan's own words, her career was in the toilet.
In the opening minutes of the documentary, Rivers is sitting with her assistant, trying to plan her schedule and reminiscing about the "good years" when her schedule was full. Jokingly, she attributes this slump to none other than Kathy Griffin. "Not good... not good. We have no Vegas, no giant club dates -- Kathy Grffin has taken all of those away." Minutes later, when trying to reach someone on the phone she jokes again, "I'd get through faster if I was Kathy Griffin."
In 2010, as "A Piece of Work" depicts, Joan had to pick herself up by her bootstraps to pull her career out of the toilet and out from the looming shadow of Griffin. Joan managed to do this by winning "Celebrity Apprentice" and going on to host "Fashion Police," which was so successful, it became a weekly show. "Fashion Police" was the emblem of all that Joan overcame and achieved in the final years of her life. It was uniquely and distinctly hers. Her loyal cast, Giuliana Rancic, Kelly Osbourne and George Kotsiopoulos, complemented her wonderfully, which is what made the show so hilarious and wonderful to watch.
In light of this week's announcement that Kathy will be replacing Joan on "Fashion Police," sources have claimed that this is what Joan would have wanted. An US Weekly "insider" states, "They talked about it many times... They have such a similar sense of humor and were the best of friends. Joan would have loved seeing Kathy on Fashion Police and she would have definitely approved."
Um, acca-scuse me? I don't recall her ever saying Kathy was her best friend. In fact, she often said how few friends she had left. They were colleagues and there was definitely a mutual respect there, but at the end of the day they were also each other's biggest competition. And just because they respected each other in that regard does not mean that Joan would have wanted Kathy to take her place. Also, "they talked about it many times"? Joan had so many years left in her, I doubt she was making plans or thinking about who would take her place. So I am extremely skeptical of those "insiders" and "sources" who claim that this would have been Joan's last wish.
Throughout Joan's career she was constantly challenged, and oftentimes usurped by Kathy Griffin. The two comediennes have had incredible careers, each of them knocking down doors and shattering ceilings for women in comedy. There is no denying that. Though she is not my taste, Kathy Griffin is a talented comedienne in her own right and has worked very hard to get where she is.
Towards the end of "Joan Rivers: A Piece of Work," Joan has just survived a brutal Comedy Central roast, hosted by Kathy Griffin. At the conclusion of the roast, in Joan's closing remarks, she rebuts Kathy Griffin's earlier insults and retorts, "Kathy Griffin, you know what you are darling? You are a thief! Yes. You stole my act, you stole my gays, and you stole the face of the Burger King. I am not happy with this." In the documentary, after the roast, Joan is performing stand-up in a small club and reflecting on the roast. She jokes, "They said such mean, disgusting [things]...oh sure turn against the Queen... It's like Marie Antoinette. Yeah like you're gonna do better with Kathy Griffin. Fuck you... When she lasts 45 years then go stand on my grave. Just kidding, I love Kathy."
Though the roast remarks are clearly jokes, for me they sum up the essence of why replacing Joan with Kathy is so upsetting. Joan and Kathy were always neck and neck, vying to be the reigning queen of comedy. As a Joan Ranger, I was always rooting for Joan, who, up until her last breath, wore that crown fabulously. If "Joan Rivers: A Piece of Work" chronicled a lull in her career, her untimely death this summer came at a peak in her long, celebrated and remarkable career. I think it's a shame that upon her death, Joan's "Fashion Police" throne is simply handed to her fiercest competitor.
As someone who always preferred Joan to Kathy, I will not be watching the upcoming episodes of "Fashion Police." No one can ever replace Joan Rivers. She was a fashion icon and a comedic legend, and for fans like me, the decision to replace Joan with Kathy does not sit well. The least I can do is not watch it.
Calling all HuffPost superfans!
Sign up for membership to become a founding member and help shape HuffPost's next chapter