Ever since seeing the poignant -- and hilariously quotable -- "Joan Rivers: A Piece of Work" last year, I've been a little obsessed with the sharp-tongued comedian. Happily, Rivers will be getting even more screen time than usual in the coming months. Not only is "Fashion Police" adding an extra half hour of Rivers' cutting fashion commentary to its format starting in March, but Joan and daughter Melissa will continue to document their chaotic lives in WeTV's "Joan & Melissa: Joan Knows Best?" whose second season just premiered. We asked the duo to tell us what's on their style radar.
What was your first designer purchase?
Joan: My first designer purchase was an Hermes purse. I was working in Lord and Taylor and Hermes had just come to the United States. It was only at Lord and Taylor. And I thought, that's beautiful. It was orange, the traditional orange. I thought it was terrific, and it wasn't that expensive. Little did we know what was going to happen, I would have bought the whole damn place out.
Melissa: A pair of Joan & David flats. Those were brown, and I had those in school. They were on Madison Avenue. They were like a loafer, and they had a little detailing on the toe.
Facebook or Twitter?
Joan: Twitter and I work on mine all the time.
Melissa: Twitter, but I still have a very active Facebook page too.
Rule to dress by?
Joan: Overdress. I'm trying to bring glamour back.
Melissa: Err on the side of classic. My rule is always if you keep your basics classic. You can add seasonable and very trendy stuff and always look modern and updated, but if you're questioning something and its expensive, err on the side of classic.
Joan: Think Jackie O, not Snooki.
What trend do you hope dies?
Joan: Baggy, and this pajama trend. Everything being oversized. We starve ourselves, we go to the gym -- even people my age -- we live on lettuce and then you put on baggy jeans?
Melissa: High-waisted. I can't wear it. Skirts, pants, because you have to be 20 feet tall and two pounds. If you are under a certain height and over 100 pounds no matter how skinny you are, it's going to make you look hippy. And I know it's so in again, and love looking at it in magazines, but I just wish it would go away.
Minis or Maxis?
Joan: Minis if you're young. If you've got great legs, show your legs while you can.
Melissa: Mini in the winter, maxi in the summer. Cause minis are always cute with tights and boots. And in the summer, I love the long skirts and longer dresses.
What item do you wear every day?
Joan: Black Chanel trousers. They're my staple. I have four pairs of them, I probably have more by now and that's my go-to.
Melissa: Jeans and my white tank.
What's on your nightstand?
Joan: Obviously the phone and clock, dog treats because they always come up into the bed with me. And the books that I'm definitely going to read. And pictures of my parents, my husband, a lot of pictures. I have 26 pictures of [her son] Cooper.
Melissa: I've got a clock, a phone, photos from a photo booth with my son, my reading glasses, a remote. And usually some sort of miniature piece of candy, and water.
What are you reading now?
Joan: O'Reilly's book on Lincoln.
If you had to wear clothes from one decade only, what would it be?
Joan: Oh, the '30s. The glamour of the '30s: the bias cut, the white satin with white fox. Just glorious clothes. The accessory with those are limos.
Melissa: The '60s, because you've got everything from Jackie Onassis, that kind of very American glamour, all the way to American sportswear, to Carnegie Street. You have so many choices. You could go fully ladylike or fully Carnegie. Or punk. You could really go from one end of the spectrum to another, and I always felt like the '60s really brought in all that fabulous American sportswear.
Signature scent?
Joan: It's called "Now and Forever" and they [Firmenich] only make it for me. We used to sell it on QVC.
Melissa: I rotate. Right now I'm wearing Carnal Flower by Frederic Malle. He did this whole line for Barneys. I also love the Bvlgari green tea.
Ideal shopping buddy?
Joan: Myself, because there's so many things I look like a pig in. And no matter what, Melissa will say "You look good."
Melissa: My mom, Because she makes me be less conservative in my shopping. I tend to look and wait and ponder and think and she'll say, "Just get it."
I you could only shop in one store for the rest of your life, what would it be?
Joan: Bergdorf Goodman
What's your greatest fashion regret?
Joan: All the platform shoes that I love and I buy and then I do not wear. I have shoes that, literally, the soles are not touched and it's usually Chanels. They're too high, you buy them, you say these are gorgeous and I'm terrified. I can't walk in them. I can sit in them on camera. I have about seven pairs, because I still buy them like an idiot. Most of them are Chanels, and Louboutins.
Melissa: There was a Chanel jacket that we saw in Vegas, and my mom was offering to buy it for me, and I said "No no no, let me think" and I'm still thinking about it six months later.
Ideal vacation destination?
Joan: St. Petersburg
Melissa: Somewhere I can ski and or surf with my son.
--Reporting by Katie Bindley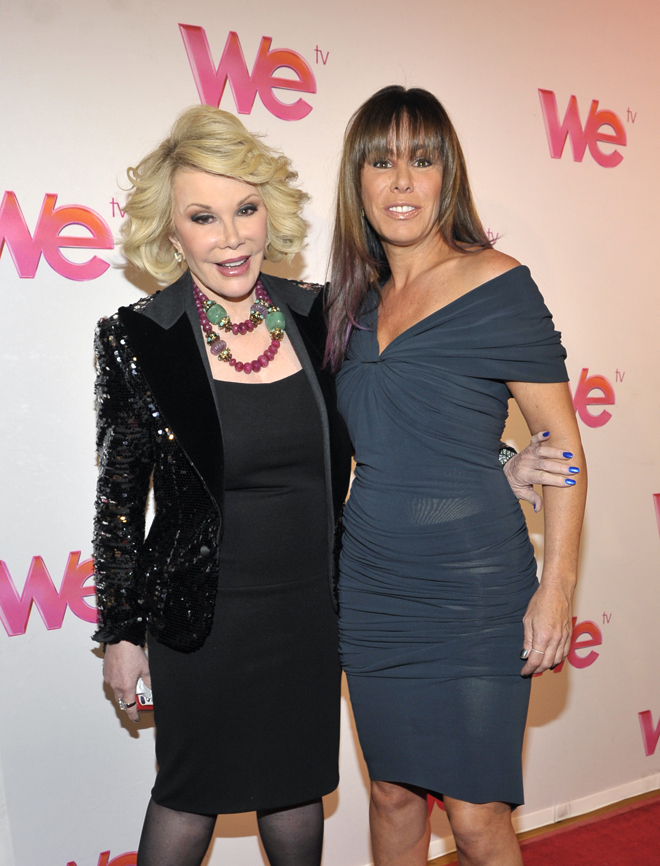 Getty
Popular in the Community