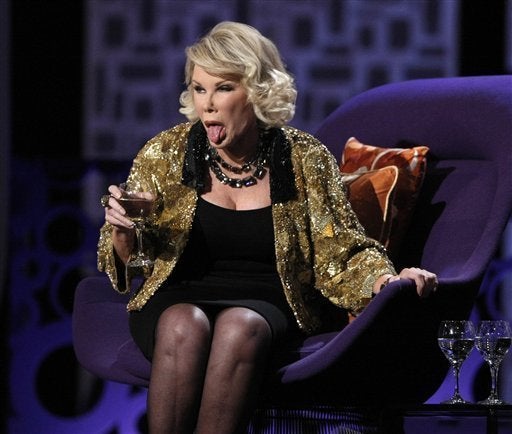 Two weeks ago friends and soon-to-be-former friends of Joan Rivers gathered together to send up and put down the Emmy Award-winning comedienne and best-selling author, and last night we finally got to see what happened. Brad Garrett, Mario Cantone, Carl Reiner, Jeffrey Ross, Melissa Rivers and more eviscerated Joan for her comedy, her age, her relationship with her daughter, and her love of plastic surgery.
We all know at this point how lewd and deranged some of the jokes get at these events, but despite how dirty the roasters get, the roastee always gets the last laugh. In this case Joan Rivers, known for her quick (and sometimes evil) tongue got a two-for-the-price-of-once joke in the end the evening: "Brad Garrett, the only thing lower than your show's ratings is Carl Reiner's balls." (SEE THE REST OF JOAN'S RESPONSE BY SCROLLING TO BOTTOM.)
Kathy Griffin emceed the event and started the night off by welcoming the audience to a night of plastic surgery, ugly vagina and corpse jokes.
Actress and comedy writer Whitney Cummings took it from there, saying Joan looks like David Spade after a grease fire, and mercilessly mocking her for her age and plastic surgery regimen.
Comedian Jeffrey Ross (aka "the meanest man in television") followed up, revealing that Joan Rivers passed away four years ago, but nobody told her face.
Gilbert Gottfried talked about his sexual relationship with Joan Rivers and made everyone laugh in a deeply uncomfortable way.
The cutest man at the roast, Carl Reiner, didn't take shots at Joan Rivers, but instead shared some wisdom imparted to him by George Burns.
Melissa Rivers tried her hand at comedy last night, and while she didn't have a fabulous start, her final zinger went off perfectly.
Mario Cantone did a Joan Rivers impression for the crowd last night, mocking her work, her relationship with her daughter, and yes, her vagina.
Brad Garrett took shots at Carl Reiner, Gilbert Gottfried and Joan Rivers in his stand-up, making yet another Joan-has-an-old-vagina joke.
Then, last, but certainly not least, Joan responded to her roasters mocking Kathy Griffin for stealing her life, and Gilbert Gottfried for making her hate Jews.
Calling all HuffPost superfans!
Sign up for membership to become a founding member and help shape HuffPost's next chapter