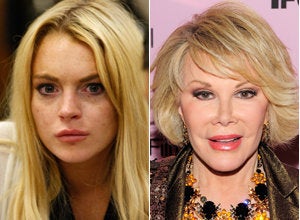 Lindsay's Twitter account has been quiet since she entered jail. Now that she is in rehab she is speaking through Joan's Twitter feed.
"ATTENTION!!! Lindsay Lohan cannot tweet from rehab, but (don't ask me how) she sends me secret messages, which I will tweet for all of you!" Joan tweeted August 3. She has kept the Lindsay memos coming ever since. Here they are so far:
J-Ro: For the last 3 days my roommate has lied, cursed, farted and been vile to me & everyone else. It really made me miss my dad! Xoxo LiLo

J-Ro!!! I am so proud of myself. My doctors say there is nothing they can do for me, which means I'm perfect!!! xoxo LiLo

J-Ro: Plan to be outta here soon. Gonna shop, party and sleep in my own bed...as soon as I get this last bar off the window. Xo LL

J-Ro: SHHHH! I just paid $7000 for a Vicodin. But I dropped it and can't find it. I'm really upset as I got it below market price here. LiLo

J-Ro: This rehab is a lot worse than the other seven I've been in. You can't get ANY drugs here! Can you believe it? Suck-o! Lilo

A quick note from Lindsay. Dear Joan: I have the cutest nurse but I'm not her type because I have a vagina. Xoxo LiLo

Dear Joan: I think I'm getting used to my room here at rehab. It's like Jefferey Dahmer used to say: "Home is where the heart is." xoxo LL

Joan: I'm so upset. As community service, the girls were asked to pick up the trash around the rehab center. Three of them lifted me - Linz
Last month Joan tweeted a series of jokes about Lindsay's alcoholism and lashed out at Lindsay's ex-girlfriend Sam Ronson. Lindsay responded by bashing Joan's plastic surgery.
Popular in the Community