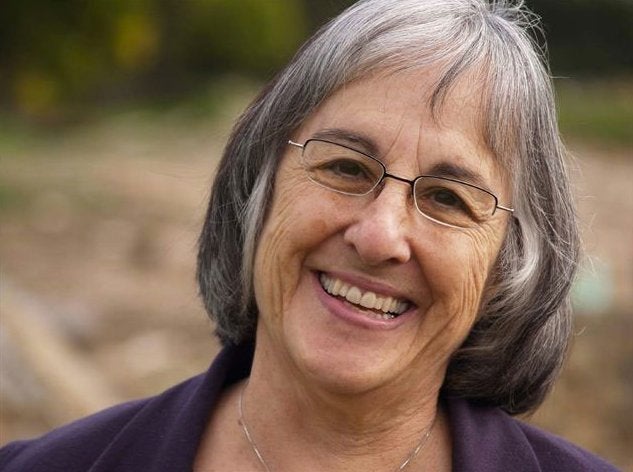 Who: Entrepreneur, philanthropist, writer, vibrator collector, sex-positive guru and Good Vibrations founder (and recent great-grandmother!) Joani Blank.
Current Gig: For anyone unfamiliar with the company (you poor dear), Good Vibrations became one of the nation's first women-oriented sex toy shops when it opened in 1977 in San Francisco. Blank sold the company to the workers years ago, and has since turned her attention to social justice, continuing sex positivity and living and promoting the cohousing movement (a collaborative housing community plan, in which residents actively participate in the design and operation of the neighborhood).
Meanwhile, at Good Vibrations, the company is celebrating its 35th anniversary with the grand opening of the Antique Vibrator Museum: an invigorating display of vibrators from the 1800s and beyond, curated by Good Vibrations Sexologist Dr. Carol Queen, and featuring pieces from Blank's famous collection. A few of the vibes were even featured in the new Victorian-era film, "Hysteria." Good Vibrations will co-present the San Francisco premiere of the film at the San Francisco International Film Festival on May 1.
Neighborhood: The Swan's Market Cohousing Community in Oakland.
Hello, Joani, thanks so much for talking with--
Is this interview about cohousing or sex?
Excuse me?
I usually ask an interviewer right away if they want to talk to me about cohousing or sex. If they want to talk to me about sex, they usually respond, "What is cohousing?" If they want to talk to me about cohousing they exclaim, "SEX?!"
Well this one is mostly about San Francisco, but let's talk about sex and cohousing, too!
Deal.
You founded Good Vibrations in 1977. How did that come to be?
I had been working with preorgasmic women, teaching them to be appreciative of their bodies. We led a ten-session course that included counseling and education. The homework was masturbation. We initially discouraged the use of vibrators because we didn't want students to avoid touching themselves with their hands. But for many people, vibrators work so well. But back then, where did you go to get them? The adult bookstore? Yuck. There just weren't a lot of choices.
I've heard that you had already started collecting antique vibrators at that point.
That was the other impetus. I had been collecting them for years; I probably had about 20 at that point, and the collection eventually grew to about 100. I wanted to have a place to display them. We opened up this tiny shop in an old Victorian building; apartments were above and the shop was below where the garage would have been. The space was so tiny, I think it actually was a garage at some point.
Tell me about some of the more unique vibrators in your original collection.
With most of the older vibrators, it's difficult to see how someone could use them sexually. But some people say that about the Hitachi Magic Wand and that's been a best seller for 30 years. But I've seen of all kinds of contraptions -- ones that are powered by gas or hydraulics. But I think the most unusual one I found had no power at all: it was made of wood and had this little hand crank that you would turn like an old-fashioned egg-beater. I don't really see how that would be pleasurable. But it was pretty little thing.
The interesting part about the antique vibrators is that most of them do not offer any clitoral stimulation. I don't know how people used them and I don't think people ever will, but I would imagine they figured out a means for clitoral stimulation because it's often the only thing that works. That is still the single idea that is most resistant to change: the belief that a woman "should" be able to achieve orgasm without clitoral stimulation. Seventy percent of women cannot and that message is still floating around: that it should just happen vaginally. I'm 75 years old and I'm still pissed off I can't come that way. Sometimes I'll still think "Well maybe..." but then I remind myself that if it hasn't happened yet, it's a little late.
Do you think the Bay Area is more receptive to sex positive ideas?
Of course. It would have been difficult to do this somewhere besides San Francisco. I could never have done it in Boston where I'm from; the social climate is just not up for it. Maybe in New York. The sexual revolution was happening everywhere at that time, but it was at such an accelerated rate in San Francisco. It's not a myth that most gay men west of the Rockies came to the Bay Area. The same was true for lesbians, trans and all kinds of subcultures. It's easy to be who you are sexually in San Francisco.
What are some upcoming sex positive groups or businesses you have your eye on?
I'm very excited for the Center for Sex and Culture in San Francisco. That is Carol Queen's project, and she has always been very involved with Good Vibrations. The Center for Sex and Culture has something going almost every evening – workshops, classes, talks. It's wonderful.
I'm also very excited about a new sex toy shop that just opened in Oakland called FeelMore510. The owner, Nenna Joiner, is a young, African American lesbian. I mention this because her store reflects this demographic: about a third of her customers are African American, which is great. I wish there were more people of color coming to Good Vibrations. Her store is beautiful, and her displays feature vintage pornographic magazines and gallery-quality erotic art.
What are some of your favorite things to do in the Bay Area?
Well, I am very frugal -- I don't mind saying I'm cheap. But I love seeing great shows, so I've been ushering at Berkeley Rep and the San Francisco Opera. Fortunately since I'm retired I can do that, and it's a great way to see so many wonderful shows.
I also love exploring Oakland. I got very excited when I discovered that in the mornings, there are probably 100 people practicing Tai Chi at the Lake Merritt BART Station. I also like the Oakland Asian Cultural Center. I've been there for Korean dancing, Filipino music, etc. I tend to lean towards people's culture -- culture with a small "C."
Okay, so on to cohousing. You were one of the founders of the Swan Market cohousing community (an Oakland cohousing development with a common area for sharing meals and socializing.). Why cohousing?
The vast majority of people who live in the United States crave more of a sense of community. The difference between cohousing and other neighborhoods is that we all know each other very well, and we all work together. We are closer. It has its disadvantages but they are worth it. There's also something special about the fact that these people aren't drawn together by religion or politics -- just community.
REAL LIFE. REAL NEWS. REAL VOICES.
Help us tell more of the stories that matter from voices that too often remain unheard.