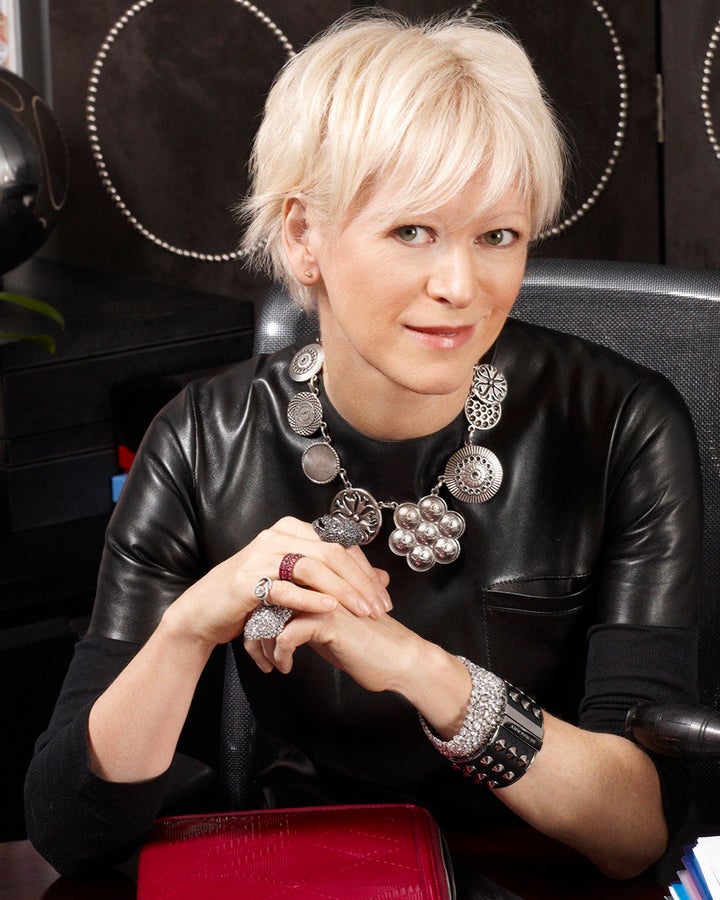 Replacing one of the most familiar faces on "Project Runway" certainly isn't a simple task, but Marie Claire Editor-in-Chief Joanna Coles seems to take it all in stride. With Tim Gunn helming daytime talk show "The Revolution," British straight-shooter Coles has stepped in to mentor the designers on "Project Runway: All-Stars", which premieres Thursday, Jan. 5 at 9 p.m. on Lifetime and Jan. 9 at 10 p.m. on Slice in Canada.
Coles chatted with HuffPost TV via phone from New York -- as she nibbled on a plate of marzipan -- about her catchphrase of sorts, Spanx and comparisons to Simon Cowell.
How did you get on board to replace Tim Gunn?
Well, I'd already filmed a pilot for something else with Lifetime, and they called me and asked if I'd like to do this. Of course, I said, "Yes, please!"
You get to be in charge of the "All-Stars" version. That's pretty intense.
What's fun about this show for the viewer is they already know all the contestants -- but the other judges and I are new, and the presenter is new, so it's like a reverse of the usual.
What are you planning on bringing to the show that we haven't seen in the past?
If you think of Tim Gunn as teaching the undergraduates, this new class of contestants has all been through "Project Runway" before. They've already graduated one season of "Project Runway," so it's kind of like teaching graduate students. I bring a very realistic, very commercial viewpoint to it: if it's sellable; if it's going to represent you as a designer; if you are pushing yourself -- because so many people stay in a safety zone and do the same thing week-in and week-out. My job is to get a sense of whether they can make it as a commercial designer.
Would you say that that is your approach to fashion? Very commercial and very realistic?
I have a very realistic approach to fashion. If you want to be the next Michael Kors, you have to be able to be creative -- which they all are -- but you have to have an eye to commerce, too. I'm also a big believer in designing clothes that women can wear underwear with. [Laughs]
Tim Gunn had "Carry on!" and "Make it work!" What's your catchphrase?
I didn't go in with a specific catchphrase, but yes, if I have a catchphrase on the show, it's: "Am I seriously the only woman in America who wears underwear?" I haven't seen the final cuts of the show yet, but something I feel like I say every single episode is, "This is fantastic, but no one can wear underwear with it." I try to tell the designers that if they plan on selling that sort of thing to a store, they have to remember that they're only going to sell it to someone who isn't going to be wearing underwear.
Were there a lot of sheer creations this season or something?
It has to do with the shape of things. It has to do with the fabric choices. It has to do with the way things are cut. Often, the designers would send something down that's completely backless, or they'd send something down for which you would need a lot of double-sided tape to ensure your breasts don't make a sudden unwelcome appearance at an event.
As an aside, what are your thoughts on Spanx?
Thank God for Spanx. They're the eighth modern wonder of the world.
Did you feel any pressure going in? Tim's shoes are pretty tough to fill.
I felt the enormous weight of Tim Gunn's brilliance on my shoulders. It's extremely daunting to be in the same workroom that he worked in. It's even daunting to pick up the same pencil that he's held. But Tim and I are good friends, and honestly, if I can be an acorn under his oak tree, I would be thrilled. I absorbed as much as I could by osmosis and put my own twist on it.
You've had quite a few nicknames in the past -- and one that stood out was "The Simon Cowell of Fashion." Is there any truth to these or are they embellished?
I'm rather depressed to be called the "Simon Cowell" because I think I have better hair than him. I think what they're getting at is because he's English, because he's on "American Idol," in particular, because he's straightforward and he says what he thinks, and I do the same. I'm very direct. If I love you, you know it, and if I don't like you, you know it, too.
I think that's necessary on a show like this.
What I didn't anticipate was how attached you get to the designers. I got very involved with them, and you root for them. I found that I had to be very direct and make sure they weren't hiding. I tried to remind them that this is a harder competition [than the regular "Runway"], they can't charm the judges, [and] that their work speaks for itself.
Are there any divas this season?
Yes. There are several divas. Sometimes you get one or two divas in fashion. [Laughs]
In that case, is there drama between the designers?
Oh, yes. What's interesting is it's completely unmanufactured. I never knew what I was walking into. I would go in about halfway through their working day to make sure they were on track, to make sure no one was falling off the edge. I was the 4 p.m. afternoon snack; your blood sugar has gone down and I come in to get you through the end of the project.
"Project Runway: All-Stars" premieres on Lifetime on Thursday, Jan. 5 at 9 p.m. EST and on Slice in Canada on Monday, Jan. 9 at 10 p.m. EST.

Calling all HuffPost superfans!
Sign up for membership to become a founding member and help shape HuffPost's next chapter
BEFORE YOU GO