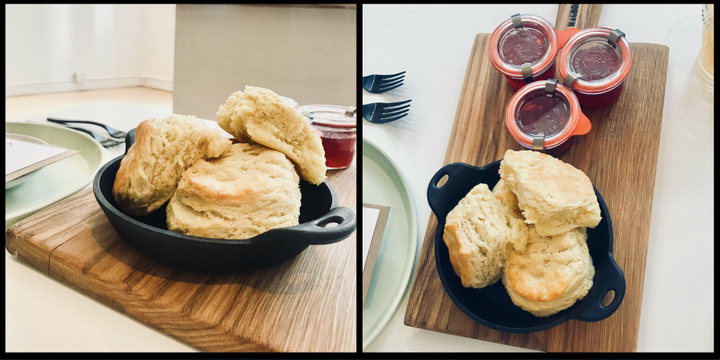 Being a Southerner is a prerequisite for becoming a biscuit expert. Southern I am not, but I have been to something called Biscuit Fest (twice), where I listened to Southern food writers talk about biscuits for days on end, and I tasted more biscuits over the course of two weekends than any human should consume in a lifetime.
My point is, I know a good biscuit when I see one (and more important, when I taste one). And in my opinion, Joanna Gaines has struck gold with a biscuit recipe that took her a year to develop.
Gaines, best known as a co-star of HGTV's "Fixer Upper" with her husband, Chip Gaines, has just released a cookbook, Magnolia Table: A Collection of Recipes for Gathering. Food media had a chance to taste some of the recipes from the book at a recent launch party, and the biscuits were everything a biscuit is supposed to be: tall, fluffy, flaky, flavorful and so buttery that you don't even need to spread a pat on top. They're just salty enough to offset a sweet strawberry jam but not so salty that they can't handle a good slathering of pimento cheese.
Biscuit makers will never agree on one best recipe because there are just too many things to fight about — White Lily flour versus classic all-purpose, butter versus lard, cast-iron skillet versus baking sheet, letting the biscuits touch or keeping them separated, eggs or no eggs. (For the record, Joanna Gaines' contain eggs, which is unusual.) I could go on, but then you wouldn't have time to make these biscuits.
Which you should, because you need to decide for yourself whether they're the best you've ever had.
Below is the recipe, with an excerpt from Magnolia Table.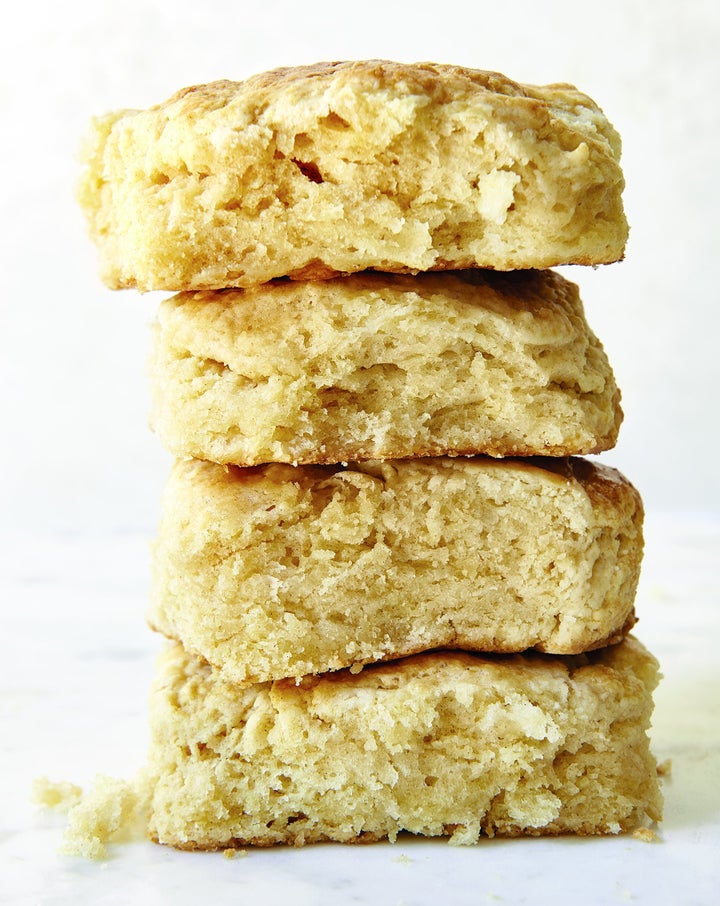 JoJo's Biscuits
It took me a year of Saturdays to get these biscuits just right. Almost every weekend for months I worked up another batch for Chip and the kids to taste and then wrote down their feedback. Biscuit after biscuit was judged to be too heavy, too light, too flat, too salty, too dry, or just... not right. I don't entirely know what kept me going back to the mixing bowl, but something inside me was clearly determined to prevail. All those failed batches didn't discourage me ― instead each one spurred me to tweak my formula and try again the next week. Of course, it helped that I had a houseful of agreeable taste testers who delivered their criticisms with kindness, and encouraged me to keep at it with the kind of enthusiasm that can only be mustered by people who really love biscuits.
I vividly remember the moment I finally nailed it, when the whole family declared simultaneously, "This is it." They have been our family's Saturday-morning breakfast ever since. Among the tricks I worked out along the way are the somewhat unusual addition of eggs and the way they are arranged for baking so that they all touch, both of which contribute to the moisture, lightness, and loft of these biscuits.
Chip thinks they are nothing less than heaven on earth. Every Saturday he has the same breakfast ― fried eggs cooked over-medium and two biscuits, one slathered with butter and strawberry jam and the other one tucked under a generous serving of sausage gravy. Every week he declares that it's the best breakfast he has ever had. And every week the kids reply, "Dad, you say that every time!" ... When the time came to decide which of my family's favorites would go in this cookbook, I knew not only that I had to share the biscuits, but also that the recipe had to be the very first one in the book.
Prep: 20 minutes, plus at least 30 minutes chilling
Cook: 15 to 20 minutes
Cool: 5 minutes
Makes: About 20 biscuits
4 cups self-rising flour, plus more for the work surface
2 tablespoons baking powder
1 teaspoon baking soda
3/4 pound (3 sticks) salted butter, cold, cut into 1/2-inch pieces or grated
2 large eggs, beaten, plus 1 large egg for brushing
1 1/2 cups buttermilk, or as needed, plus 1 tablespoon for brushing
1. In a large bowl, whisk together the flour, baking powder, and baking soda. Add the butter and use a pastry blender to cut the butter into the flour until the pieces are even and about the size of peas.
2. Stir in the beaten eggs with a wooden spoon until combined. Stir in 1 1/2 cups buttermilk until the dough comes together into a sticky mass. If it is too dry, add more buttermilk 1 tablespoon at a time, mixing after each addition, until it reaches the correct consistency. Cover the bowl and refrigerate for at least 30 minutes and up to overnight.
3. Position a rack in the middle of the oven and preheat the oven to 400 degrees Fahrenheit. Line a baking sheet with parchment paper.
4. Scrape the dough onto a floured work surface. Use your floured hands to press it into a round roughly 14 inches across and about 1/2 inch thick.
5. Use a floured 2 3/4-inch round cutter to cut out about 20 biscuits. If necessary, collect and pat out the scraps to cut more biscuits.
6. Transfer the biscuits to the prepared baking sheet, arranging them so that they all are touching.
7. In a small dish, beat together the remaining egg and 1 tablespoon buttermilk. Brush the mixture on the top of the biscuits.
8. Bake until golden brown, 15 to 20 minutes. Let cool slightly in the pan on a rack.
9. Biscuits are best the day they are made (and ideally fresh out of the oven!). Serve with strawberry jam or gravy, if desired. Store leftovers in an airtight container at room temperature for up to two days.
NOTE: For longer storage, arrange the biscuits about 1/2 inch apart on two parchment-paper-lined baking sheets and freeze until solid. Transfer them to a zip-top plastic bag and freeze for up to two weeks. There is no need to thaw them before baking.