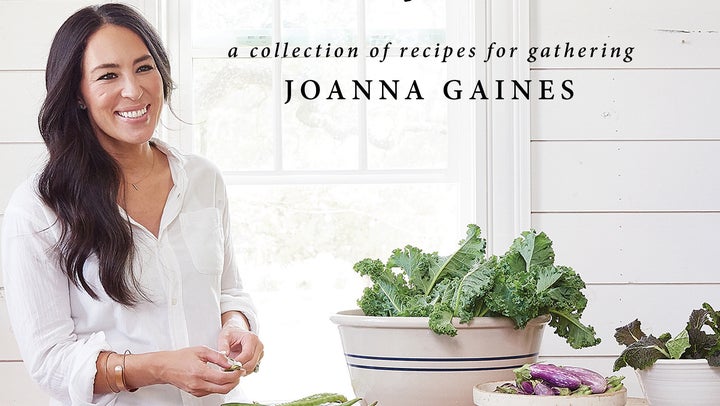 When a fan raised the question in 2014, Gaines responded: "I love hearing all the guesses. Although I did play Pocahontas in high school, I am not Native American. My father is half Lebanese/half German and my mother is full Korean."
Gaines shares a bit of that Korean heritage in her new cookbook, Magnolia Table: A Collection of Recipes for Gathering. She reveals that her kids' "very favorite food in the world" is her mother's bulgogi, which is "more of an American-Korean hybrid, much sweeter than traditional bulgogi."
The word bulgogi loosely translates to "fire meat." It's a Korean dish made of paper-thin slices of meat ― in this case, beef ― that have been marinated in a sweet and salty sauce and thrown on a hot grill. Gaines' version is served over rice and alongside a crunchy cucumber kimchi salad.
Gaines cites her South Korean grandmother as an accomplished cook who died before getting the chance to pass on her traditional recipes. Gaines' mother set out later in life to learn some Korean dishes, including this bulgogi.
Below is Gaines' recipe for bulgogi and kimchi salad, and an excerpt from Magnolia Table.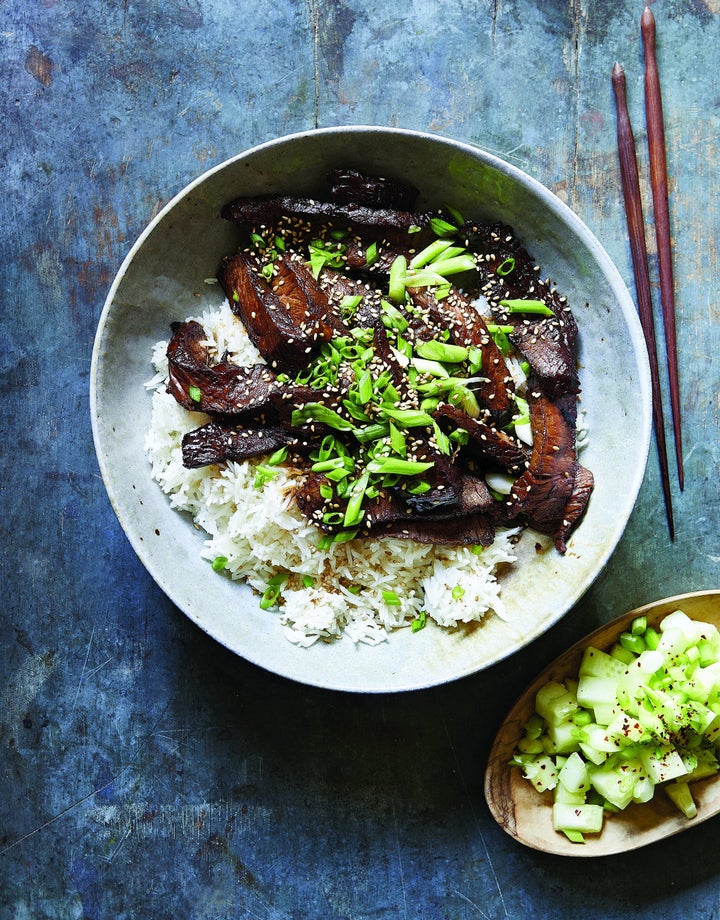 Mom's Bulgogi with Cucumber Kimchi Salad
My mom grew up in Seoul, South Korea, with a mom who was an amazing cook. I can personally vouch for this because in the 1980s my grandmother and uncle moved in with us in our home in Wichita, Kansas, where I grew up. What I remember most about that time is my grandmother cooking amazing food nonstop. When my grandmother passed away, I know my mom regretted never having really learned from her how to cook proper Korean dishes. She ended up adopting a much more American style of cooking and by the time my sisters and I were on the scene, she had long since perfected a few dishes for my steak-and-potato-loving dad. But around that same time she had a lot of Korean friends living nearby, and she learned enough from them that by the time my kids were born, she was often preparing traditional Korean dishes for them, like seaweed soup. It's funny to me that they're growing up eating much more authentic Korean food than I ever did. Mom's bulgogi, though, is more of an American-Korean hybrid, much sweeter than traditional bulgogi, and she serves it on a bed of white rice.
Mom has us over once a month and this is what she always makes. It's my kids' very favorite food in the world, so I knew I had to include it in this book. Getting the recipe on paper was a bit of a challenge. My mom had no idea what the measurements were or how to describe what she does, because, as she said, she just does it. (Writing this book made me realize just how alike we are in this way.) But eventually, we figured it out, and I'm so glad we did because now I've captured the blueprint to what will always be a beloved meal for my kids.
We've never had Mom's bulgogi with anything other than her cucumber kimchi salad, which has a clean, fresh flavor that perfectly complements the sweet barbecued beef.
Prep: 20 minutes, plus 4 to 5 hours marinating
Cook: 10 to 20 minutes
Cool: none
Makes: 6 to 8 servings
Bulgogi
3 cups packed light brown sugar
1 1/2 cups soy sauce
5 tablespoons sparkling dessert wine, such as Banfi Rosa Regale, or sparkling grape juice
3 tablespoons sesame oil
2 green onions (light and dark green parts), chopped, plus 1/4 cup sliced for serving
2 garlic cloves, chopped
1 teaspoon freshly ground black pepper
4 to 5 pounds beef tenderloin, rib-eye, top sirloin, or sirloin steak, thinly sliced (see Note)
Cucumber Kimchi Salad
2 English cucumbers, peeled if desired, cut into 1/2-inch dice
2 green onions (light and dark green parts), thinly sliced on the diagonal
2 garlic cloves, minced
1 to 2 teaspoons gochugaru (Korean red pepper flakes; see Tip)
2 teaspoons sugar
1 teaspoon rice vinegar
1 teaspoon sesame oil
1/2 to 1 teaspoon kosher salt, to taste
For Serving
Steamed white rice
1 to 2 tablespoons thinly sliced green onion (light and dark green parts) as needed, for garnish
3 tablespoons sesame seeds, toasted, for garnish
1. Marinate the bulgogi: In a large bowl, whisk together the brown sugar, soy sauce, wine, sesame oil, green onions, garlic, and pepper until well combined. Add the beef and coat it completely in marinade. Cover and refrigerate for 4 to 5 hours.
2. To make the cucumber kimchi salad: In a medium bowl, combine the cucumbers, green onions, garlic, gochugaru, sugar, vinegar, sesame oil, and salt to taste and stir gently. Cover and refrigerate until ready to serve.
3. Prepare a hot grill. If the pieces of beef are so small that they may fall through the grates, use a grilling skillet or place a sheet of foil on the grill.
4. Grill the beef on both sides until medium-well, 3 to 5 minutes, flipping halfway through cooking. Don't crowd the skillet or foil, so do this in batches if necessary. As you finish each batch, transfer it to a serving platter and continue with the remaining beef.
5. Serve the bulgogi on top of steamed rice. Garnish with green onion and toasted sesame seeds and spoon the cucumber kimchi salad alongside.
6. Store the leftover bulgogi and cucumber kimchi salad in separate covered containers in the refrigerator for up to 3 days.
NOTE: My mom usually has the butcher slice the beef for this dish when she buys it. If you live near a Korean market, they often sell packages of sliced rib-eye or top sirloin; sometimes they're even marked specifically for bulgogi. If you buy big pieces to cut yourself, freeze the meat for about 30 minutes before cutting so that it's easier to slice thinly and cut against the grain.
TIP: Gochugaru, or Korean red pepper, is commonly used in kimchi. It adds precisely the right amount of heat and unique flavor to the cucumber salad. Authentic Korean brands are readily available at Asian grocery stores or online, and the McCormick spice company packages it as well.