Just four years ago, Ultimate Fighting Championship president Dana White declared to a gaggle of TMZ cameras that he'd "never" include women in his mixed martial arts league. This weekend, in Melbourne, Australia, over 70,000 UFC fans will pour into Ethiad Stadium to watch four female fighters headline and co-headline UFC 193 -- a first for White and UFC. Eleven fights between male fighters are on the card for Saturday night, but the main attraction will be Ronda Rousey's bantamweight title defense and Joanna Jȩdrzejczyk's strawweight title defense.
Much of the pre-fight hype has focused on Rousey, who's arguably the biggest star in fight sports today. Pegging her bout against Holly Holm as the main event is a no-brainer. But to grow UFC's female fighter base, White knows that more stars are needed outside of Rousey's vacuum. Jȩdrzejczyk , UFC 193's co-headliner, was lauded as a "fighter's fighter" by White in July and is seemingly UFC's next pick to rocket to Rousey's level. 
Hailing from Poland, Jȩdrzejczyk (10-0 MMA, 4-0 UFC) sat down with The Huffington Post at a hotel in midtown Manhattan to discuss UFC's treatment of female fighters, Rousey's impact on the sport and how she plans on remaining an undefeated champion come Saturday. 
We're so, so high up in this hotel suite right now. Looking out at this view of Manhattan, coming from Poland, what does it mean to you to see New York City like this?
When I was a little girl, I was dreaming about a trip to New York. I've fought in other places in America, but I'm very happy here. I love America so much. I'm thinking about my life here. They say that if you follow your dreams, if you fight, if you prepare good and work hard, you deserve this beautiful view.
You're a relatively new face in the American MMA scene. What was your experience as a fighter in Europe like?
I was doing muay thai for 10 years. I started with MMA at the end of 2011. I started competing in 2012, so I did MMA for three years. I had a good transition from muay thai. I was a six-time muay thai world champion and six-time European champion. I did almost 100 fights in muay thai, and a few in kickboxing and boxing.
I chose MMA because this sport is growing up so fast. There's so much space for ladies, and for us, as good female fighters. That's why I turned to MMA. After a few fights, I became a UFC fighter and had my debut in July in 2014. After two fights I became a challenger, after three fights I became a champion. I'm very happy, because in 15 or 16 months, it's going to be my fifth fight for UFC and second title defense. Three title fights in one year -- it's a pretty big deal for me. I'm very happy, because the dream came true.
I became a fighter, I became a champion, and now I'm part of UFC. I'm popular and more famous, but on the sports side, now I know I can save some money, because they're treating very good. If you give 100 percent, UFC will give you 200 percent back. It's very important, because when I fought before I was a UFC fighter, I couldn't get some good money, so a few times I wanted to quit with the sport. I survived and that's why I'm here.
You noted how good UFC has been to female fighters and athletes. Can you expand on that?
Three years ago, [Dana White] said he didn't want to have female fighters at all. But now he's very happy with us. He did the strawweight division last year, so probably in the future we'll have other divisions as well. They trust in us and they see that we, female fighters, we can fight very good and sell out 75,000 person stadiums. It's meant a lot. UFC is growing so fast and we are famous everywhere. They have shows every weekend and almost on every card, there's a female fight.
UFC wants us to fight good. They don't want us to just look good in the Octagon. They want us to fight. Even if I'm going to lose the fight, if I fight good, they're going to keep me, because fans are coming for us. They want to watch the big fight.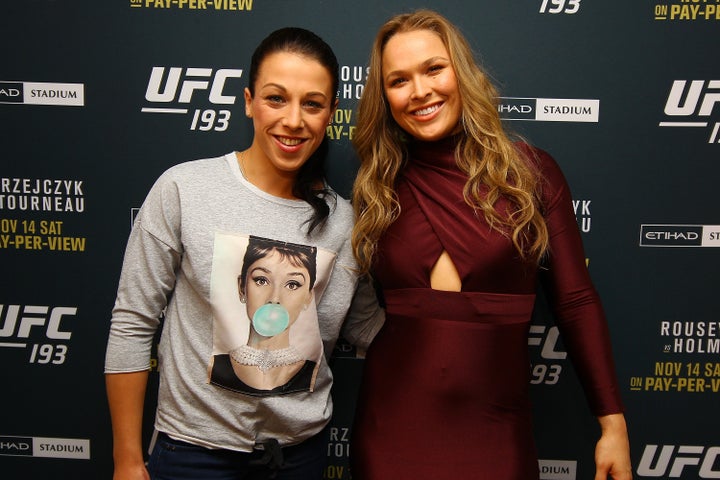 How do other female UFC fighters view Ronda Rousey? Do you look at her as someone to beat or are you happy for her success?
I'm happy for her -- not jealous. She did a great job. For me, if you become an Olympic medalist, it means a lot. I have big respect for Olympians. She's the face of UFC and there's no question about that. She's not just the best female fighters -- she's one of the best MMA fighters ever. I follow her and I'm a big fan of Ronda. But I also follow my goals and my dreams, so of course I can see myself in Ronda, because she's simply the best. I'm very happy that I had the chance to meet her in New York in July and now we've got some contact. I wish her all the best, but she doesn't need that.
What have you learned from watching Ronda? She's transcended MMA at this point.
That everything is possible. She's a role model for all kinds of people: for women, girls, men and boys. They all love her. It's good that she's a real champion and she's a good person with an amazing personality. This is what I'm looking for. I want to instill the same in Joanna. Maybe I'm dangerous in the octagon, but I'm a very calm and quiet person outside.
Jędrzejczyk knocks down Jessica Penne during a June fight. She later won by TKO in the third round.
Now that UFC is investing in female fighters, do you ever tell young fight sport hopefuls that yes, it is possible to have a real career as a female fighter?
Tennis is the right sport. You see that parents are spending lots of money when the kids are young. They want them to play. It's the same here. You must invest in yourself. I knew it when I was a muay-thai fighter. So many times I had really big problems. My father was like, "C'mon kid, you must be focused on your life. Finish some studies, get a nice job and you'll earn money."
I had something in my mind -- big dreams -- that just kept me going. My father is happy for me now and is supporting me, but they still want to take care of me. I'm 28, but I'm always going to be a kid to them.
Talking about Valerie Letourneau, your opponent at UFC 193: How does she challenge you in ways you haven't faced before in the octagon? 
Valerie is tough and is a good opponent who deserves to fight for a title. She's a striker as well, so it's going to be an interesting match. But I know her good sides, her weak sides. She said she wasn't very impressed by my striking, but she didn't fight that good of an opponent. It's going to be a hard fight for her. I'm full of respect to her, but I wish to finish this fight in the second round and I'm going to do it.
You're still undefeated in UFC. Does the pressure of that record ever weigh on you?
Pressure is a big word. I just feel like I want to, I must, I have to prove that I deserve it -- to be undefeated. I want to show everyone that it's going to be difficult to fight with me and that they're not going to take my belt easily. Even though I became a champion and I defended my title, I still train harder than before. I will keep on winning.
What are you most looking forward to about headlining UFC 193 with Ronda?
Even though I'm fighting in the strawweight division, we're kind of small, but we can fight really tough like a heavyweight. I want to show other people who don't know me that, here I am, Joanna Champion, from Poland. That's all.
This interview has been edited and condensed for clarity. 
PHOTO GALLERY
Ronda Rousey Beats Bethe Correia In 34 Seconds
REAL LIFE. REAL NEWS. REAL VOICES.
Help us tell more of the stories that matter from voices that too often remain unheard.