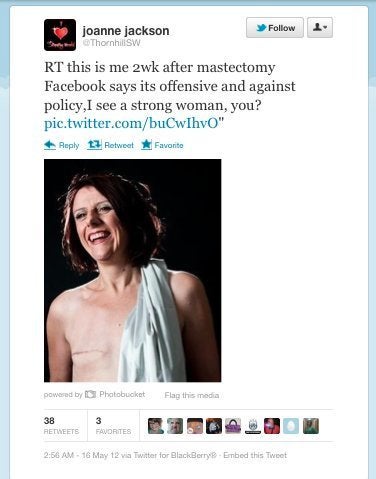 After Joanne Jackson beat breast cancer she wanted to share her story with the world. However, when she posted photos of her mastectomy scars on Facebook, the images were flagged as offensive and later removed from the site.
But Jackson received a notice from Facebook explaining that some of her content had been taken down because it violated the company's policy regarding nudity.
"I am not one who is shy but these pictures weren't as much about me as about other women who had maybe just been diagnosed with breast cancer," Jackson told the paper. "The images aren't fluffy, they are real and I am very proud of them."
Facebook has a strict policy against the sharing of pornographic content and imposes limitations on the display of nudity. At the same time, we aspire to respect people's right to share content of personal importance, whether those are photos of a sculpture like Michelangelo's David or family photos of a child breastfeeding.
And although a Facebook representative said the company had no issue with mastectomy photos, it's not the first time the site has found itself amid controversy regarding images that have been flagged offensive.
Earlier this year, the social networking site admitted to erroneously removing photos of a Tennessee couple's deceased newborn son.
The company later apologized after ruling the photos didn't violate any of the site's guidelines.
Still, plenty of users have found support and comfort through Facebook's online community.
Kimberley Steele discovered a lump in her breast while she was in the shower. Since then, the Michigan woman has shared parts of her battle with breast cancer with friends on Facebook, and she's says the support she's received has helped with her recovery, My Fox Detroit reports.
Calling all HuffPost superfans!
Sign up for membership to become a founding member and help shape HuffPost's next chapter