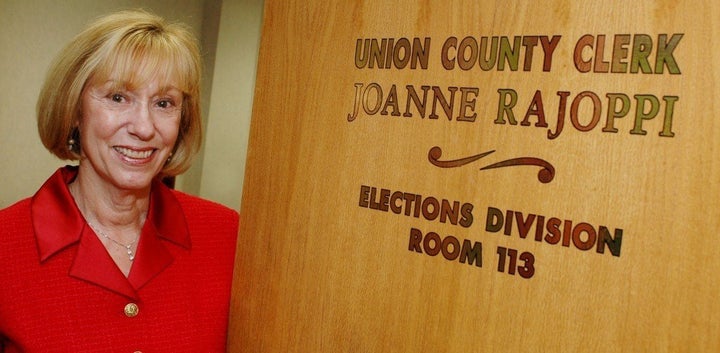 Voter education is a top concern heading into the presidential election for the newly elected president of an international organization of election officials.
Joanne Rajoppi, the county clerk of Union County, N.J., who was elected president of the International Association of Clerks, Recorders, Election Officials and Treasurers, indicated that she and the group are prepared to enforce new election laws nationwide along with promoting ways to increase voter turnout. While turnout in presidential races is high, Rajoppi said, there is a drop-off in elections for other offices on the same ballot or other types of elections.
"We really fall down on that in the U.S.," Rajoppi told HuffPost. "We don't do enough voter education. You can see that in the results. Someone has to take up the cause in this country. They stand in line for hours to vote in other countries."
She and other U.S. election officials have been studying programs used in other countries to promote education, in addition to ways to use the association's resources. Part of this includes more voter education in schools to get children interested in the voting process. Rajoppi, who was elected county clerk in 1995 after 12 years as Union County register of deeds and mortgages, pointed to a law in New Jersey that allows teens to work part time at polling places on election day. She said that involves youth in the process while filling election worker spots typically held by retirees.
Rajoppi, who succeeded Elizabeth Ensley Deiter, the elections commissioner of Shawnee County, Kan., in the IACREOT post, said election officials also explored giving people a day off on election day if they agree to serve as poll workers, which would help fill the spots and promote participation.
"Nationally, we have lost confidence in the system that our vote is important," Rajoppi said. "In the last few years I have done so many local recounts decided by one vote."
Local election officials also are concerned with voting machines, she said. In addition to concerns about ballot security and a paper trail, there are worries about speeding up vote counting on election night. Rajoppi, a former Springfield, N.J., mayor and Union County freeholder chairwoman, indicated she and other officials have adopted technology which allows election workers to send results electronically to allow for quick tabulation. This would not replace a more formal count including absentee and provisional ballots, she said.
As part of the annual association meetings, attendees explored a variety of new voting machines. "The technology is still advancing, they are building new systems," Rajoppi said.
With new state election laws requiring photo identification and new voting machine standards, Rajoppi said she and other officials are prepared to enforce the laws going into this year's presidential election -- regardless of personal beliefs of the officials, who are largely elected.
"We're umpires, we're not players in elections," Rajoppi said. "We will do our best to see that elections are fair. The law is what we administer. We don't have a choice to uphold the law as it is written."
Popular in the Community