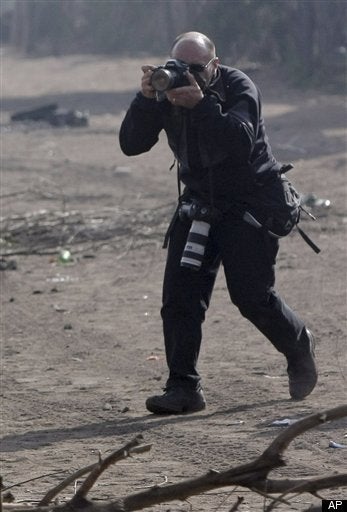 Associated Press -- KABUL, Afghanistan -- A photographer for The New York Times was seriously injured when he stepped on a mine Saturday in Kandahar province.
Joao Silva, 44, received leg injuries from the blast, which occurred while he was accompanying American soldiers on patrol in the Arghandab district. Silva was evacuated to Kandahar Air Field where he was receiving treatment, according to the newspaper.
No U.S. troops were wounded in the morning explosion.
A group of minesweepers and bomb-sniffing dogs had just moved over the area and were several steps ahead of Silva when the bomb went off, the newspaper said. Homemade bombs and mines cause the majority of deaths and injuries among U.S. and NATO forces in Afghanistan. Bombs made with small amounts of metal are difficult to detect.
Silva and a New York Times reporter were embedded with a unit of the 101st Airborne Division.
Silva, who has received several awards for his work, has photographed wars in Afghanistan, Iraq, southern Africa, the Balkans and the Middle East. He is the author, with Greg Marinovich, of "The Bang-Bang Club," a chronicle of a group of four photographers covering the violence in South Africa in the 1990s. The other two were Kevin Carter and Ken Oosterbroek.
"Joao is the state-of-the-art war photographer, fearless but careful, with an amazing eye," said Bill Keller, executive editor of The Times. "We're all waiting anxiously and praying for his quick recovery."
In August 2009, CBS Radio News correspondent Cami McCormick was seriously injured when the Army vehicle in which she was riding struck a bomb south of Kabul. That same month, two journalists for The Associated Press -- photographer Emilio Morenatti and videographer Andi Jatmiko -- were wounded along with two U.S. soldiers by a bomb -- also in Kandahar province.
Related
Popular in the Community