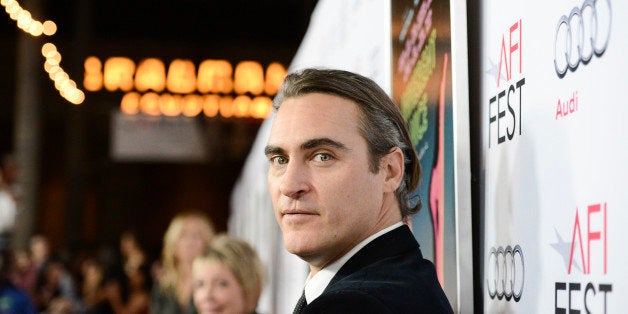 Joaquin Phoenix wouldn't go so far as to call himself a Method actor -- "I'm not a Method actor, I don't even know what Method acting is," he told The Guardian in an interview earlier this year -- but he's definitely committed to the work. For "Gladiator," which scored Phoenix the first of his three Oscar nominations, he wanted to carry around a sword all the time; when he played Johnny Cash in "Walk the Line," which nabbed Phoenix a second Oscar nomination, he asked that everyone refer to him by Cash's real name; and this is to say nothing of Phoenix's "I'm Still Here" period. But it maybe wasn't until Phoenix connected with Paul Thomas Anderson that he found a kindred spirit.
"Paul applies the language of each movie to your everyday vocabulary," Phoenix said, sitting in a red velvet armchair, smoking American Spirit cigarettes at the historic Los Angeles Athletic Club on Sunday. "On 'The Master,' he talked like The Master all the time. There were phrases that The Master used that Paul would use constantly. And leading up to 'Inherent Vice,' he was constantly using dialogue from the book. It just becomes a part of your experience. He's like a Method director."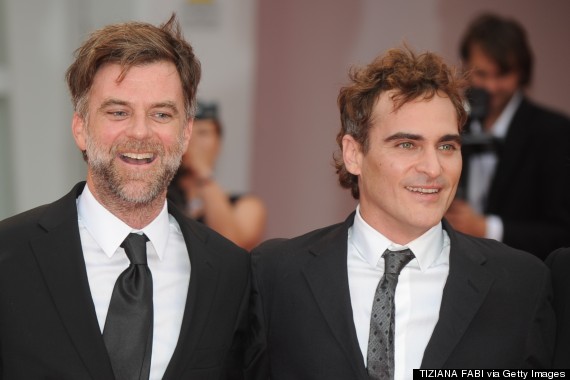 Phoenix carries himself onscreen with a signature smolder; a darkness and complexity that has caught the eye of many major directors (Ridley Scott, Spike Jonze, James Gray, Woody Allen) but perhaps is never better utilized than when he collaborates with Anderson. The actor's third Oscar nomination came for "The Master," and reviews for Phoenix's performance in "Inherent Vice" have been stellar as well.
But even for two heavy hitters, making "Inherent Vice" came along with one big problem. This is the first time a Thomas Pynchon novel has ever been made into a film -- and for good reason. Pynchon's work is beloved but is also notoriously considered confusing, difficult to follow and dense. In "Vice," Phoenix plays detective Doc Sportello, a marijuana-smoking dude wading through Los Angeles in 1970 and an incredible ensemble of characters while looking for his missing former lover.
The film is packed with stars. Josh Brolin, Martin Short, Reese Witherspoon, Benicio Del Toro, Jena Malone and Owen Wilson join Phoenix on screen. At the New York Film Festival premiere Q&A, many in the cast confirmed that Anderson does not give many notes to his actors while filming. Phoenix hardly said a word.
But in Los Angeles, he took long drags of his cigarette and crossed his worn-in Converse sneakers underneath his chair, happy to discuss the ins and outs of working with Anderson.
"I can see why people say that. But I think it gives the impression that he's just like, 'All right, whatever,' and that's not it. The analogy that I've used is it's like when I was very young and my dad would let me sit on his lap and drive the car. He gave me the feeling that I was steering and controlling things, but he was there the entire time," Phoenix said.
Anderson gives his actors the sense that they are in control of their characters, Phoenix explained. He doesn't limit them. Unlike other directors, Anderson lets his actors move wherever they want. "He adjusts the camera around you if he likes what you're doing. And so it gives you this feeling of being free. But ultimately, he is the one steering the ship."
And if he doesn't like what they're doing?
"He will never say, 'I don't like that.' There are always props around that you might need. On this film there's weed -- not real weed, of course! -- and maybe a radio and a beer and a book. You might find that part way through a scene, you go over and pick up a beer and start drinking it. Maybe three takes in, it starts to become something that you know you're going to do and it loses its vibrancy. It suddenly becomes something that's routine," Phoenix said.
"So he will just go, 'Are you liking that beer? You think maybe you want to have a smoke?'" Phoenix laughed, as he did an Anderson impression with his voice. He then added: "And if you say, 'No let me find the way,' he will allow it. He has a subtle way of encouraging you to try something else. It's completely ideal."
"Inherent Vice" is light, meandering and nearly airy compared to Anderson's last two quite serious films, "The Master" and "There Will Be Blood." It would help to have a pencil and notepad in the theater to try to keep track of what everyone is doing and why. But the fun, sauntering tone that is a part of the film is very much a reflection of Pynchon's book.
When asked how he explains what "Inherent Vice" is about, Phoenix replied jovially, "I don't! It's too hard." He believes strongly in the practice of going into a film not knowing too much, even though that's rare these days, he confessed.
"I don't know if people read interviews and if they actually affect them, but I get affected if I read something. It does contaminate the experience. My favorite way to watch a movie is not to know anything about it. I don't want to see a trailer, I don't want to hear my friends' opinions," he said.
The desire to make another film with Anderson was not the only reason Phoenix jumped into "Inherent Vice," he said. After Anderson gave him a copy of Pynchon's book, he fell in love with the complexity of Doc's character, who he described as a "sweet, thoughtful idealist."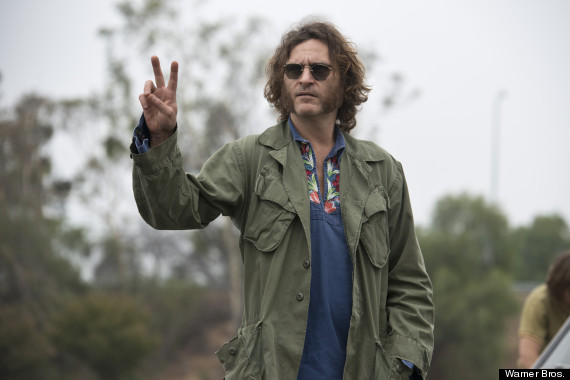 But there is a part in the book that didn't make it to the screen and Phoenix particularly adores it, feeling it gets to the core of who Doc is. "Shasta [Doc's ex-girlfriend] disappears on the boat and he goes to his friend Fritz, who has the precursor to the Internet called the ARPANET," Phoenix said.
"Doc is in a panic and you can see how much he needs to find Shasta. There's such a deep love for her. Fritz explains how ARPANET works and how it's connected to computers all around the world. If anybody knows where Shasta is, this computer will find it," Phoenix said, pausing for effect.
"And the first thing Doc asks is, 'Does it know where I can score?' I just love that. Here's this guy, he's so desperate to find this girl but then it's like, 'Whoa! Hold on. Does it know where I can score?' There's something that feels very authentic about that character."
"Inherent Vice" opens in limited release on Dec. 12.
Calling all HuffPost superfans!
Sign up for membership to become a founding member and help shape HuffPost's next chapter
BEFORE YOU GO
PHOTO GALLERY
"Inherent Vice" Photos