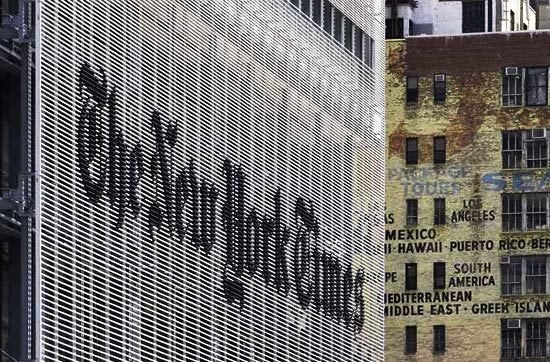 Quick: What did the first four public editors of The New York Times have in common?
That's right. All were white, male, well into or past middle-age, and distinguished in the world of news or magazines. That's not surprising, really, at a newspaper that not so long ago was known as The Gray Lady.
But with the news Monday evening that public editor No. 4, Arthur Brisbane, will step down in September, the calls for change have already begun. On Tuesday, the Poynter Institute, a leader in journalism education and mid-career training, stripped a story across the top of its website with the headline,"5 qualifications The New York Times should require of its next public editor."
Among them were "at least one element of diversity" (does a birthdate less than 50 years ago count?), "experience on the digital side of journalism," and "eagerness to disrupt the job."
As a bald, white, 60-something male, I'm the last one to complain about old guys, with hair or without. But with the exception of ombudsman No. 3, Clark Hoyt, who often wrote provocative columns raising serious questions about Times coverage, I've found the writing of the public editors pretty tepid and sometimes simply out of touch.
Besides, after four consecutive years in which the percentage of minority journalists in print and online newsrooms has declined, according to ASNE, it would be a significant statement for The Times to bring in someone likely to offer readers a different perspective on the day's coverage -- and what's missing from it. It was, after all, just last week that the U.S. Census Bureau reported more than 50 percent of new births in this country over the last year were non-white babies.
I'm going to guess that a disproportionate percentage of Times readers are relatively affluent, well-educated, white and older. But if the paper has any hope of connecting with a new generation of not only readers, but digitally savvy online viewers, the public editor -- whose role is to interact with audience, explain the newspaper to it, and serve as an independent voice about the paper's coverage -- had better represent the future and not the past.
Which leads back to Poynter writer Craig Silverman's call for a digitally savvy public editor. Notice the growth of video and multimedia at nytimes.com of late? The widespread use of social media by its reporters? The increasingly visual nature of posts on Facebook and elsewhere? I confess. I am a man of words and thus, increasingly, a dinosaur. The New York Times' public editor, conduit to America's most influential news organization, should be more.
Maybe its my '60s roots, but my favorite suggestion in Silverman's Poynter post is that the new public editor should "disrupt the job." The trouble, in his column anyway, is that he talks more about form than content and substance.
"The public editor/ombudsman... needs to move more quickly, publish more frequently online, find new and better ways of engaging with the public," he writes.
Fair enough. But she should also do cool things with those online posts and blogs. How about a weekly podcast in which the public editor moderates a discussion among a broad range of thinkers critiquing coverage of a particularly interesting issue? How about a periodic blog post making the case for more prominent coverage of a story the public editor (and readers) believes was under-covered? How about a regular graphic deconstructing and reconstructing the news to show it visually or in some other form?
In fairness, Silverman's links do point to past suggestions for public editors. His include:
-- Curating a collection of interesting comments from all areas of the newspaper
and its website.
-- Publishing a wider range of reader questions and answers in a blog.
-- Reporting relevant information on errors, accuracy and corrections.
He also links to a post by digital media guru Dan Gillmor, who suggests that public editors (also called ombudsmen) widely aggregate responsible critiques about their news organizations from outside media critics.
Whatever course The Times' publisher follows in the end, it will be interesting to see whether the paper has the guts to add a splash more color to the Gray Lady. Picking a younger, hipper, more diverse public editor would at least give the old gal a silk scarf or some high-class red shoes when she goes out.