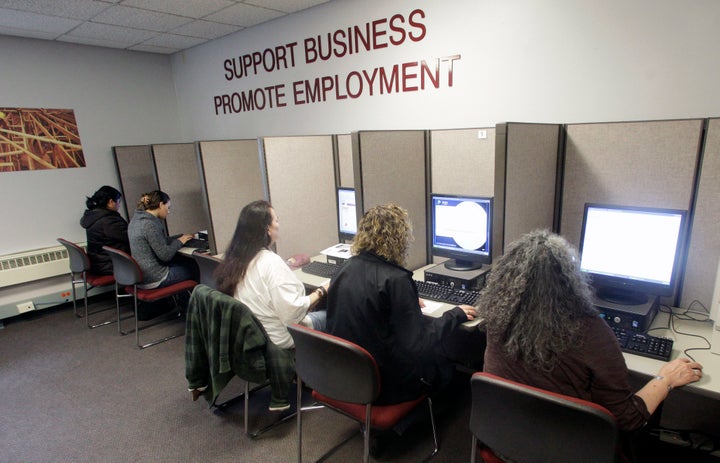 Every Monday night, Steve Colella hosts a two-hour meeting at the West Warwick Public Library in Rhode Island to boost the spirits of layoff victims and to help them find new jobs.
The average person who shows up has been out of work 77 weeks and feels totally demoralized, says Colella, who has degrees in divinity and vocational rehabilitation counseling. He works full-time as a vocational counselor at the University of Massachusetts and hosts his seminars as a volunteer.
Part of his six-week program at the library is more like grief counseling than vocational counseling.
"That whole element of loss, grief," Colella says. "You feel you have nothing to offer; you have no skills; you have no abilities. If I could get a group of people understand they're not alone ... Only when they can do that, when they can see themselves as having value, worth and being able to articulate their skills and abilities, only then can they conduct themselves adequately in a job interview or in an active job search."
Colella gets results: He says 93 people have gone through his six-week program since 2009 and 33 have gotten jobs, with an average wage of $15 per hour.
There have long been informal "job clubs" like Colella's. But last month, the U.S. Department of Labor's Center for Faith-based and Neighborhood Partnership announced a new effort to coordinate with job clubs at the state and federal level. The CFBNP, initially started under the Bush administration and re-launched by the Obama administration last year, seeks to encourage collaboration among faith and community leaders and all levels of government. Promoting job clubs is a top priority.
A May memo from the Labor Department encouraged state workforce agencies to promote job clubs as a way to provide emotional support for the unemployed.
"A central tenet of most Job Clubs is to act as a support group for unemployed people," the memo said. "In many (though not all) cases, Job Clubs view their work as more closely aligned with a grieving process model or 12-step treatment model rather than a workforce development model, where there are various stages of unemployment (grief, anger, denial, acceptance, etc.). The facilitator's role is to help participants work through these various stages."
The memo notes that there are probably about 3,000 job clubs, which is roughly the same number of "one-stop" career centers funded with federal dollars and administered by states. The CFBNP is building a list of job clubs on its website.
Many job clubs are put on by churches. The clubs might also be called unemployment ministries, job groups, work search roundtables, or career transitioners, according to the CFBNP.
Betty Pendarvis, a program manager for a satellite manufacturing company who volunteers Tuesday evenings at McLean Bible Church Career Network Ministry in Northern Virginia, says no fewer than 50 people show up to meetings each week. They come for expert help with resumes, interviewing skills, clothes and especially emotional support.
"It's a grief process," Pendarvis said. "When somebody loses their job it's like losing someone they love."
A top recommendation from job club organizers: volunteer. It's good for networking, getting out of the house, and filling resume gaps as well.
John Covington, a small business owner who volunteers Monday mornings at a job club hosted by the Severna Park United Methodist Church in Maryland, said each attendee at the weekly meetings talks a little about his or her situation and receives tips from career counselors. Covington said representatives from the Anne Arundel Workforce Development Corporation also check in on the meetings.
The emotional support of the group is paramount. "When people lose their jobs they feel like crap," Covington said. "On the emotional level it's not far down to losing a loved one to death or divorce."
HuffPost readers: Hired with help from a job club? Tell us about it -- email arthur@huffingtonpost.com. Please include your phone number if you're willing to do an interview.
Calling all HuffPost superfans!
Sign up for membership to become a founding member and help shape HuffPost's next chapter