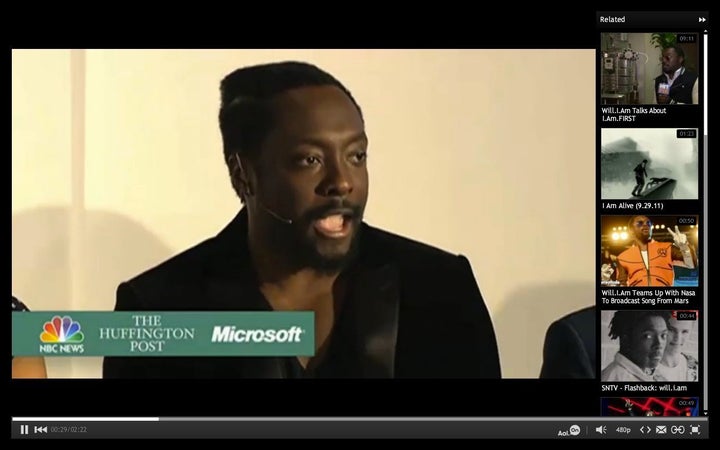 Four years ago, during a media panel at the Democratic National Convention in Denver, will.i.am said something that I've been quoting ever since: "We used to consume the news sitting on the couch, the next generation consumes news galloping on a horse." At this year's Democratic National Convention, during HuffPost's lunch panel focused on what individuals, companies and nonprofits can do for job creation, he again proved himself to be a quote machine with memorable lines about immigration, the discrepancy between the amount we spend to educate our young people and to incarcerate them, and his efforts to revitalize the neighborhood he grew up in (see the video here). About the last of these he said: "I'm not stoppin' until it is poppin'!" That enthusiasm and urgency, together with the work he's doing to get kids excited about science, technology, engineering and math, perfectly captured the can-do spirit of the jobs initiatives sponsored by HuffPost, Microsoft and NBC, in partnership with LinkedIn and the Rockefeller, Ford, and Skoll foundations, among others.
There are always a lot of media complaints about the conventions and how nothing happens at them anymore -- the complaints are almost as much of a tradition as the conventions themselves. But a more notable criticism would be that nothing is going to happen after the conventions on the big crisis in front of us -- the 23 million people who are unemployed or underemployed. That's why at both conventions we held our panel discussions and entrepreneurship expos, and launched initiatives including the Skoll Foundation's $250,000 challenge that will fund the most creative and innovative ideas from non-profits working to create jobs and the Rockefeller Foundation's $1 million award for the most innovative job creation idea.
A lot of our partners were on our panels in Tampa and Charlotte, but four key partners were not. Yet none of what we did could have been done without their vision and commitment -- which, I'm grateful to say, will be ongoing long after the conventions. Ray Chambers was the first person I reached out to back in May. I had worked with him when he chaired the Presidents' Summit for America's Future in 1997, and have marveled ever since at his ability to reach goals that are daunting and ambitious -- like reducing malaria deaths by one-third since 2000 with the goal of near-zero deaths by 2015. And throughout the last few months, in all our planning meetings and calls, Ray -- who is now the U.N.'s special envoy for malaria -- kept urging us to put "some audacious stakes in the ground."
Jeff Weiner, the CEO of LinkedIn, committed LinkedIn's resources by engaging its 175 million members in a discussion on solutions to the jobs crisis, while providing millions of job-opening data points for analysis. As for Luis Ubiñas, president of the Ford Foundation, he made a major commitment of investing $150 million over the next five years to address three drivers of the jobs crisis: the skills mismatch, the geographic mismatch, and the asset gap. And he again and again stressed the importance of capturing the war spirit of a joint collective effort that got millions of people to buy bonds, build victory gardens, and do their part to win the war and rebuild the country. As he put it, "Let's give our citizens something not just to think about, but something to do." Sally Osberg, president of the Skoll Foundation, was from the beginning a key partner in our efforts. She also brought to our conversations the John Gardner quote that became our guiding principle: "What we have before us are some breathtaking opportunities disguised as insoluble problems."
But not if we just wait for Washington. If we want any confirmation of this, all we have to do is look at last Friday, which brought much of that soaring rhetoric back to earth with news that only 96,000 jobs had been added and unemployment stood at 8.1 percent, down from 8.3 percent largely because of 368,000 people leaving the workforce altogether. Every month, the range of our expectations is now limited to "might be a little bit better," or "might be a little bit worse." The idea of a, "wow, those are great numbers" report doesn't even seem like a possibility anymore.
That's why citizens' role in the process needs to be more than just hoping for a good number to be delivered from the Washington skies on the first Friday of every month. It's what will.i.am was talking about when he said: "That's what 'yes we can' means to me -- it's the 'we.'"
This is a sentiment that reverberated not only on our jobs panels but throughout the convention hall. In fact, it was practically the theme of President Obama's address. The road ahead will "require common effort, shared responsibility," the president said. And throughout his speech he continued to echo the notion that we must all be part of the solution:
... Help me recruit 100,000 math and science teachers in the next ten years, and improve early childhood education. Help give 2 million workers the chance to learn skills at their community college that will lead directly to a job. Help us work with colleges and universities to cut in half the growth of tuition costs over the next ten years. We can meet that goal together...

... we also believe in something called citizenship -- a word at the very heart of our founding, at the very essence of our democracy; the idea that this country only works when we accept certain obligations to one another, and to future generations.

Because we understand that this democracy is ours.

As citizens, we understand that America is not about what can be done for us. It's about what can be done by us, together, through the hard and frustrating but necessary work of self-government.

So you see, the election four years ago wasn't about me. It was about you. My fellow citizens -- you were the change.

Only you have the power to move us forward.

I'm hopeful because of you.
He also spoke several times of our path, one that is "harder but leads to a better place."
But the problem is that he did not give us a path -- not in the speech nor in the previous three and a half years -- toward how we can help recruit 100,000 math and science teachers, or how we can help two million workers learn job skills at their community college. There must surely be more to our "power to move us forward" than simply voting.
It was interesting that the Obama campaign chose Bruce Springsteen's "We Take Care of Our Own" as the anthem that played after the president's speech. Because the song isn't just a beautiful paean to taking care of our fellow citizens, it also carries the warning that we can't solely depend on institutions to do it for us:
The road of good intentions has gone dry as a bone... There ain't no help, the cavalry stayed home... There ain't no one hearing the bugle blowin... Where's the work that'll set my hands, my soul free?... Where's the promise from sea to shining sea?
The spirit of that challenge -- and the belief that it can be addressed -- is the guiding principle behind our Opportunity: What is Working section.
"We have everything we need to bridge the gap between talent and opportunity," said LinkedIn's Jeff Weiner. "The solutions are within our grasp, but there is much work to be done. Our outdated analog approaches to preparing the workforce for the jobs of the 21st century led us into this crisis. New digital technology and creative approaches will lead us out of it. Now is the time."
Not surprisingly, our panelists in both Tampa and in Charlotte (you can watch them at RNC Panel Part 1, Part 2; DNC Panel Part 1, Part 2.) had a lot to say about all of the ways in which we need to reform education. To get more kids into college, to keep them there, and encourage them to go into the STEM (science, technology, engineering, math) areas of study.
"I brought the kids from my old neighborhood to NASA and said, 'I know you want to be athletes and artists, but you should be someone in science, technology, engineering or math,'" said will.i.am. "I think it should be mandatory that STEM is in every single school across America. Mandatory at an early age. If you look at every school there's a basketball court and a football field... Only one company benefits from that basketball court -- it's called the NBA."
Gerald Chertavian, founder and CEO of Year Up, brought a sense of urgency to the especially acute jobs crisis among young people: "We need a G.I. Bill for urban young adults in America today to help them go forward, realize their potential and contribute to our economy."
Judith Rodin, president of The Rockefeller Foundation, talked about the implications of joblessness even among those who have managed to get through college. "Last year, half of students with baccalaureate degrees were either under- or unemployed," she said. "The old model of economic development is gone. This is a global economy: governors who realize that their competitors are Shanghai and Mumbai and Rio, those are the ones whose plans will work."
For our panel moderator Tom Brokaw, Silicon Valley stood out as a model:
What has been so striking to me recently has been the place of Silicon Valley. Silicon Valley is homegrown. It is the most transformative technology in terms of its reach and its impact and its application. The mantra of everyone in Silicon Valley is "be disruptive, be unconventional, find a new way of doing things." Every new app that comes challenges an old way of doing something. That's a big idea, and the underlying theme of Silicon Valley, to be disruptive, is something that transcends ideological divides. And it ought to be the lodestar of how we go forward.
One of my favorite quotes from the panels came from someone who wasn't even there -- the late Steve Jobs. It was recounted by his biographer, Walter Isaacson, who was talking about the standard-issue commencement speech command to "follow your passion":
Every baby boom generation person who has to give a college commencement talk uses the phrase "follow your passion." But that's why no one has written a book calling us the greatest generation. The important point is to not just follow your passion but something larger than yourself. It ain't just about you and your damn passion. I remember talking exactly a year ago right now to Steve Jobs, who was very ill, and I asked him that question: He said, "Yeah, we're always talking about following your passion. But we're all part of the flow of history... And we take things out of that flow that other people have created. And that's why our lives are so great. So you've got to put something back into the flow of history that's going to help your community, help other people, so that 20, 30, 40 years from now, even if it's a small pebble you put back in, people will say, this person didn't just have a passion, he cared about making something that other people could benefit from."
Or, as Gene Sperling, Assistant to the President for Economic Policy, put it: "When you're thinking of who to partner with, who to help, don't just look in your own backyard. Think of other backyards around the country."
So as we enter the final lap of the election -- and the billion-dollar deluge of less-than-edifying television ads that will come with it -- let's remember that we don't have to wait for Washington to act to answer Springsteen's challenge to take care of our own.
Popular in the Community