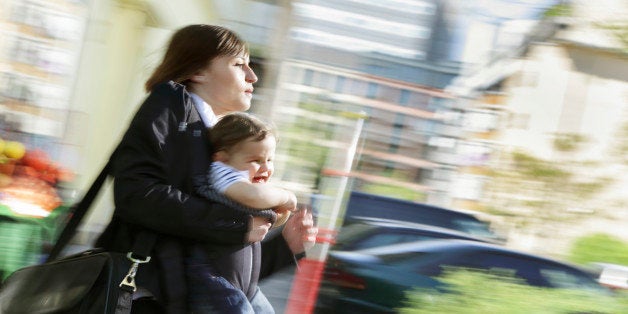 Working for a startup is an exciting opportunity to gain experience with a passionate group of professionals at the ground level, however, expectations for professional time commitment can become difficult to navigate especially for working parents. We approached Clare MacGoey, CFO of successful art auction site Paddle8, about her advice for approaching a successful career in the startup world while also raising a family.
1) You have a rich career history of helping innovative digital-based start-ups grow and thrive. How do you decide which companies you want to work with?
To some degree, I approach it the way a VC would decide whether to invest: it's partially the idea and potential, largely the people, and also the right stage of VC funding. Paddle8 has a strong founding team, and it just announced its Series C raise of $34 Million, which saw existing investors participate as well as some great new ones, including David Zwirner (widely regarded as the most important and influential art dealer in the world), Sony CEO Edgar Berger, Working Pictures Title co-chairman Eric Fellner, collector and entrepreneur Stavros Niarchos, and a British VC company with deep experience in the tech space. The investors represent the intersection of tech, art, luxury, and media--the exact space that Paddle8 occupies.
2) What is some of your advice to women looking to succeed in a start-up venture whether it be working for someone else or on their own?
I would say cut your teeth working in a startup, learn from some great people, and then if you still have the appetite for it take what you've learned and then do your own. Really examine the stage at which you join a company: part of what drew me to Paddle8 is that it is in a unique stage in its growth, with the energy of a start-up but the operational and scaling demands of a "grown-up" company.
3) Apart from being the CFO of the popular online art auction site Paddle8, you are also the mother of a toddler. How do you find the opportunity to balance both your personal family and professional lives?
I made an effort to set boundaries and expectations early on--both at home and in the office. It has also been important to make sure that goals were completely aligned not only within my department but across the company. In my role, hiring the right team and management within that team was vital, and I'm lucky to have an exceptional controller at Paddle8, Melissa Sanvictores, who knows exactly what we need to achieve.
I'm fortunate, too, that I have a very supportive husband who understands we need to work a 50:50 parenting share to make it work. I have an amazing nanny whom our daughter loves which I couldn't do it without. I ensure the time I get with my daughter I make count. I do have less time with her than I would as a stay-at-home mom but savor every minute of it. She has her own keyboard so if I'm working from home, she can sit and "work" next to me at times without stealing mine!
4) You've found a level of flexibility with your professional career path that has helped you "have it all". What is your advice to women who feel like they are forced to choose one or the other?
I don't think there is any such thing as having it all! In the US--probably more so than the UK, where I'm from--many women feel forced to choose being a stay-at-home mom or return to work in a capacity that doesn't allow them to see their family growing up. I actually had some amazing advice from Manon at Inkwell shortly after my daughter was born: she encouraged me to decide what was important to me in terms of career direction and balance. Her vision behind Inkwell is inspiring, I tell so many people I meet about it that I'm a huge supporter!
5) There are many articles and experts who believe that family stress is caused by workplaces that fail to recognize the importance of allowing employees with families to telecommute, provide childcare and an unconventional schedule. What has been your experience with emerging companies like Paddle8? Do you feel the pendulum is swinging in favor of working families?
I think a number of earlier stage startups probably don't really know how to really support employees with families. If the founders and management don't have families, there is less chance of anyone "getting it" and making it a priority and the company having any real support structure in place. Later stage startups like Paddle8 are likely to be more evolved. We are lucky to have an amazing head of HR who is also a working mom, and who understands that it doesn't really cost anything to create flexible schedules when needed--and that it goes a long way to create not only employee satisfaction but also efficiency and productivity! And we have a great CEO who stands behind and supports it. I think it is evolving, I would love to see more awareness of the benefits it gives companies. For startups it's also a great recruitment tool and can give them an edge attracting talent over larger companies.
REAL LIFE. REAL NEWS. REAL VOICES.
Help us tell more of the stories that matter from voices that too often remain unheard.