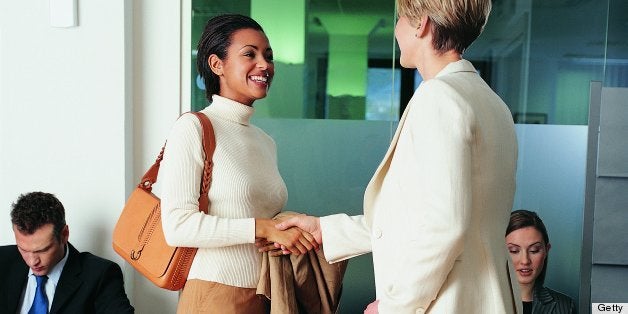 If you are a recent college graduate, or jumping into the workforce after an extended break, setting yourself up to stand out from your competition is a professional priority. Your choice of interview attire will be viewed as an indicator of how serious you are about getting the job. Here is a guideline that will take you step by step:

Job Interview Attire Basics
A dark, two-piece, gray, navy or black suit is your best option when interviewing with a conservative company. Compliment it with a light colored blouse or cotton shirt. Steer clear from strapless, spaghetti straps and well-worn tees under the jacket. Women can wear a black suit easier than men because they can lighten the look with a soft colored blouse and accessories.
Pantsuit vs. skirt suit. A pantsuit is generally an acceptable choice for a job interview, although, there are still some exceptions depending on the company. When in doubt, ask the recruiter or Career Service counselor at your university for their suggestions and advice.
Tech companies and other casual industries. If the company or industry is known for its casual work environment, such as a laid back tech company, you may choose to tailor down your look without looking unkempt. Slacks and a dressy blouse, or a tailored skirt and blouse worn with a cardigan or light weight sweater are appropriate options. The key is to think in terms of "three pieces". It's always better to arrive slightly overdressed than underdressed.
A white or light colored, tailored shirt is an interview staple. Dress up your look with a necklace or other piece of conservative jewelry.
Hosiery may or may not be optional. Many companies have relaxed their view on panty hose, especially in extremely hot weather. A job interview, however, is not the time to take any chances. If you know someone currently employed with the company, ask them about their dress policy. You may also make an effort to drive by the company during a time when employees are entering or exiting the building. If the women are wearing conservative suits and hosiery, it would be in your best interest to do the same. As a side note, panty hose are much more comfortable and fashionable than in years past. Select a sheer or nude color that is close to your own skin tone.
Shoes. A mid heel, closed-toe pump is a safe choice. Regardless of the current shoe trends, your shoe selection for a job interview should be professional and understated. The exception would apply to a creative position, or a position in the fashion industry where your choice of clothing should reflect the current fashion trends.
Details that Matter
-Leather purse or briefcase; carry one or the other, not both
-Manicured nails with a neutral polish
-Make up; even minimal makeup is an indicator that you value your professional image
-Neatly groomed hair, worn away from the face
-Clean and polished shoes (Pay special attention to heels and soles)
-Conservative watch with a link or leather band
-Black or neutral colored trench coat (Inclement weather)
Don'ts for Women
-Short skirt or extreme form fitting garments
-Textured, patterned or bright colored hosiery
-Wet hair
-Strong perfume or heavily scented body products
-Distracting or noisy jewelry
-Visible body piercings and tattoos (Cover tattoos with a band aid or flesh colored tape)
-Jeans, t-shirts, sneakers, canvas slip-ons
-Sunglasses worn as a headband
-Exposed technology; turn off cell phone and keep out of sight
-Carrying a book bag rather than briefcase
Good luck on your job interview!
Stay tuned for Suiting Up for Success: Job Interview Attire for Men (Part II) coming next.
Related
Popular in the Community