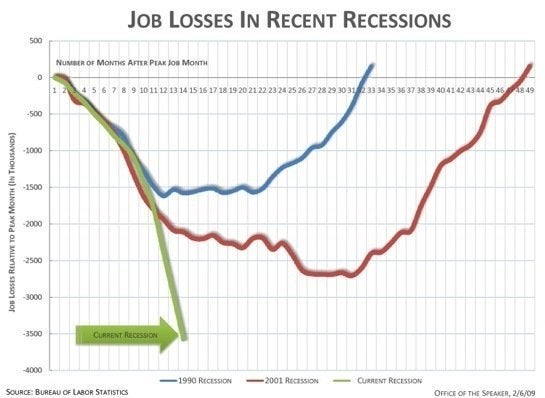 Some notable graphs were released on Friday while analysts and members of Congress waited for a compromise to be reached in the Senate on the stimulus package.
This chart compares the job loss so far in this recession to job losses in the 1990-1991 recession and the 2001 recession -- showing how dramatic and unprecedented the job loss over the last 13 months has been. Over the last 13 months, our economy has lost a total of 3.6 million jobs - and continuing job losses in the next few months are predicted.


By comparison, we lost a total of 1.6 million jobs in the 1990-1991 recession, before the economy began turning around and jobs began increasing; and we lost a total of 2.7 million jobs in the 2001 recession, before the economy began turning around and jobs began increasing.
Meanwhile, the Center for Economic and Policy Research -- which supports the stimulus -- released a study highlighting the examples of wasteful spending that Republicans have pointed to as reasons to oppose the package.
By CEPR's calculation, the bitter stalemate over the bill has in fact been over an incredibly small portion of the package:
Appearing on Meet the Press, House Minority Leader John Boehner criticized the recovery package for including $21 million to re-sod the National Mall as well as $200 million for contraceptives.2 On Face the Nation, Senate Minority Leader Mitch McConnell mentioned $600 million going to buy hybrid vehicles for federal employees and $150 million for honeybee insurance.3 Senator John McCain questioned a $50 million provision for the National Endowment for the Arts on CNN's American Morning.4 And on Fox News Sunday, Senator Jon Kyl criticized a program that would provide benefits to World War II veterans in the Philippines.


Republican leaders also released a longer list of provisions they viewed as 'wasteful' to the media, including $6 billion to make federal buildings more energy-efficient and $1.2 billion for "youth activities," including summer jobs programs.
Popular in the Community