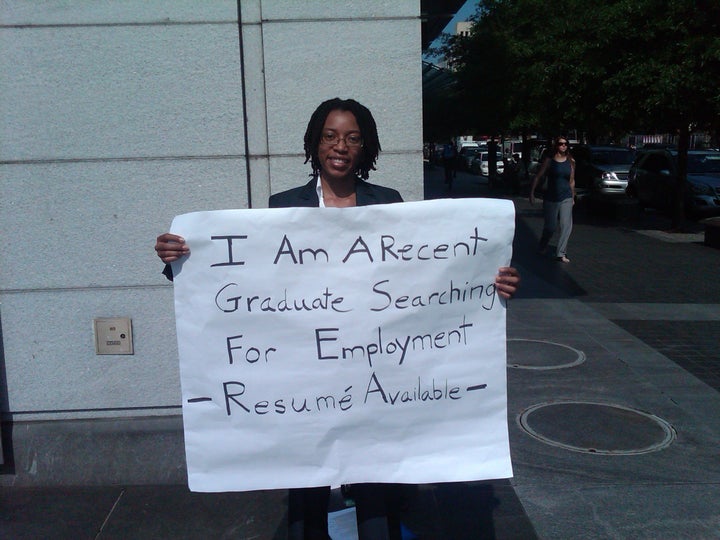 NEW YORK -- Fueled by equal parts desperation and frustration, Dianez Smith took to the street.

During the peak of Washington, D.C.'s Wednesday morning rush-hour commute, Smith, 26, positioned herself at the corner of K and 17th Street.

She was armed with a handmade sign that read, "I am a recent graduate searching for employment -- résume available."

"I'm a dime a dozen in this city," said Smith, who wore a blue pinstriped suit and black high heels. In total, she handed out 17 copies of her résume to anyone willing to give her a second glance. "I really need a job. I just need to make a decent living."

Smith, who graduated last May from Arcadia University with a bachelor's degree in studio art, technically already has a job.

She currently sells bicycles at Performance Bike in Rockville, Md. But working full-time at $8 an hour is barely enough to scrape by. Smith is also paying down more than $75,000 in student loans and nearly $3,000 in credit card debt. She currently lives with her grandmother in Silver Spring, Md.

Smith is hardly the only recent graduate unable to secure a decent paying job while also struggling with piles of debt.

Last week, Carl Van Horn, a professor of public policy at Rutgers University, released a study called "Unfulfilled Expectations: Recent College Graduates Struggle in a Troubled Economy." Van Horn and his colleagues polled young people who graduated from college between 2006 and 2010.
Debt is a pervasive worry. Of the 571 graduates included in the study, nearly 60 percent had borrowed money to finance their education. Research also found that half of 2009 graduates are either unemployed or working in jobs that don't require a college degree.

"The job search requires a combination of tenaciousness and constantly putting yourself out there," said Paul Oyer, a professor of economics at Stanford University's Graduate School of Business. "You have to put yourself in a position where luck can happen and give yourself as many options to be in the right place at the right time as you possibly can," he said.

Oyer cautioned that while tenacity is an essential quality, the appearance of being desperate is generally frowned upon.

But Matthew Segal, 25, who happened across Smith during yesterday's commute to work, said that "desperate times call for desperate measures."

More than anything, he was struck by the boldness of Smith's approach.

"She's the perfect example of someone well-educated and ambitious, yet not too proud to go out and do something that takes an incredible amount of courage and strength," said Segal, the founder of Our Time, a national membership organization for people under 30.

Segal's office is routinely flooded with young graduates looking for any job they can get. Many complain that employers require three years of work to even be considered. "But how the heck do they ever get three years of experience if they can't at least get that first, entry-level position?" asked Segal.

Smith has wondered exactly that on more than one occasion.

"My education is apparently not good enough," she said, before heading off to work. "A bachelor's degree used to mean something. It used to mean that you could at least get in the door."

While her mother is a nurse and her father works at Dulles International Airport, where he deplanes aircraft, Smith was raised by her grandmother. At 77, she works as a psychotherapist.

After graduating a year ago, Smith landed a paid internship at the Smithsonian Institution. But after the summer was up and the internship ended, she went back to selling bicycles. She's been looking for better-paying job ever since.

On her days off, when she's sitting in her room at her grandmother's house, Smith sees vestiges of a life that never came to pass -- stacks of interior design books, a drafting table, a container of drawing pens. Her current job in no way relates to anything she studied in school.

Yesterday morning, it was precisely that feeling of disappointment that roused her from bed at 5:45 a.m. to make her best case to any stranger willing to give her the time of day.

Standing on that street corner, Smith finally got what she had long gone in search of: recognition.

"Every time someone said good luck, it lifted my spirits," recalled Smith, who crossed paths with a woman looking to hire at a local law firm. After going in for an initial interview, she's been asked back for a second round.
"I have no problem working an entry-level job," she said. "I don't want to start out at middle management. All I need to do is to make a self-sufficient living."
UPDATE: 6/28/11 -- Some good news: Smith reports that her strategy finally paid off. Passing out her résume resulted in not only an interview, but a job offer from a law firm located inside the building she stood in front of. She is now gainfully employed, working for the firm as both a receptionist and junior legal assistant.
Popular in the Community