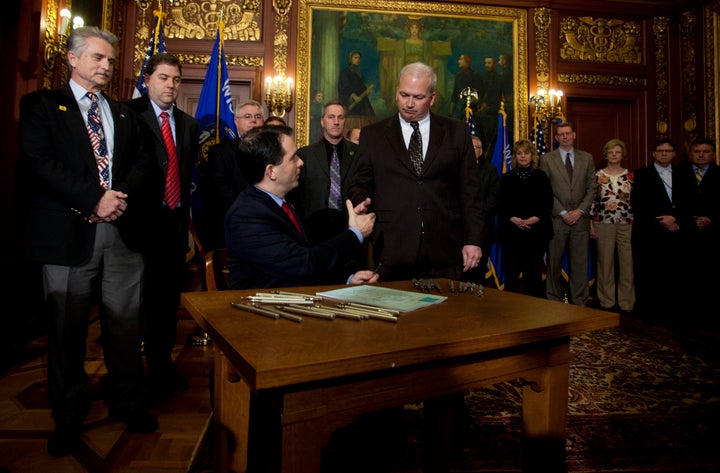 WASHINGTON -- Congress deadlocked several times last year over renewals of federally-funded unemployment insurance for the long-term jobless, twice interrupting benefits for millions. Now the battle has moved to the states.
Michigan lawmakers this week became the first in the country to cut the standard 26 weeks of state-funded unemployment insurance down to 20 weeks, and opponents of the cut are worried other states may follow Michigan's example.
"I think it's really important, when it comes to unemployment insurance, that Michigan not become the state on unemployment insurance like Wisconsin has become on collective bargaining," Rep. Sander Levin (D-Mich.) told HuffPost on Thursday. Levin is the highest-ranking Democrat on the House Ways and Means Committee, which oversees legislation relating to unemployment benefits. "I'm concerned about Michigan, I'm concerned about workers in other states."
In the name of addressing Wisconsin's budget shortfall, Republican Gov. Scott Walker successfully pushed through the legislature a controversial proposal to strip collective bargaining rights from government employees. Walker's proposal launched a national debate on whether unionized public workers are overcompensated, and similar legislation has popped up in other states.
Some worry the pattern will recur with jobless aid.
"If Michigan Governor Rick Snyder signs the bill on his desk to permanently cut state unemployment benefit eligibility from its current national standard of 26 weeks back to 20 weeks, it would set a truly dangerous precedent," said an email blast from the National Employment Law Project encouraging people to call on Snyder to veto the bill. (Snyder's office has said he will sign it.) "If unemployment insurance is cutback in Michigan, your state could be next."
Some states are already considering unemployment measures that are similar to Michigan's. Republican lawmakers in Arkansas want to limit state benefits to 25 weeks, for instance, and Florida Republicans want to reduce benefits to 20 weeks. Some state unemployment trust funds had been running deficits even before the recession started, and the ostensible goal of the measures is fiscal responsibility -- though suggestions the unemployed don't deserve so much help sometimes enter the debate as well.
Michigan's cutback to 20 weeks of state benefits starts in January. State Republican lawmakers enacted the cutback as part of a legislative package that allows laid-off Michiganders to continue collecting up to 99 weeks of aid through this year. Without the legislation, Michigan layoff victims would have been ineligible for the federal Extended Benefits program starting in April. The EB program provides the final 20 weeks of benefits after 53 weeks of federal Emergency Unemployment Compensation, which kicks in for people who exhaust state benefits without finding work.
Some state lawmakers don't want the federal money to be spent. In Missouri, Republicans in the state Senate are filibustering a measure that would allow the laid-off to continue collecting EB. Lawmakers in Oregon and New Jersey, meanwhile, have approved the EB fix, which allows states to qualify for the aid by changing the eligibility trigger to look back on three years of the state's unemployment rate instead of two.
Congress passed a yearlong reauthorization of EUC and EB back in December. When the programs lapse again in January, state benefits may be all that remain.
HuffPost readers: Worried about what your state's doing with unemployment insurance? Tell us about it -- email arthur@huffingtonpost.com.
Calling all HuffPost superfans!
Sign up for membership to become a founding member and help shape HuffPost's next chapter