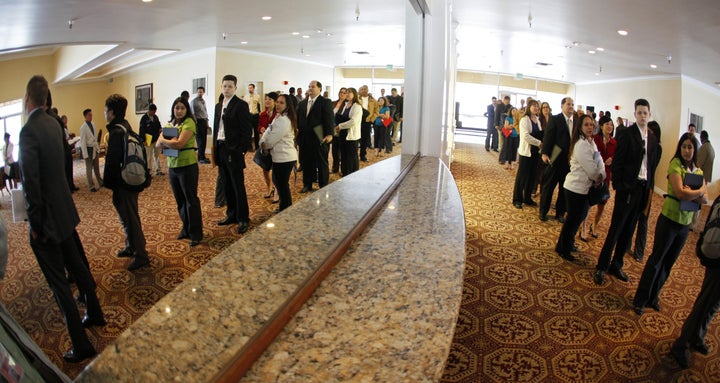 In 2009, Jeffrey Erb left his management position at a premier New York City design firm to branch out and start his own business, Jeffrey Erb Landscape Design, which creates artful urban landscapes and garden designs. Though Jeffrey plans to hire and expand his young business in the future, current economic conditions necessitate that he remain a "one man shop."
Jeffrey's situation is becoming increasingly common. The layoffs of the Great Recession have prompted more and more people to set off on their own, trying their hand at running a business. New data from the Kauffman Index of Entrepreneurial Activity indicate that startup activity rose to record highs in 2008 and 2009. And, in 2010, business formation remained at these elevated levels, with an average of 565,000 new businesses formed every month -- a 15-year high.
In one sense, this should be comforting: In a time of adversity, thousands of Americans decided to take their future into their own hands. On the face of it, entrepreneurship is part of our safety net. A closer look at the data, however, reveals a more disturbing story: The apparent increase in entrepreneurial activity during the past three years was due almost entirely to businesses like Jeffrey's that aren't adding employment beyond the founder. The creation of employer firms, in fact, has been on the wane.
This wave of "jobless entrepreneurship" has profound implications for the economy. New firms have historically been responsible for a disproportionate share of net new job creation in the United States. Yet, over the last few years, as business creation increased, job creation from new businesses fell. The U.S. economy is running on the "Red Queen" treadmill -- creating more new businesses but failing to keep pace in terms of new jobs. For an economy struggling to maintain a rate of job creation that merely keeps pace with population growth, this is a problem.
The job creation picture grows more worrisome as we dig into the demographics of recent entrepreneurial activity. Those most likely to strike out on their own during the recession were men in their 50s; individuals with high school educations; and those starting construction businesses. While the female rate rose only slightly, the male entrepreneurial rate took a big leap from 2007 to 2010. On a monthly basis, nearly 25 percent more men are starting businesses per month than before the recession, and the gap between men and women is as wide as it has ever been.
Likewise, startup activity rose the most among older age groups, particularly people in their 50s and 60s. As with gender, the gap between the rate of business formation among middle-aged Americans and those ages 20 to 34 has never been this wide. More concerning, however, is the education skew. Among college graduates, entrepreneurial activity rose only slightly during the recession, for those with less than a high school education, the rate skyrocketed last year. The magnitude of increase is important here: Americans with the lowest educational achievement drove the recessionary rise in entrepreneurship. And, construction not only continued to enjoy the highest rate of business formation but also experienced the largest increase during the recession.
Entrepreneurial bright spots persist: Silicon Valley and Boulder are abuzz with the newest wave of technology startups. But for millions of Americans, the entrepreneurial calculus has changed. What, if anything, can be done?
For various reasons, entrepreneurship has stalled among certain sectors of America. As noted, business creation among those ages 20 to 34 was significantly lower in 2010 than older age groups. Yet from 1996 to 2010, the youngest cohort persistently had the lowest rate of entrepreneurial activity -- this despite the absolute explosion of entrepreneurship programs on campuses, for example. High schools, universities, and community colleges must do a far better job of preparing potential entrepreneurs. As it stands, lessons in business-plan writing substitute for experiential learning, which is far more effective in teaching entrepreneurship.
Likewise, entrepreneurship among native-born Americans has been mainly flat for 15 years, while it has risen considerably among immigrants since 2006. Immigrant entrepreneurs have been an undeniably important source of innovation and new jobs in the United States for two centuries, and measures to further attract the world's best and brightest, such as the so-called Startup Visa now pending in Congress, are essential. But it seems that something must be done with regard to native-born Americans. Conventional tools such as taxes and regulations could be tweaked, but why would these elicit different responses in immigrants and the native-born? Much more research must be done on this issue.
Debates over entrepreneurship policy often revolve around the same issues: taxes are too high; regulation is too heavy; credit is too constrained. These standbys obscure the demographic gaps in entrepreneurial activity that continue to open across America and that cannot be explained away by such simple references. If the United States wants more entrepreneurs -- and it desperately needs them for job creation and innovation -- it needs to better understand the phenomenon of entrepreneurship.
Popular in the Community