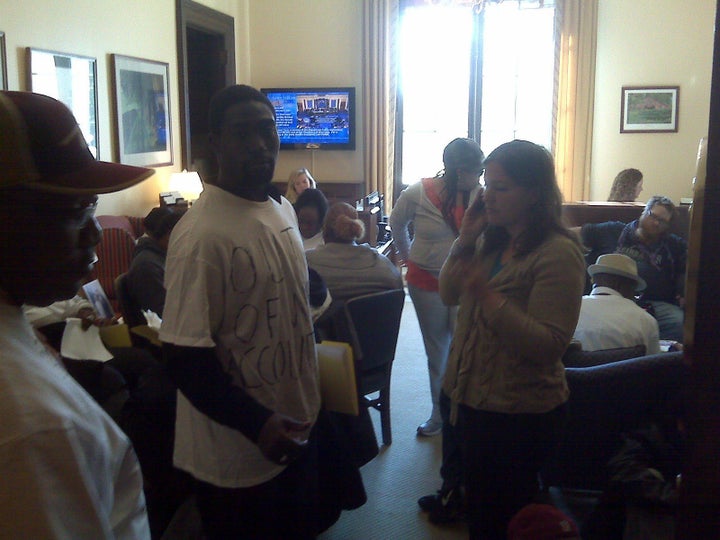 WASHINGTON -- Roughly 30 jobless protesters from D.C. neighborhoods occupied Senate Minority Leader Mitch McConnell's office in the Russell Senate Office Building Thursday, saying they wanted to talk to him about jobs.
But McConnell was busy at the Capitol Building, where he led Republicans in blocking a $60 billion infrastructure bill. The protesters said they supported the measure.
McConnell's legislative director offered to sit down with the group, but they declined, saying they'd rather wait for the senator himself. So they sat in his office, taking up every chair and lots of floor space while McConnell's staff went about its business. A Capitol Police officer scoped the situation and said her heart went out to them for losing their jobs.
The protesters, most of whom said they lived in the poorest part of Southeast D.C., had no affiliation with the Occupy Wall Street movement. They'd been organized by a community group called OurDC, which has been hectoring Congress about jobs since it launched with SEIU seed money earlier this year. The protesters remained in the office as of Thursday afternoon as of 3 p.m. and said they wouldn't leave before meeting the senator.
"Hopefully we can all get together with the senator today before time is up," said Ted Black, a 58-year-old resident of Southeast D.C. Black said he is a Vietnam-era veteran and that he lost his job as a radiologist tech three months ago. He supports President Obama's jobs package, he said, including the blocked infrastructure bill.
"I'm here supporting the cause for veterans and also for teachers and children and schools and residents who are unemployed or underemployed or homeless," Black said.
McConnell's office declined to comment on the protesters.
Over on the House side of the Capitol, Democrats held a press conference announcing their plans to file legislation that would reauthorize federal unemployment benefits for next year. Without the bill, nearly 2 million jobless will stop receiving benefits by February.
"We're facing ... a potential man-made human disaster," Rep. Sander Levin (D-Mich.) said.
"People shouldn't be worried in this country about whether or not their unemployment benefits are going to be extended past January 1," Rep. Jim McDermott (D-Wash.) said. He suggested the Occupy Wall Street movement would grow if extended unemployment compensation is not reauthorized. "We're going to add to that group if we don't deal with this question of extending unemployment benefits."
Republican leaders have not signaled whether they will support renewing the benefits, which cannot be done by Democrats alone.
At a later press conference, a reporter asked House Speaker John Boehner (R-Ohio) whether the benefits might be included in whatever package is concocted by the deficit reduction super committee tasked with agreeing to at least $1.2 trillion worth of budget cuts by Thanksgiving.
"I think there are a lot of issues on the table and I'm sure all of those and more will be discussed as conversations continue," Boehner said.
This report has been updated to clarify that the protesters had not left McConnell's office when the report was published.

Calling all HuffPost superfans!
Sign up for membership to become a founding member and help shape HuffPost's next chapter