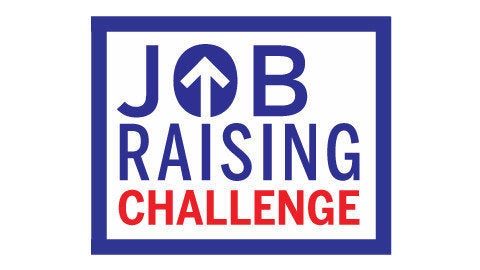 When Arianna Huffington shared her vision for transcending the partisan politics of election season, she framed it as an all-out effort to bolster American job-creation. But it was when she described just how she aimed to pull this off -- by coupling the can-do spirit of community barn-raising with the catalyzing capacity of the internet -- that I knew the Skoll Foundation had to join in.
At the heart of our partnership with Arianna and The Huffington Post was a competition, which we launched last October, inviting American non-profit organizations to give us their best ideas for creating jobs. The JobRaising Challenge is now in its final stages, with 74 finalist nonprofits vying for a piece of our $250,000 prize.
Take a look at any one of this amazing group and you'll be struck by what's working, how entrepreneurial non-profit organizations are solving structural societal problems and creating job opportunities. One targets people with great ideas for small businesses who are shut out of the credit markets, providing them with zero-interest loans of up to $5,000 to get started. Another teaches immigrant women to bake products reflecting their heritage and sells their pastries, bread and tortillas to area retailers. And yet another trains women in "nontraditional employment" such as skilled construction, utility, and maintenance trades.
Together with our partners at The Huffington Post, we understand that solving the American job crisis needs us all: business, government, and the non-profit sector. And it needs our best ideas. From our work at the Skoll Foundation over more than a decade, we've been privileged to see many of those best ideas emerge from social entrepreneurs: people who see opportunity where others see problems. And so we were delighted that Skoll Awardee Marc Freedman joined Arianna, Walter Isaacson of the Aspen Institute, Allen Blue of LinkedIn and others at the Republican and Democratic National conventions to get the conversation underway.
Marc is a remarkable social entrepreneur and the founder of Encore.org, which is spearheading a movement to re-invent an entire stage of life for older Americans. While many think of the "baby-boomer" generation as a drag on the economy, Marc tapped into an alternative narrative, seeing the enormous potential of experienced and talented women and men to make positive contributions to their communities and American society.
Did you know -- I didn't -- that 20 percent of new ventures in the U.S. are launched by entrepreneurs older than 55? Today, Marc's Purpose Prize honors exemplars of an older generation of social entrepreneurs, people like Robert Chambers, the founder of More Than Wheels (formerly Bonnie CLAC - Car Loans and Counseling). Chambers, a former car salesman who grew frustrated with the industry, started More Than Wheels in 2001 to help people who would otherwise have no chance of getting a good car at a decent rate find their way into new cars.
The non-profit sets buyers up with loans at low interest rates and takes care of the dealership haggling that can leave them with inadequate cars at inflated prices. A financial management course comes with the package, too. Now, it has 15 employees, and has helped 1,700 families finance more than $19 million in loans so they can buy a reliable car. That's the kind of new narrative we need, and the kind of "tough-minded optimism" that fuels societal problem-solving.
But engaging the nonprofit sector in this groundbreaking initiative isn't only about tapping its resourcefulness, but its size and scale. As a sector of the U.S. economy, it employs 15 times more workers than mining, 10 times more workers than agriculture, and twice as many workers as the construction sector. Nonprofit organizations also provide 57 percent of the jobs in the health care field, which continued to grow even at the height of the recession.
Which brings me back to the 74 nonprofits you'll see when you visit the finalists vying for our three prizes of $150,000, $50,000, $30,000 -- plus four smaller prizes. They were whittled down from a pool of 217 applicants, and their spirit is remarkable. Prizes will be awarded to those who raise the most funds on CrowdRise.
Many of these organizations are focusing on job opportunities for those who face the greatest barriers to employment. Take, for example, our military veterans, who face a staggering 12 percent unemployment rate. Among the 74 finalists is an organization which mentors veterans to help translate their skills for civilian jobs -- training that could very well help them compete for Walmart's recently announced commitment to hire 100,000 veterans in the next five years.
Looking at the comments on the finalists' pages, I am humbled. One donor, who gave $23 to one organization, wrote, "The best of luck. Every bit of help is valuable to those of us unemployed!"
For the Skoll Foundation, it's been a privilege to be part of this ground-breaking initiative. We are hugely grateful to our partners: to McKinsey & Company, which was instrumental in developing the criteria and helping to select the finalist pool; to Crowdrise, which brought its innovative crowd-funding platform into this phase of the competition to help all 74 finalist organizations make their case for support to the broadest possible community; and to The Huffington Post, for leading this extraordinary venture every step of the way.
Popular in the Community