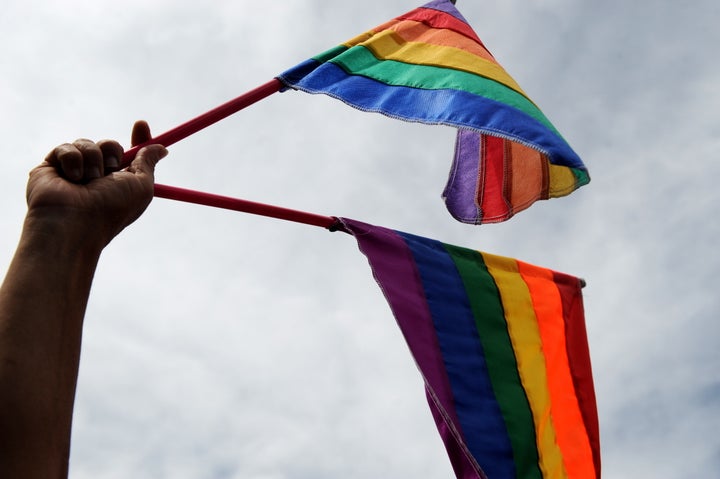 The question I have been asked in pretty much every interview and every Q&A I've done for Jobriath A.D., the documentary I made about '70s glam rock musician Jobriath, has been "When did you first hear about Jobriath?" I think people have expected me to reveal a lifelong obsession with him, to be some sort of uber-fan whose entire life has been leading up to this mission. Because why else would I devote so much of my life to this fairly herculean task? The truth is, up until about five years ago, I barely gave Jobriath a stray thought.

Yes, I knew who he was. I love music and I'm a fanatic about the '70s and I've always had a huge curiosity about the history of the GLBT community and the people who paved the way for my generation. But the way I'd heard of him was usually in very derogatory references. Jobriath was a joke, an embarrassing footnote in our history and one that would be better off being swept under the rug and forgotten. And I'll be honest; I hated the image. It turned me off. He looked ridiculous. The music had been long out of print, so I never had anything to cite other than certain GLBT reference books, if they deigned to mention Jobriath at all.

But then in 2007, I heard the music. And that changed everything.

I was expecting to hear one of the worst atrocities ever captured on vinyl. Instead I found a recording that was brilliant, beautiful, haunting, complicated and yes, somewhat inaccessible. I understood immediately why it failed, but I needed to know why it wasn't respected. And more importantly, why it wasn't remembered and why he wasn't remembered.

Jobriath dubbed himself "The True Fairy of Rock & Roll," and this was about as apt a description as one could make about him. His look went beyond androgyny. He was effeminate, in short, a fairy. And people hated him for it. Straight people hated him for the same reasons those who hate gay people have always hated us. Gay people hated him because he brought out a side in them with which they were maybe not yet quite comfortable. In 1973, four years post-Stonewall, it may have been somewhat naively optimistic to think acceptance was available to everyone, at least within the gay community. Jobriath never had a chance.

Jobriath was open about who he was at a time when doing so was career suicide. He did it not because he wanted to be an activist or make a point. He did it because he didn't know any other way to be. He was drummed out of the music business, forced to reinvent himself as a Weimar era cabaret singer he dubbed "Cole Berlin." He'd even begun trying his hand at writing scores for stage musicals, but his life was cut short and he died from AIDS related complications at the age of 36, one of the earliest casualties of the disease.

One of my other ambitions with the film was to talk to a handful of openly gay musicians and find out what their experiences have been in the music business, how things have (or more likely haven't) changed in the ensuing 40 years since Jobriath made his debut. And I also wanted to know if they were aware of this person who had kicked the door open for them. What I found was that a majority of them had no idea who he was. Even more disturbing, some of them refused to be part of the documentary because they didn't want to be associated with him or it. When I pressed further, I found out that what they meant was they didn't want to be once again identified as "gay musicians." One singer sent back word that he was now in a "post-gay" phase and was no longer willing to discuss his sexuality, even though he'd used it several times in the past as a marketing tool and made his name largely as an openly gay artist.

Besides being somewhat incredulous at this point of view, it got me worried. Worried that I was making a film about a dinosaur. Not specifically Jobriath, but GLBT history itself. Worried if anyone would care who Jobriath was and what he did, or if they'd just give it a cursory glance before rushing off to start their new life in the "post-gay" world.

In this digital age, where younger members of the GLBT community have more information than ever before at their fingertips, there seems to be a distressing lack of interest in our cultural history. No one seems terribly curious about how they got to where they are today and who the men and women were that made it possible for us to enjoy the freedoms we do have (and hopefully to be inspired to fight for the ones we still need to obtain).

But an amazing thing has happened in the past couple of years; several terrific, well-made documentaries have shone a light on people and events that helped shape our history. Films like We Were Here, Vito, United in Anger, Stonewall Uprising, and others. And as I prepare for Jobriath A.D. to make its NYC premiere at Newfest at the Film Society of Lincoln Center, I'm thrilled to see that Jobriath's story has been inspiring new audiences and making new fans, probably more than he ever did during his lifetime.

"Jobriath A.D." will screen as part of Newfest at the Film Society of Lincoln Center's Walter Reade Theater on Saturday, July 28 at 10:30 p.m.
Calling all HuffPost superfans!
Sign up for membership to become a founding member and help shape HuffPost's next chapter