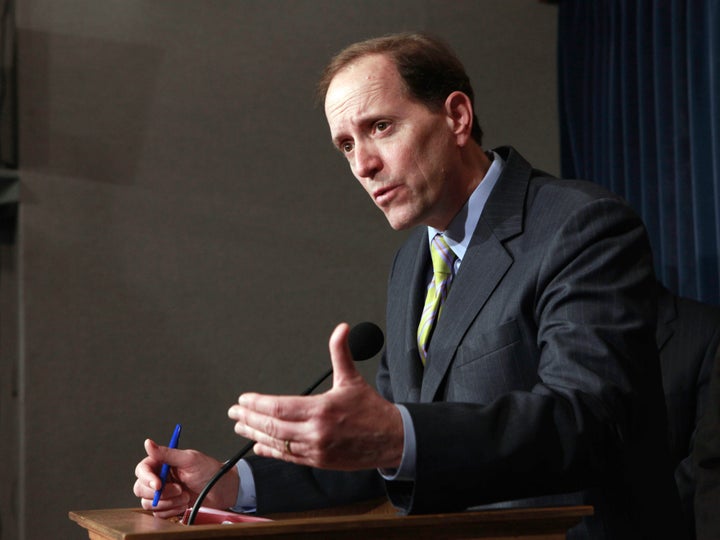 WASHINGTON -- In a party-line vote Wednesday, a congressional panel approved a Republican bill that would allow states to divert $31 billion worth of federal money for the long-term unemployed and use it to pay down state debt instead.
The federal government currently provides up to 73 weeks' worth of benefits for people who exhaust the initial 26 weeks of unemployment checks that states offer. The Jobs, Opportunity, Benefits and Services Act (JOBS Act for short), approved by the House Ways and Means Committee, would let states trim or even eliminate those extra weeks of benefits, which currently support more 4.1 million laid-off workers. The bill now heads to the full House of Representatives.
The federally funded extended unemployment benefits will expire at the beginning of 2012. For the rest of 2011, states could use that federal money to pay for the first 26 weeks of benefits, or to repay the federal government for loans to fund those benefits, or for things like reemployment services or wage subsidies. The bill would also set a national minimum standard for work-search requirements for laid off workers who apply for benefits.
Ways and Means chairman and bill sponsor Rep. Dave Camp (R-Mich.) stressed the measure wouldn't automatically reduce benefits in the states. "Federal benefits would remain guaranteed, unless the states decided there is a better way to spend this money to help the unemployed," Camp said. "States can continue paying up to 99 weeks of benefits if that is what they choose to do. In fact, absent state action, that is exactly what will happen."
Democrats sharply criticized the bill.
"Calling this a jobs bill is a cruel hoax for the millions of Americans who could see their unemployment benefits disappear under the legislation," Rep. Sandy Levin (D-Mich.), top Democrat on the committee, said. Rep. Jim McDermott (D-Wash.) said the bill amounted to reneging on the deal struck between congressional Republicans and the White House in December, which preserved federal benefits through 2011 and tax cuts for the rich through 2012.
Several Democrats also pointed out that Republicans were less sympathetic to strapped states last summer, when the GOP opposed what many members of Congress termed a "state bailout" bill to send more Medicaid money to the states.
In addition to giving states flexibility with federal benefit dollars, the JOBS bill would also waive tax increases on businesses in states that have outstanding unemployment debt to the federal government. As of this week, 30 state unemployment trust funds owe the federal government a total of $43.8 billion, according to the Labor Department. Higher federal taxes are set to automatically kick in for businesses in eight of those states this year.
The National Employment Law Project, a worker advocacy group, has said the bill would "steal" from the unemployed by diverting benefits funds to other parts of the unemployment insurance system.
NELP also criticized the bill because it would deny benefits to workers who lack a high school diploma or GED who are not enrolled in classes or training. "While better educating and training our workforce is a priority shared by all, [the measure] would be a cruel club, used to deny subsistence-level support to those who need it most in these tough times," NELP said.
NELP said that states have demonstrated that they would jump on the opportunity to cut benefits for workers, citing Florida, Michigan, Missouri, and Arkansas, where lawmakers have already reduced state benefits.
But more than a dozen state legislatures have already adjourned for the year, and all but 10 will be wrapping up within the next two months, according to the National Conference of State Legislatures. They would have to convene special sessions in order to take advantage of the JOBS Act and trim federal benefits.
Calling all HuffPost superfans!
Sign up for membership to become a founding member and help shape HuffPost's next chapter