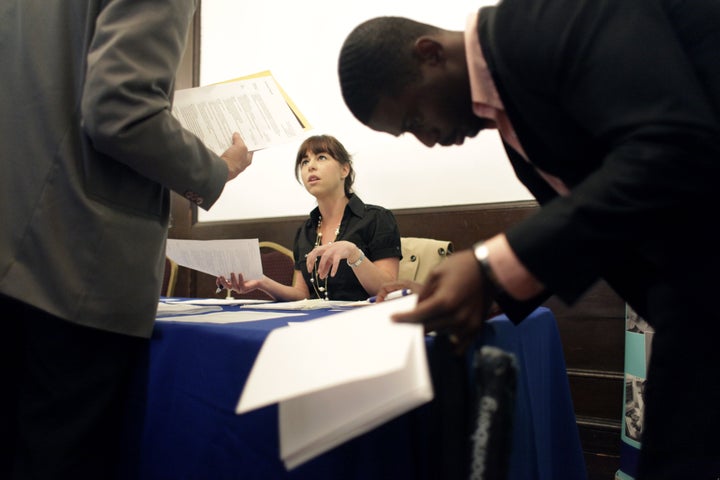 Deficit concerns trumped jobless aid in the Senate Wednesday as a key vote on a bill to reauthorize several expired programs, including extended unemployment benefits, failed 45-52, with 12 Democrats voting against it.
"I've said all along that we have to be able to pay for what we're spending," said Sen. Ben Nelson, a Nebraska Democrat who voted against the bill. "$77 billion or more of this is not paid for and that translates into deficit spending and adding to the debt, and the American people are right: We've got to stop doing that."
Democrats scrapped a post-vote press conference moments before it was scheduled to start.
The "tax extenders" bill would reauthorize extended unemployment benefits put in place by the stimulus bill to fight the recession. In some states, laid-off workers were eligible for 99 weeks of benefits -- that is until Congress allowed the programs to lapse on June 1. Among other provisions, including family and business tax breaks, the bill would also stave off a 21 percent payment reduction for doctors who see Medicare patients and it would restore elevated federal funding for state Medicaid programs.
By the end of this week, 903,000 long-term unemployed who otherwise would have received benefits will have missed checks. By the end of next week that number will reach 1.2 million.
Both chambers of Congress already approved measures to extend these programs at least through the rest of the year, but the House and Senate used different sources of funding. When it came time to reconcile the bills, conservative House Democrats lost their appetite for adding to the deficit to help the economy. The same thing is now happening in the Senate.
Lurking beneath deficit concerns, for both Republicans and even some Democrats, is the suspicion that extended unemployment benefits discourage job-seeking. Rep. John Linder (R-Ga.) said last Thursday, for instance, that extended unemployment benefits are "too much of an allure" for people to look for work. Even Senate Democrats who voted in favor of the bill, such as Sen. Dianne Feinstein (D-Calif.), are starting to look toward winding down the programs.
"We have 99 weeks of unemployment insurance," Feinstein said. "The question comes, how long do you continue that before people just don't go back to work at all?"
Needless to say, no help is forthcoming from Congress for the 99ers, the several million people who will have exhausted all available benefits by the end of the year.
Judy Conti, a lobbyist for the National Employment Law Project, pointed out that a NELP-commissioned poll showed that 74 percent of registered voters think preserving jobless aid is more important than reducing the deficit at this time (a view shared by many economists).
"I fail to see how eviscerating a bill that is designed to create and save jobs, and support the unemployed, is going to do anything but increase our overall deficit problems," said Conti. "This approach is penny-wise and pound-foolish, and those who are not out there actively supporting job creation and the unemployed should be ashamed of themselves."
Republicans are expected to offer a version of the extenders bill with funding offsets from the stimulus bill, and Democrats may then offer a more scaled-down version that is less burdensome on the deficit. Part of that scaling-down will involve cutting $25 per week from unemployment checks and shortening the amount of time Medicare doctors are protected from the 21 percent pay cut.
Sen. Feinstein's office clarifies that the senator does not think extended unemployment benefits discourage people from looking for work. From a spokesman:
Senator Feinstein believes that unemployed Americans want jobs, not unemployment checks. She has voted for every single extension of unemployment insurance during this downturn because she knows that there is currently one job opening for every five out-of-work Americans, according to the Department of Labor. Some 880,000 people have been unemployed for 27 weeks or more in California, which has a 12.6 percent unemployment rate - one of the highest in the nation.

Senator Feinstein is concerned about the deficit, but she also understands that unemployment insurance is a financial lifeline for millions of Americans right now. Given the dearth of available jobs, a sudden cessation of unemployment benefits would be financially devastating to many people.

Senator Feinstein is working hard to make sure Congress enacts policies that will promote economic recovery, create jobs across multiple sectors of the economy and keep America's economy strong in the 21st century.
Popular in the Community