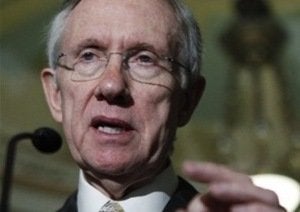 Scott Brown was in and out of the Senate chamber and had voted against his party before most of his colleagues had even arrived.
"It's a small step, but it's still a step," Brown told reporters after casting a procedural vote in favor of the Democratic jobs bill, bucking his party leaders and the strategy of opposition they have carried out since President Obama took office.
For Senate Democrats, it was much bigger step. Four Republicans followed Brown's lead, giving the jobs legislation 62 votes, two more than needed to cut off a GOP filibuster.
Senate Majority Leader Harry Reid (D-Nev.) thanked the newly-elected Republican from Massachusetts. "I hope this is the beginning of a new day here in the Senate. Whether this new day was created by the new Senator from Massachusetts or some other reason, I'm very, very happy that we were able to get this done. But there are some winners. Not any individual Senator, not Democrats or Republicans. The winners are small business people throughout this country."
Brown was followed by Sen. Susan Collins (R-Maine), who was followed by her home state GOP colleague Olympia Snowe.
Sens. George Voinovich (R-Ohio) and Kit Bond (R-Mo.), who are retiring, also backed the bill.
Voinovich's vote came after he was given an assurance from Reid that the surface transportation reauthorization bill that Voinovich prizes will be given high priority.
Voinovich, who was patted on the back by a grateful Sen. Patrick Leahy (D-Vt.) after the vote, said that he could see himself working jointly with Brown and Democrats for the remainder of the term.
"I think he and I are going to do a lot of music together," said Voinovich. "My vote was reflective of what I thought made sense."
Voinovich didn't stick around for any loyalty lectures after his vote. "I have no idea," said Voinovich when asked what leadership thought of his vote. "I voted and took off."
Brown also said that he had "no idea" how the rest of his colleagues would vote. But it was good enough for him. "It's not a perfect bill. I would have liked broader and deeper tax cuts, but I was comfortable with that first vote," said Brown.
Of the 41 Republicans, 29 opposed the measure, while six skipped the vote. More Republicans skipped the vote than voted in favor.
Sen. Ben Nelson (D-Neb.), meanwhile, muddled the message of Democratic unity behind the jobs bill. He voted against it.
Voinovich wanted reporters to know about the terms he'd reached with Reid. After voting to break the filibuster, he handed out paper copies of statements to reporters waiting just off the Senate floor.
"I spoke to Majority Leader Reid prior to this vote and he assured me that he understands the importance of a surface transportation reauthorization bill," the statement reads. "I reiterated that it is the best way to create jobs, provide an immediate stimulus to the economy, rebuild our nation's infrastructure and reduce our carbon footprint. Leader Reid gave me his commitment that he will bring the reauthorization of a multi-year surface transportation bill to the floor for a vote this year. I look forward to working with Sen. Reid, Sen. Boxer and others to do so as soon as possible so we can put Americans back to work."
Shortly after, the White House released a statement by President Obama on the cloture vote:
The American people want to see Washington put aside partisan differences and make progress on jobs, and today the Senate took one important step forward in doing that. I'm grateful to the Democratic and Republican Senators who voted to support these investments in infrastructure and small businesses. This is one of many efforts we need to tackle our economic challenges, and we will continue to work with Congress on additional job creation measures. Jobs remain our top priority, and I look forward to working with members from both parties to get legislation signed, and the American people back to work.
EARLIER UPDATE -- 4:45 PM ET:
Senate Majority Leader Harry Reid (D-Nev.) intends to challenge Republicans on Monday evening to prove that they are willing to do something -- anything -- to create jobs.
Reid will tout a trimmed-down jobs bill built with business tax breaks and other components that Republicans have backed in the past. His office put together an annotated catalog of the depth of Republican support for the various provisions in the bill.
The Senate previously considered a bill that was much more generous to K Street, though it had less to do with job creation. It was building bipartisan support when Reid stripped it down to a more targeted plan.
Reid said that the Senate will have the opportunity to take up other job-creation provisions in the future once this first bill passes. "The answer is not to do nothing," Reid says in prepared remarks. "It is to do something to create jobs, and then create more jobs, and then create more jobs after that. That's why this is not the only jobs bill or the last jobs bill we will bring to the floor."
"But, we can't do it alone," says Reid. "Republicans share the responsibility to govern. If they support this bill -- as they have in the past -- and if they join us now to pass it, we will do many, many more just like it. However, if they once again put partisanship ahead of people -- if they once again try to distract from the issue at hand -- they will only confirm their reputation as the Party of No. They will only confirm the American people's fears that Republicans refuse to do anything to help them."
Reid then makes a direct challenge: "So to my Republican colleagues, here is your chance. Show us you're serious about legislating. Show our constituents you're serious about leading. Show the skeptics that you know putting people back to work is far more important than putting points up on the political scoreboard."
If Republicans choose to filibuster the bill, Democrats will have a political weapon in their hands and will press the Party of No line forward.
"Most important, I ask my reluctant Republican colleagues to show those Americans who deserve a job to go to every the morning that we're willing to do our jobs this evening," Reid said. "It's remarkable that we have to hold a procedural vote on a bill that will create jobs. It will be regrettable if the minority prevents us from moving forward, from taking that first step, from giving millions of unemployed Americans the hope that tomorrow will be better than yesterday."
Senate Minority Leader Mitch McConnell (R-Ky.) said on Sunday that Republicans were willing to go along with Reid's earlier bill until he broke it up.
"What was a mystery to us is how the bipartisan bill got shelved. I thought it was moving along a bipartisan path. Many of my members were going to support it. And all of a sudden the majority leader decided to skinny it down," he said. "I mean, the point is he needs to bring up the bill. We need to have amendments and vote on it. I think -- in fact, Senator Bayh referred to this in his retirement announcement as one of his frustrations. I share his frustration. I thought that bill was on the way to being called up, amended, debate and voted on."

Popular in the Community