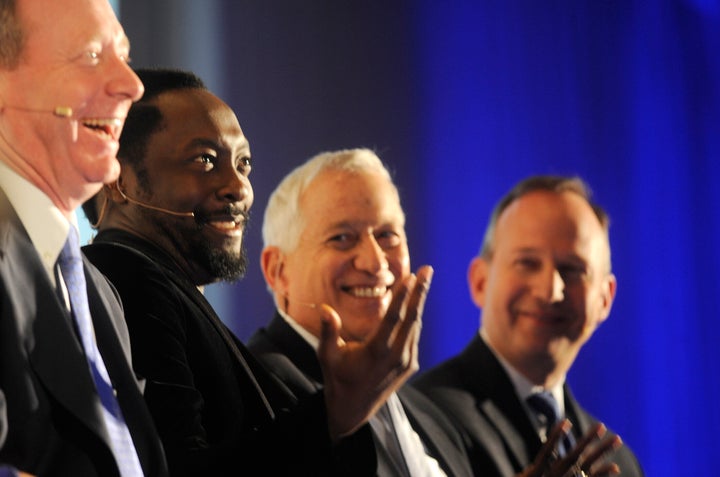 CHARLOTTE, N.C. -- A group of business and political leaders discussing America's jobs crisis agreed on Wednesday that while Washington might be paralyzed until after the November elections, solutions can start now.
The goal of the panel was to change the discussion about unemployment from "one of kind of fatalistic acceptance of the 'new normal,'" in the words of Arianna Huffington, to one about what is already working. The panel was sponsored by The Huffington Post, moderated by Tom Brokaw, and called "Opportunity: What Is Working."
"When you're coming back from what was the greatest crisis since the Great Depression, as much as government policy is critical, everybody does have to be in this together," said Gene Sperling, director of the administration's National Economic Council.
And that was very much the theme of the gathering: connecting entrepreneurs, government officials, foundation leaders, and entertainers like Rosario Dawson and will.i.am in a collective effort to create jobs.
Two threads that emerged in the discussion were that America needs to step up its efforts to compete in the global economy, and that businesses and social ventures should create not just any jobs, but well-paying jobs that do good.
"The old model of economic development where one governor in North Carolina competed with one governor in Kentucky ... that model is gone, this is a global economy," said Judith Rodin, the president of the Rockefeller Foundation.
In that old model's place, Rodin reiterated a pledge she made at another panel on job opportunities at the Republican National Convention in Tampa, Fla.
"We're offering a million dollar prize for the most successful, innovative solution to creating new jobs, particularly for those youths who, in the age group of 16 to 25, seem to be having the hardest time finding it," she said.
That, said Brokaw, is "good news that is not speculative, good news that is a certainty."
Other foundations and corporations have similarly made job creation promises as part of the "Opportunity" project.
Youths, will.i.am said, often have a hard time imagining what they could be in life other than a sports star or performer. When he talks to kids, he said, "I'm telling you you should want to be like Mark Zuckerberg and Steve Jobs." His seemingly boundless enthusiasm for job creation projects and ideas often caused the panel to erupt into laughter, and at one point Dawson gave him an appreciative hug.
There was also a bit of newly anointed political star power on panel. San Antonio Mayor Julian Castro explained what he's doing to address unemployment in his city, hours after delivering a stemwinder keynote speech at the Democratic National Convention Tuesday night.
"A lot of folks know San Antonio as Military City USA ... other folks know it as a hospitality industry city -- the Riverwalk, the Alamo," he said. "So the challenge over the last couple of decades has been 'how do we expand?'"
"And what we have tried to do is to turn our economic-development model around, job-creation model around, to pursue and grow from within, 21st century sectors," he added.
What he did in San Antonio, he said, was reinvent a longtime city asset -- a municipal utility -- as an engine for job growth. When San Antonio signed contracts with solar energy providers, it included a stipulation that those companies build manufacturing facilities within the city limits. Just one such deal is expected to bring 805 jobs to San Antonio, each paying an average of $47,000 a year.
The panel, hosted by The Huffington Post, NBC News and Microsoft, was located just blocks from the arena where President Barack Obama will accept his nomination for a second term on Thursday. Participants included Allen Blue, the co-founder of LinkedIn, Scott Case, the CEO of Startup America, Gerald Chertavian, the CEO of Year Up, Jeremy Heimans, the CEO of Purpose, Walter Isaacson, the president and CEO of the Aspen Institute, and Jack Markell, the governor of Delaware.
Related
Popular in the Community